Jokes of the day for Sunday, 06 March 2016
Funny jokes, funny photo and funny video collected from the internet on Sunday, 06 March 2016
Few people understand what it means to really be there for somebody
Few people understand what it means to really be there for somebody. And that's the toughest part about being on a journey, you realize the main ones that said they will ride with you, are the first ones to fall off. People make promises when the sun is shining and make excuses when the storm comes. That's why I am always thankful for the rain. It washes away the unnecessary. The reality is, you could be amazing, genuine and sincere but still be overlooked. Having a good thing is so hard because meeting a strong person is so rare. So I've learned to understand when people run from me, I realize my kind of love ain't for everybody.
#joke
A lady with a prize-winning sc
A lady with a prize-winning schnauzer figured that he was going deaf. He wouldn't come when she called. When she took him out for a walk he wouldn't heel like he had been taught to do. As a matter of fact, when the dog wasn't looking and she called him, he acted like he didn't hear her at all. So she took him to the vet.
The vet looked the dog over and gave him a complete physical. He told the lady, "There's nothing wrong with your dog at all. Look here. He has excessive hair growing in his ears, which led you to believe that he is deaf. He can't hear you, but he isn't deaf. You can treat this with a depilatory. I haven't got any in stock, but you can get some 'Neet' or 'Nair' at your local pharmacy. This will work just as well as the doggy brand will."
So the lady went to the nearest store and picked up a small bottle of Nair and looked over the instructions. There was nothing on the carton that related to her dog so she took it to the druggist and asked his advice.
"How do I apply this product," she asked. "Do I put it on right out of the bottle or do I dilute it or what?"
The druggist said, "For you legs, put it on straight. Right out of the bottle. For your underarms, I recommend that you dilute it 50-50 with water."
She said, "I don't think that you understand. It's for my schnauzer."
"Oh," said the druggist. "In that case, I suggest that you dilute it 3 to 1 with water. And by the way, I wouldn't ride a bicycle for a few days."
#joke
Funny video of the day - Zipper Jokes
Mom, how much do you weigh?
There was this little boy. He wanted to know more about his mom so he asked her,' Mom, how much do you weigh?'
His mom answered, 'Don't ask me or any other woman that question.'
He left, then came back again. He asked, 'How old are you?'
She answered yet again, 'Don't ever ask me or any other woman that question.'
He finally asked a pretty subtle question. He asked,' Mother how tall are you?' She told him to get her driver's license.
He came running back asking, 'Mom was the reason you got a divorce, was because you have an 'F' in sex?'
#joke
A Collection Of Insults
A brief synopsis...
When you're at a loss for words but want to tell someone that he or she is stupid, remember some these quips from our collection here at Aha! Jokes.
---
If he gets any denser, the geocentric theory of the universe will come true.
If he had a lobotomy he'd depressurize.
If he had another brain, it would be lonely.
If he had brains, he'd take them out and play with them.
If he had console lights, we would see only the idle loop patterns.
If he were any brighter he'd be in the visible spectrum.
If he were any more stupid, he'd have to be watered twice a week.
If her brains were put in a hummingbird, it would fly backwards.
If his brain were a hard drive, it would back up on a single floppy.
If his brains were money, he'd still be in debt.
If his IQ was two points higher he'd be a rock.
If ignorance were bliss, she'd be orgasmic.
If it's not in his horoscope/tea leaves, he doesn't take it seriously.
If she had a disk we could upgrade her with DOS 3.0.
If she was any dumber, she'd be a green plant.
#joke
People on social media are so
People on social media are so selfish. It's always meme meme meme.
1) This is a picture of an oct
1) This is a picture of an octopus. It has eight testicles.
(Kelly age 6)
2) Oysters' balls are called pearls.
(James age 6)
3) If you are surrounded by sea you are an IslandIf you don't have sea all round you, you are incontinent.
( Wayne age 7)
4) Sharks are ugly and mean, and have big teeth, just like EmilyRichardson. She's not my friend no more.
(Kylie age 6)
5) A dolphin breathes through an assh*le on the top of its head.
(Billy age 8)
6) My uncle goes out in his boat with pots, and comes back with crabs.
(Millie age 6)
7) When ships had sails, they used to use the trade winds to cross theocean. Sometimes, when the wind didn't blow, the sailors would whistleto make the wind come. My brother said they would be better off eatingbeans.
(William age 7)
8) I like mermaids. They are beautiful, and I like their shiny tails.How do mermaids get pregnant?
(Helen age 6)
9) I'm not going to write about the sea. My baby brother is alwaysscreaming and being sick, my Dad keeps shouting at my Mom, and my bigsister has just got pregnant, so I can't think what to write.
(Amy age 6)
10) Some fish are dangerous. Jellyfish can sting. Electric eels cangive you a shock. They have to live in caves under the sea where I thinkthey have to plug themselves into chargers.
(Christopher age 7)
#joke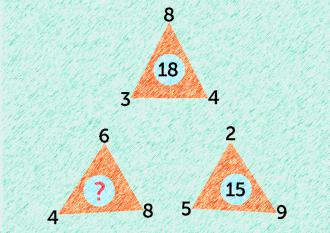 What is the missing number?
What is the missing number?
And God Created Woman
One day in the Garden of Eden, Eve calls out to God, "Lord, I have a problem!"
"What's the problem, Eve?"
"Lord, I know you've created me and have provided this beautiful garden and all of these wonderful animals, and that hilarious comedy snake, but I'm just not happy."
"Why is that, Eve?" came the reply from above.
"Lord, I am lonely. And I'm sick to death of apples."
"Well, Eve, in that case, I have a solution. I shall create a man for you."
"What's a 'man', Lord?"
"This man will be a flawed creature, with aggressive tendencies, an enormous ego and an inability to empathize or listen to you properly. All in all, he'll give you a hard time. But, he'll be bigger and faster and more muscular than you. He'll be really good at fighting and kicking a ball about and hunting fleet-footed ruminants, and not altogether bad in the sack."
"Sounds great," says Eve, with an ironically raised eyebrow.
"Yeah, well. He's better than a poke in the eye with a burnt stick. But, you can have him on one condition."
"What's that, Lord?"
"You'll have to let him believe that I made him first."
#joke
Ska band vs. Moose
What's the difference between a ska band and a moose?
A moose has horns in the front and its a**hole in the back, a ska band has...well...the opposite arrangement.
Q: Why do nursing homes give t
Q: Why do nursing homes give the male patients Viagra?
A: To keep them from rolling out of bed.
"A lettuce will Romai
"A lettuce will Romaine a lettuce Cos it is."
Speed Limit
Sitting on the edge of the highway waiting to catch speeders, a state police officer saw a car driving along at 22 M.P.H. He thinks to himself, that car is just as dangerous as a speeder. So, he turns his lights on and pulls the car over. Approaching the car, he notices there are 5 old ladies, two at the front and 3 at the back, wide eyed and looking like ghosts.
The driver, obviously confused, said, "Officer, I don't understand, I wasn't doing over the speed limit! What did you pull me over for?"
"Ma'am," the officer said, "You should know that driving slower than the speed limit can also be dangerous".
"Slower than the speed limit? No sir! I was doing exactly 22 miles an hour", the old woman said proudly.
The officer, trying not to laugh, explains that 22 is the route number, not the speed limit. A little embarrassed, the woman smiled and thanked the officer for pointing out her error.
"Before I go Ma'am, I have to ask, is everyone ok? These women seem badly shaken and haven't said a word since I pulled you over."
"Oh! they'll be all right in a minute, officer. We just got off Route 142" ...    
#joke
Soft Hands
Q. What does a Jewish woman do to keep her hands soft and her nails so long and beautiful?
A. Nothing, nothing at all.
Tech line
The prime minister of India was at the White House.
One embarrassing moment was when President Bush said to the prime minister, 'Could you take a look at my computer?'
'I'm having some problems with it, I can't seem to get through on the tech line.'
Natasha Leggero: Male Comics
Male comics are always coming up to me, and theyre like, Hey, Natasha, dont you think youre a little attractive to be a comedian? And Im like, Dont you think youre a little ugly to be talking to me?
A little boy comes down for br...
A little boy comes down for breakfast and his mother asks if he had done his chores. "Not yet," says the little boy.
His mother tells him that until he completes them, he won't be getting any breakfast.
Well, he's a little angry, so he goes to feed the chickens and kicks one. He goes to feed the cows, and kicks a cow as well. He goes to feed the pigs, and he kicks a pig.
He goes back in for breakfast and his mother gives him a bowl of dry cereal. "How come I don't get any eggs and bacon? Why don't I have any milk in my cereal?" he asks.
"Well," his mother says, "I saw you kick a chicken, so you don't get any eggs for a week. I saw you kick the pig, so you don't get any bacon for a week either. I also saw you kick the cow, so for a week you aren't getting any milk."
Just then, his father comes down for breakfast and kicks the cat half way across the kitchen.
The little boy looks up at his mother with a smile and says, "Are you going to tell him, or shall I?"
#joke
The Israeli Archaeologist
An archaeologist was digging in the Negev Desert in Israel and came upon a casket containing a mummy, a rather rare occurrence in Israel, to say the least. After examining it, he called Abe, the curator of the Israel museum in Jerusalem.
"I've just discovered a 3,000 year old mummy of a man who died of heart failure!" the excited scientist exclaimed. Abe replied, "Bring him in. We'll check it out."
A week later, the amazed Abe called the archaeologist. "You were right about both the mummy's age and cause of death. How in the world did you know?"
"Easy. There was a piece of paper in his hand that said, '10,000 Shekels on Goliath'."
#joke
Why email is like a
10. Those who have it would be devastated if it was ever cut off.
9. Those who have it think that those who don't are somehow inferior.
8. Those who don't have it may agree that it's neat, but think it's not worth the fuss that those who have it make about it.
7. Many of those who don't have it would like to try it, a phenomenon psychologists call "E-mail Envy," 6. It's more fun when it's up, but this makes it hard to get any real work done.
5. In the distant past, its only purpose was to transmit information vital to the survival of the species. Some people think that's the only thing it should be used for, but most folks today use it mostly for fun.
4. If you don't take proper precautions, it can spread viruses.
3. We attach an importance to it that is far greater than its actual size and influence warrant.
2. If you're not careful what you do with it, it can get you into a lotof trouble. And the number one reason Why E-mail is Like a Penis...
1. If you play with it too much, you'll go blind.
#joke