Balloon Prank Fake Out
April Fool's Day is coming up, so you need to be prepared with an arsenal of hilarious pranks that you can play on friends, family members and bitter enemies.
"Shakespeare's parro
"Shakespeare's parrot was the bird of Avon."
I love lumpy skin growths. But
I love lumpy skin growths. But then, I'm a mass o cyst.
Bulk mail
A guy walks into a post office one day to see a middle-aged, balding man standing at the counter methodically placing "Love" stamps on bright pink envelopes with hearts all over them. He then takes out a perfume bottle and starts spraying scent all over them.
His curiosity getting the better of him, he goes up to the balding man and asks him what he is doing. The man says "I'm sending out 1,000 Valentine cards signed, 'Guess who?'"
"But why?" asks the man.
"I'm a divorce lawyer," the man replies.
Send Kids To School
The Top 10 Reasons That Parents Send Kids To School


To scope out any single teachers for Daddy.

To learn that useful Algebra stuff that every McDonald's manager uses daily.

No cable at home so the kids watch it at school and fill you in at dinner.

After the same damn episode of Barney 2500 times, its either send them to school or drop them off at the dump at the outskirts of town.

So someone else can deal with the psychotic little shits.

Not getting enough paste in their diet at home.

Easier to run escort service out of home when they're not around.

To study hard, and learn the fine art of perfect English to the point of getting a college degree just so you can use it for writing Top 10 Lists!

To learn the fine art of seducing older, more powerful male role models in order to get what you want or to fly on Air Force One (M.Lewinsky only!).

#joke
You Know You're a Redneck If . . .
You know you are a redneck if you get written up on the
paper for a D.U.I. (driving under the influence of alcohol)
and your family buys extra copies.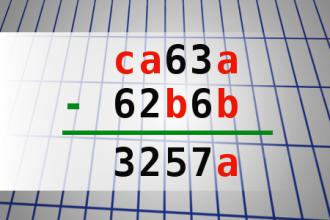 Find number abc
If ca63a - 62b6b = 3257a find number abc. Multiple solutions may exist.
Q: If you have 13 apples in on
Q: If you have 13 apples in one hand and 10 oranges in the other, what do you have?
A: Big hands.
A Recently Spotted Bumper Sticker:
"I Give Evolution Two Opposable Thumbs Up."
The Law of Volunteering"

The Law of Volunteering"
If you dance with a grizzly bear, you had better let him lead.
"The Law of Avoiding Oversell"
When putting cheese in a mousetrap, always leave room for the mouse.
"The Law of Common Sense"
Never accept a drink from a urologist.
"The Law of Reality"
Never get into fights with ugly people, they have nothing to lose.
"The Law of Self Sacrifice"
When you starve with a tiger, the tiger starves last.
"Weiler's Law"
Nothing is impossible for the man who doesn't have to do it himself.
"Law of Probable Dispersal"
Whatever hits the fan will not be evenly distributed.
"Law of Volunteer Labor"
People are always available for work in the past tense.
"Conway's Law"
In any organization there is one person who knows what is going on. That person must be fired.
"Iron Law of Distribution"
Them that has, gets.
"Law of Cybernetic Entomology"
There is always one more bug.
"Law of Drunkenness"
You can't fall off the floor.
"Heller's Law"
The first myth of management is that it exists.
"Osborne's Law"
Variables won't; constants aren't.
"Main's Law"
For every action there is an equal and opposite government program.
"Weinberg's Second Law"
If builders built buildings the way programmers wrote programs, then the first woodpecker that came along would have destroyed civilization.
#joke
Final Exam
A college teacher reminds her class of tomorrow's final exam. 'Now class, I won't tolerate any excuses for you not being here tomorrow. I might consider a nuclear attack or a serious personal injury, illness, or a death in your immediate family, but that's it, no other excuses whatsoever!' 
A smart-ass student in the back of the room raised his hand and asked, 'What would you say if tomorrow I said I was suffering from complete and utter sexual exhaustion?'
The entire class is reduced to laughter and snickering. When silence was restored, the teacher smiled knowingly at the student, shook her head and sweetly said, 'Well, I guess you'd have to write the exam with your other hand.'
#joke
Greg Giraldo: On Catholicism
We have a whole religion based on a woman who really stuck to her story.
Hymns By Word Association
A minister decided to do something a little different one Sunday morning.
He said, "Today, in church, I am going to say a single word and you are going to help me preach. Whatever single word I say, I want you to sing whatever hymn comes to your mind."
The pastor shouted out, "Cross!" Immediately the congregation started singing, in unison, "The Old Rugged Cross."
The pastor hollered out, "Grace!" The congregation began to sing "Amazing Grace, how sweet the sound..."
The pastor said, "Power." The congregation sang "There Is Power in the Blood." The Pastor said, "Sex." The congregation fell in total silence. Everyone was in shock.
They all nervously began to look around at each other, afraid to say anything.
Then all of a sudden, way from in the back of the church, a little old 87-year-old grandmother stood up and began to sing "Precious Memories."
#joke