A man and a woman started to h...
A man and a woman started to have sex in the middle of a dark forest. After about 15 minutes of it, the man finally gets up and says, "Damn, I wish I had a flashlight!"
The woman says, "Me too, you've been eating grass for the past ten minutes!"
Brilliant Prank For April Fools' Day
Try this "dollar in a book" trick.
Funny video of the day - Best Fails of the Week 3 March 2016
Sister, Got Milk?
There once was a 94-year-old nun in the 1890's whose worn-out body began to surrender. Her doctor prescribed for her a shot of whiskey three times a day, to relax her.
However, not to be lured into worldly pleasures, she huffily declined. But her mother superior knew the elderly sister loved milk. So she instructed the kitchen to spike the milk three times a day. Eventually, the elderly pious one approached her final hour. As several sisters gathered around her at bedside, the mother superior asked if she wanted to leave them any words of wisdom.
"Oh, yes," she replied. "Never sell that cow!"
I find insect vacations ron
I find insect vacations quite ant resting.
Harold was an old man. He was
Harold was an old man. He was sick and in the hospital. There was one young nurse that just drove him crazy. Every time she came in, she would talk to him like he was a little child. She would say in a patronizing tone of voice, "And how are we doing this morning, or are we ready for a bath, or are we hungry?"
Old Harold had had enough of this particular nurse. One day, Old Harold hadbreakfast, pulled the juice off the tray, and put it on his bed side stand.He had been given a urine bottle to fill for testing. The juice was apple juice. So .. you know where the juice went!
The nurse came in a little later, picked up the urine bottle and looked at it. "My, but it seems we are a little cloudy today .."
At this, Old Harold snatched the bottle out of her hand, popped off the top, and drank it down, saying, "Well, I'll run it through again. Maybe I can filter it better this time."
The nurse fainted ...! Old Harold just smiled!
DON'T MESS WITH OLD PEOPLE!!!!
#joke
Looks are deceiving...
A woman sought the advice of a sex therapist, confiding that she found it increasingly difficult to find a man who could satisfy her, and that it was very wearisome getting in and out of all these short term relationships.
"Isn't there some way to judge the size of a man's equipment from the outside?" she asked earnestly.
"The only foolproof way, is by the size of his feet" counseled the therapist.
So the woman went downtown and proceeded to cruise the streets, until she came across a young fellow standing in an unemployment line with the biggest feet she had ever laid her eyes on. She took him out to dinner, wined and dined him, and then took him back to her apartment for an evening of abandon.
When the man woke up the next morning, the woman had already gone but, by the bedside table was a $20 bill and a note that read, "With my compliments, take this money and go out and buy a pair of shoes that fit you."
#joke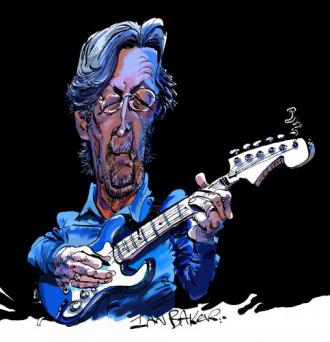 Guess the name of musician
Look carefully caricature and guess the name of musician.
Signs Your Burned Out
"Top Ten Signs You Are 'Burned Out' Because of Work"


You're so tired you now answer the phone, "Hell."

Your friends call to ask how you've been, and you immediately scream, "Get off my back, jerk!"

Your garbage can IS your "in" box.

You wake up to discover your bed is on fire, but go back to sleep because you just don't care.

You have so much on your mind, you've forget often how to think.

Visions of the upcoming weekend help you make it through ...er.... Monday.

You sleep more at work than at home.

You leave for a party and instinctively take your ID badge.

Your Day Timer exploded a week ago.

You think about how relaxing it would be if you were in jail right now.

Q: What starts with F and ends
Q: What starts with F and ends with U-C-K?
A: Firetruck.
"The chef said it wou
"The chef said it would be rare moment if the waiter returned a steak with a burning issue after being so tender cooking it."
Idiot Chicken Farmer
An idiot decided to start a chicken farm so he bought a hundred chickens to begin with.
A month later he returned to the dealer for another hundred chickens because all of the first lot had died.
A month later he was back at the dealer for another hundred chickens for the second lot had also died.
"But I think I know where I'm going wrong," said the idiot, "I think I'm planting them too deep."
#joke
A Silent Bomb in Church
An elderly couple were in church. The wife leaned over and whispered to her husband, "I just let out a long silent fart... what should I do?"
The husband replied, "Replace the batteries in your hearing aid."
- Joke shared by Beliefnet member eyesoftheworld
#joke
Looking for a Lumberjack...
A large, well established, Canadian lumber camp advertised that they were looking for a good Lumberjack.
The very next day, a skinny little man showed up at the camp with his axe, and knocked on the head lumberjacks' door. The head lumberjack took one look at the little man and told him to leave.
"Just give me a chance to show you what I can do," said the skinny man.
"Okay, see that giant redwood over there?" said the lumberjack. "Take your axe and go cut it down."
The skinny man headed for the tree, and in five minutes he was back knocking on the lumberjack's door.
"I cut the tree down," said the man.
The lumberjack couldn't believe his eyes and said, "Where did you get the skill to chop down trees like that?"
"In the Sahara Forest," replied the puny man.
"You mean the Sahara Desert," said the lumberjack.
The little man laughed and answered back, "Sure, that's what they call it NOW!"
#joke
A pregnant woman went to the g...
A pregnant woman went to the gynecologist, and when asked that was the problem, she responded, "Well, whenever I take off my clothes, my nipples get hard."
Shocked, the doctor took a deep breath, then asked, "Your nipples get hard?"
"Yes" quite innocently came her reply.
"Undress so I can check" replied the still amazed doc.
So, she undressed, and he got down to the feeling and massaging, trying to reach an answer.
After some considerable time, the doctor, still looked puzzled, said, "Well madame, I don't know what you have, but it sure as hell is contagious!"
One Day the Devil challenged t...
One Day the Devil challenged the Lord to a baseball game.
Smiling the Lord proclaimed, "You don't have a chance, I've got Babe Ruth, Mickey Mantle, and all the greatest players up here."
"Yes", laughed the devil, "but I have all the umpires!"