Jokes of the day for Monday, 21 March 2016
Funny jokes, funny photo and funny video collected from the internet on Monday, 21 March 2016
April Fools' Day Pranks - Tell your kid you bought them an iPad
I'm sorry, sweetie, did I say iPad? I meant I bought you an eye pad.
A man goes into a seafood rest...
A man goes into a seafood restaurant and sees a sign that reads: "Big Red Lobster Tails - $1."
Amazed at the value of the offer, he calls a waitress over. "Excuse me," he said. "Is that sign correct?"
"Yes sir," she replied. "It's today's special offer."
"Fantastic," said the man. "But are you sure they're not small?"
"Oh no sir, I can assure you that they are very big."
"Are they out of date then?"
"No, no sir, they are fresh in this morning."
"Well in that case, here's my $1. Fill me up."
The waitress took the $1 coin, sat down beside him and said, "Once upon a time, there was a big red lobster..."
#joke
I don't mind kids p...
"I don't mind kids playing hopscotch in most places, but my driveway is where I draw the line."
Many Hands
A Hindu devotee asked God, represented by the multi-armed Lord Narayana, this question. "My dear Lord," he said. "I understand that you have innumerable inconceivable potencies. But out of all of them the energy of light seems to be the most amazing. Light pervades the spiritual world, it illuminates the material universes, and life is impossible without it." He continued, "I would like to know how you make it work."
"Oh, that's easy," was the reply. "Many hands make light work."
#joke
Anyone who eats fish and chips
Anyone who eats fish and chips every day is a creature of halibut.
I was sitting in the waiting r
I was sitting in the waiting room for my first appointment with a new dentist. I noticed his DDS diploma on the wall, which bore his full name. Suddenly, i remembered a tall, handsome, dark-haired boy with the same name had been in my high school class some 30-odd years ago. Could he be the same guy that i had a secret crush on, way back then? Upon seeing him, however, I quickly discarded any such thought. This balding, gray-haired man with the deeply lined face was way too old to have been my classmate. After he examined my teeth, I asked him if he had attended northmont high school.
'Yes. Yes, I did. I'm a thunderbolt,' he gleamed with pride.
When did you graduate?' I asked.
He answered, 'in 1975. Why do you ask?'
You were in my class!', I exclaimed.
He looked at me closely. Then, that ugly, old, bald, wrinkled faced, fat-ass, gray-haired, decrepit son-of-a-bitch asked, 'what did you teach?'
#joke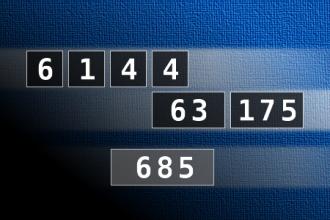 Calculate the number 685
NUMBERMANIA: Calculate the number 685 using numbers [6, 1, 4, 4, 63, 175] and basic arithmetic operations (+, -, *, /). Each of the numbers can be used only once.
Things To Do At Wal-Mart While You Wait For Your Family To Shop
1. Get boxes of condoms & randomly put them in peoples' carts when they aren't looking.
2. Set all the alarm clocks to go off at 10-minute intervals.
3. Make a trail of orange juice on the floor to the rest rooms.
4. Walk up to an employee and tell him/her in an official tone, 'I think we have a code 3 in housewares,' and see what happens.
5. Put some M&M's on lay away.
6. Move CAUTION WET FLOOR signs to carpet areas.
7. Set up a tent in the camping department, tell others you'll only invite them in if they bring pillows from the bedding department.
8. When someone asks if they can help you, begin to cry and ask, 'Why won't you people leave me alone.'
9. Look right into the security camera and use it as a mirror while you pick your nose.
10. Dart around suspiciously while humming the theme from 'Mission Impossible.'
11. While handling guns in the hunting department ask the clerk if he knows where the anti-depressants are.
12. In the auto department practice your Madonna look using different size funnels.
13. Hide in the clothing rack and when people browse through whisper 'PICK ME! PICK ME!!!!!'
14. When an announcement comes over the loud speaker assume the fetal position and scream 'NO! NO! It's those voices again!'
15. Go to the fitting room and yell real loud.....'Hey we're out of toilet paper in here!'
#joke
Answering Machine Message 30
Due to the large number of complaints regarding the length of our previous answering machine message, we made a few changes. Very fast: Hi, this is 904-4344. If you want to leave a message, please wait for the tone. If you want to leave your name and number, please press pound, press 3, then dial your name, then press 6 and dial your number. If you want to leave your name and just a message, press star, press 6, ask for extension 4443, then leave your name and message. If you want to leave your number and the time you called, please press star twice, spin in a circle, press 1 twice, talk loud and BEEP
#joke
Jesus
A man who thought he was John the Baptist was disturbing the neighborhood, so for public safety, he was committed.
He was put in a room with another crazy and immediately began his routine, "I am John The Baptist! Jesus Christ has sent me!"
The other guy looks at him and declares, "I did not!"
Submitted by Calamjo
Edited by Curtis
#joke
Q: What the difference between
Q: What the difference between your first and second honeymoon?
A: Niagara and Viagra.
Little Angel?
Little Johnny's new baby brother was screaming up a storm.
Johnny asked his mom, "Where'd he come from?"
"He came from heaven, Johnny."
"Wow! I can see why they threw him out!"
This joke was reprinted from "Laugh Yourself Healthy" by Charles and Frances Hunter, with permission of Strang Communications. Copyright 2008. All rights reserved.

#joke
Mike Birbiglia: Sex and Pizza
Sex and pizza, they say, are similar. When its good, its good. When its bad, you get it on your shirt.
Kyle Kinane: This Is America
This is America. It is my God given right to be loudly opinionated about something I am completely ignorant of.
Daniel Tosh: Millionaire Game Show
Id like a game show with millionaires on it, and they have to play with their own money, and they cant win money, they can only lose til one them goes complete broke, and the shows called Ha Ha, Now Youre Poor.