Jokes of the day for Monday, 04 April 2016
Funny jokes, funny photo and funny video collected from the internet on Monday, 04 April 2016
A mother took her little boy t
A mother took her little boy to church. While in church the little boy said, "Mommy, I have to pee."
The mother said to the little boy, "It's not appropriate to say the word 'pee' in church. So, from now on whenever you have to 'pee' just tell me that you have to 'whisper'."
The following Sunday, the little boy went to church with his father and during the service said to his father, "Daddy, I have to whisper."
The father looked at him and said, "Okay, just whisper in my ear."
#joke
"I knew a guy who col
"I knew a guy who collected candy canes, they were all in mint condition."
When I vehemently dislike some
When I vehemently dislike something I can't breathe. It's like anathema attack.
Google Ads
The juggler....
A juggler, driving to his next performance, is stopped by the police. "What are these matches and lighter fluid doing in your car?" asks the cop.
"I'm a juggler and I juggle flaming torches in my act."
"Oh yeah?" says the doubtful cop. "Lets see you do it." The juggler gets out and starts juggling the blazing torches masterfully.
A couple driving by slows down to watch. "Wow," says the driver to his wife. "I'm glad I quit drinking. Look at the test they're giving now!
#joke
Indian Having Children
An Indian chief had three wives, each of whom was pregnant. The first gave birth to a boy. The chief was so elated he built her a teepee made of deer hide. A few days later, the second gave birth, also to a boy. The chief was very happy. He built her a teepee made of antelope hide. The third wife gave birth a few days later, but the chief kept the details a secret. He built this one a two story teepee, made out of a hippopotamus hide. The chief then challenged the tribe to guess what had occurred. Many tried, unsuccessfully. Finally, one young brave declared that the third wife had given birth to twin boys. "Correct," said the chief. "How did you figure it out?" The warrior answered, "It's elementary. The value of the squaw of the hippopotamus is equal to the sons of the squaws of the other two hides."
#joke
Work virus
There is a dangerous virus going around. It is called WORK.
If you receive WORK from your colleagues, your boss, or anyone else, via e-mail or any other means, DO NOT TOUCH IT! This virus wipes out your private life completely.
If you should come into contact with WORK, put on your jacket, take two good friends and go straight to the nearest pub.
Order the antidote known as BEER. Take the antidote repeatedly until WORK has been completely eliminated from your system.
Forward this warning immediately to at least 5 friends. Should you realize that you do not have 5 friends, this means that you are already infected and that WORK already controls your life.
REMEMBER, THIS VIRUS IS DEADLY!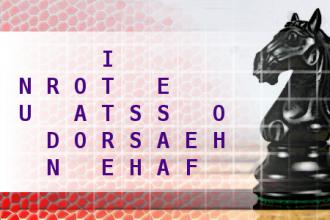 Chess Knight Move
Find the title of novel, using the move of a chess knight. First letter is H. Length of words in solution: 6,3,3,3,2,7.
An elderly gentleman went to t
An elderly gentleman went to the local drug store and asked the pharmacistto fill his prescription for Viagra. "How many do you want?" asked the pharmacist.
The man replied, "Just a few, maybe half a dozen. I cut each one into four pieces."
Upon hearing that, the pharmacist said, "That's too small a dose. That won't get you through sex."
The old fellow said, "Oh, I'm past ninety years old and I don't even think about sex anymore. I just want it to stick out enough so I don't pee on my shoes."
#joke
The Vote for Heaven or Hell
A powerful senator dies after a prolonged illness. His soul arrives in heaven and is met by St. Peter at the entrance.
"Welcome to Heaven," says St. Peter. "Before you settle in, it seems there is a problem. We seldom see a high official around these parts, you see, so we're not sure what to do with you."
"No problem, just let me in," says the senator. "Well, I'd like to but I have orders from higher up. What we'll do is have you spend one day in Hell and one in Heaven. Then you can choose where to spend eternity."
"Really, I've made up my mind. I want to be in Heaven."
"I'm sorry but we have our rules," replies St. Peter.
And with that, St. Peter escorts him to the elevator and he goes down, down, down to Hell. The doors open and he finds himself in the middle of a green golf course. Nearby are all his friends and other politicians who had worked with him. Everyone is in evening attire and very happy to see him. They run to greet him, hug him, and reminisce about the good times they had while getting rich at the expense of the people. They play a friendly game of golf and then dine on lobster and caviar.
Also present is the Devil, who really is a very friendly guy and who has a good time dancing and telling jokes. They are having such a good time that the time flies, before he realizes it, the senator has to go. Everyone gives him a big hug and waves while the elevator rises.
The elevator goes up, up, up and the door reopens on Heaven where St. Peter is waiting for him.
"Now it's time to visit Heaven."
The next 24 hours pass with the senator joining a group of contented souls moving from cloud to cloud, playing the harp and singing. They have a good time and, before he realizes it, the 24 hours have gone by and St. Peter returns.
"Well then, you've spent a day in Hell and another in Heaven. Now choose your eternity." The senator reflects for a minute, then answers, "Well, I would never have said it, I mean Heaven has been delightful, but I think I would be better off in Hell."
So St. Peter escorts him to the elevator and he goes down, down, down to Hell. Now the doors of the elevator open and he is in the middle of a barren land covered with waste and garbage. He sees all his friends, dressed in rags, picking up the trash and putting it in black bags.
The Devil comes over to him and lays his arm on his neck.
"I don't understand," stammers the senator. "Yesterday I was here and there was a golf course and a beautiful club and we ate lobster and caviar and danced and had a great time. Now there is only a wasteland full of garbage and my friends look miserable."
The Devil looks at him, smiles and says, "Yesterday we were campaigning. Today you voted for us!"
#joke
Q: If April showers bring may
Q: If April showers bring may flowers, what do mayflowers bring?
A: Pilgrims!
Improvements in Hell
An engineer died and ended up in Hell. He was not pleased with the level of comfort in Hell, and began to redesign and build improvements. After awhile, they had toilets that flush, air conditioning, and escalators. Everyone grew very fond of him.
One day God called to Satan to mock him, "So, how's it going down there in Hell?"
Satan replied, "Hey, things are great. We've got air conditioning and flush toilets and escalators, and there's no telling what this engineer is going to come up with next." God was surprised, "What? You've got an engineer? That's a mistake. He should never have gotten down there in the first place. Send him back up here."
"No way," replied Satan. "I like having an engineer, and I'm keeping him."
God threatened, "Send him back up here now or I'll sue!"
Satan laughed and answered, "Yeah, right. And just where are YOU going to get a lawyer?"
Maria Bamford: Religious Worship
My mom is very religious, and she said, Whatever you think about all the time, thats what you worship. If thats the case, Id like everyone to pop open their Diet Coke cans and turn to page 37 of their People magazines.
Facelift
This woman goes in for a facelift and the doctor says: "We've got this new method: I put a knob in the back of your head, and every time you feel like you need a lift, just turn it."
She gets the knob implanted and is beautiful for five years.
But one day she notices a problem and returns to the doctor.
"I've got these huge bags under my eyes," she complains.
The surgeon replies: "Those aren't bags; those are your breasts."
"Ah," she sighs. "That explains the goatee."
Dreaming in color
When you dream in color, it's a pigment of your imagination.
Dan Naturman: At a Job Interview
Heres an example of something you never say at a job interview: Can I have my resume back? Its my only copy.