A beautiful woman was seated i
A beautiful woman was seated in a fine restaurant. A man, sitting several tables away, was struck by her beauty and requested a waiter to deliver a bottle of the establishment's finest Merlot to her. The waiter took the Merlot to the woman and said, "This is from the gentleman seated over there," indicating the sender. She regarded the wine coolly for a second without looking over at the man, and decided to send a reply note. The waiter, who was lingering for a response, took the note from her and conveyed it to the gentleman.
The note read: "For me to accept this bottle, you need to have a Mercedes in your garage, a million dollars in the bank and 7 inches in your pants," After reading the note, the man decided to compose one of his own to return.
He folded his note, handed it to the waiter and instructed him to return the note to the woman. It read: "For your information, I have a Ferrari Maranello, a BMW Z8, a Mercedes CL600 and a Porsche Turbo in my garage. I also have over twenty-million dollars in my bank account. However, not even for a woman as beautiful as you would I cut off three inches. Just send the bottle back."
#joke
Never negotiate with a hungry
Never negotiate with a hungry pontiff. It's better to have a Pope-is-full discussion.
Funny video of the day - Best Fails of the Week 1 April 2016
1. What are you thinking about
1. What are you thinking about?
2. Do you love me?
3. Do I look fat in this?
4. Do you think she is prettier than me?
5. What would you do if I died?
What makes these questions so difficult is that each one is guaranteed to explode into a major argument if the man answers incorrectly (i.e. tells the truth). Therefore, as a public service, each question is analyzed below, along with possible responses.
Question #1: What are you thinking about? The proper answer to this, of course, is: "I'm sorry if I've been pensive, dear. I was just reflecting on what a warm, wonderful, thoughtful, caring, intelligent woman you are, and how lucky I am to have met you."
This response obviously bears no resemblance to the true answer, which most likely is one of the following: a. "Football." b. "Golf." c. "How fat you are." d. "How I would spend the insurance money if you died."
Perhaps the best response to this question was offered by Al Bundy, who once told Peg, "If I wanted you to know what I was thinking, I would be talking to you!"
Question #2: Do you love me? The proper response is: "Yes!" or, if you feel a more detailed answer is in order, "Yes, dear."
Inappropriate responses include: a. "Oh yeah, sh*tloads." b. "Would it make you feel better if I said yes?" c. "That depends on what you mean by love." d. "Does it matter?" e. "Who, me?"
Question #3: Do I look fat? The correct answer is an emphatic: "Of course not!"
Incorrect answers are: a. "Compared to what?" b. "I wouldn't call you fat, but you're not exactly thin." c. "A little extra weight looks good on you." d. "I've seen fatter." e. "Sorry, what did you say? I was just thinking about how I would spend the insurance money if you died."
Question #4: Do you think she's prettier than me? Once again, the proper response is an emphatic: "Of course not!"
Incorrect responses include: a. "Yes, but you have a better personality." b. "Not prettier, but definitely thinner." c. "Not as pretty as you when you were her age." d. "Define pretty." e. "Sorry what did you say? I was just thinking about how I would spend the insurance money if you died."
Question #5: What would you do if I died? A definite no-win question. (The real answer, of course, is "Buy a Ferrari and a boat.")
No matter how you answer this, be prepared for at least an hour of follow-up questions, usually along these lines:
Woman: Would you get married again?
Man: Definitely not!
Woman: Why not -- don't you like being married?
Man: Of course I do.
Woman: Then why wouldn't you remarry?
Man: Okay, I'd get married again.
Woman: You would? (With a hurtful look on her face)
Man: (audible groan)
Woman: Would you sleep with her in our bed?
Man: Where else would we sleep?
Woman: Would you put away my pictures, and replace them with pictures of her?
Man: That would seem like the proper thing to do.
Woman: And would you let her use my golf clubs?
Man: She can't use them -- she's left-handed.
Woman: (silence)
Man: Sh*t.
#joke
The twins....
A family had twin boys whose only resemblance to each other was their looks. If one felt it was too hot, the other thought it was too cold. If one said the TV was too loud, the other claimed the volume needed to be turned up. Opposite in every way, one was an eternal optimist, the other a doom & gloom pessimist. Just to see what would happen,on the twins' birthday their father loaded the pessimist's room with every imaginable toy and game. The optimist's room he loaded with horse manure.
That night the father passed by the pessimist's room and found him sitting amid his new gifts crying bitterly.
"Why are you crying?" the father asked.
"Because my friends will be jealous, I'll have to read the all these instructions before I can do anything with this stuff, I'll constantly need batteries, and my toys will eventually get broken." answered the pessimist twin.
Passing the optimist twin's room, the father found him dancing for joy in the pile of manure. "What are you so happy about?" he asked.
To which his optimist twin replied, "There's got to be a pony in here somewhere!"
#joke
Josey wasn't the best pupil a
Josey wasn't the best pupil at Sunday school. She often fell asleep and one day while she was sleeping, the teacher asked her a question. "Who is the creator of the universe?" Joe was sitting next to Josey and decided to poke her with a pin to wake her up. Josey jumped and yelled, "God almighty!" The teacher congratulated her. A little later the teacher asked her another question, "Tell me who is our lord and savior?" Joe poked Josey again and she yelled out, "Jesus Christ!" The teacher congratulated her again. Later on the teacher asked, "What did Eve say to Adam after their 26th child?" Joe poked Josey again and she shouted, "If you stick that thing in me again, I'll snap it in half and stick it up your ass!"
#joke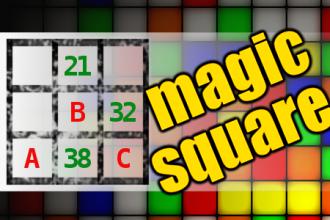 MAGIC SQUARE: Calculate A+B*C
The aim is to place the some numbers from the list (12, 13, 19, 20, 21, 27, 31, 32, 38, 61) into the empty squares and squares marked with A, B an C. Sum of each row and column should be equal. All the numbers of the magic square must be different. Find values for A, B, and C. Solution is A+B*C.
"Stairs are useful an
"Stairs are useful and all, but elevators are really some next level technology."
Need Light
A doctor of psychology was doing his normal morning rounds, and he entered a patient's room to find his patient sitting on the floor, sawing at a piece of wood with the side of his hand. Meanwhile, another patient was in the room, hanging from the ceiling by his feet.The doctor asked his patient what he was doing, sitting on the floor.
The patient replied in an irritated fashion, "Can't you see I'm sawing this piece of wood in half?"
The doctor inquired, "And what is the fellow hanging from the ceiling doing?"
"Oh. He's my friend, but he's a little crazy. He thinks he's a light bulb."
The doctor asks, "If he's your friend, don't you think you should get him down from there before he hurts himself?"
"What? And work in the dark?"
Some Yogurt Visits A Local Bar

Two cartons of yogurt walk into a bar. The bartender, who was a tub of cottage cheese, says to them, "We don't serve your kind in here."
One of the yogurt cartons says back to him, "Why not? We're cultured individuals."


Why Did Baby Jesus Go to Jerusalem?
A catechist asked her class why Joseph and Mary took Jesus with them to Jerusalem.
A small child replied, "They couldn't get a baby-sitter?"
This joke was reprinted from "
The Book of Catholic Jokes
" by Deacon Tom Sheridan, with permission of
ACTA Publications
. Copyright 2008. All rights reserved.
#joke
A man in a hot air balloon rea...
A man in a hot air balloon realized he was lost. He reduced altitude and spotted a woman below. He descended a bit more and shouted," Excuse me, can you help? I promised a friend I would meet him an hour
ago, but I don't know where I am."
The woman below replied, "You are in a hot air balloon hovering approximately 30 feet above the ground. You are between 40 and 41 degrees north latitude and between 59 and 60 degrees west longitude."
"You must be an engineer," said the balloonist.
"I am," replied the woman. "How did you know?"
"Well," answered the balloonist, "everything you told me is technically correct, but I have no idea what to make of you, and the fact is I am still lost. Frankly, you've not been much help so far."
The woman below responded, "You must be in management."
"I am," replied the balloonist, "but how did you know?"
"Well," said the woman, "you don't know where you are or where you are going. You have risen to where you are, due to a large quantity of hot air. You made a promise which you have no idea how to keep, and you expect people beneath you to solve your problems. The fact is you are in exactly the same position you were in before we met, but now, somehow, it's my fault!"
#joke
Kevin Hart: No Longer Safe
Ever argue with a female and, in the middle of the argument, you no longer feel safe because of her actions? She may start pacing back and forth real fast, breathing out her nose. You know what my girl do? When she get mad, she start talking in the third person. Thats scary as hell because thats her way of telling me that from this point on, she is not responsible for none of her actions.
#joke
Answering Machine Message 24
Computer generated voices:
1: Hello, there are no real people here to answer the phone right now.
2: Yeah, nobody but us machines!
1: Right, just us machines, but don't hang up! If you like, you can leave your name and telephone number...
2: ...and a message! You forgot about the message!
1: Right. Leave your name, telephone number, and a brief message after you hear the beep, and we will keep track of this stuff until the real people get back.
2: ...unless of course, sombody pulls out our plug!
#joke