Jokes of the day for Sunday, 24 April 2016
Funny jokes, funny photo and funny video collected from the internet on Sunday, 24 April 2016
It's a beautiful warm spring
It's a beautiful warm spring day and a man and his wife are at the zoo. She's wearing a cute, loose-fitting, pink spring dress, sleeveless with straps. As they walk through the ape exhibit and pass in front of a very large gorilla, the gorilla goes ape. He jumps up on the bars, holding on with one hand (and 2 feet), grunting and pounding his chest with the free hand. He is obviously excited at the pretty lady in the wavy dress.
The husband, noticing the excitement, suggests that his wife tease the poor fellow. The husband suggests she pucker her lips, wiggle her bottom, and play along. She does and Mr. Gorilla gets even more excited, making noises that would wake the dead.
Then the husband suggests that she let one of her straps fall, she does, and Mr. Gorilla is just about to tear the bars down.
"Now try lifting your dress up your thighs"... this drives the gorilla absolutely crazy.
Then, quickly the husband grabs his wife by the hair, rips open the door to the cage, slings her in with the gorilla and says, "Now, tell HIM you have a headache."
#joke
A Journey of a Thousand Miles
Swami Mahahaharaj: A journey of a thousand miles begins with a single step.
Rabbi Steven Wisenheimer: Why don't you just take a plane?
Swami Mahahaharaj: Hmmmm...You've got a point.
Two football jocks taking an exam
Two college football players named Bubba and Jed were taking an exam in English Literature. They must pass this exam in order to fulfill the academic requirement. If they fail, they would be dropped from the college varsity team for the whole season.
The exam was relatively easy as it consisted mainly of fill-in-the-blank type of answers. However, Bubba was stumped by one particular item.
The statement read "Complete the nursery phrase ... Ol' MacDonald had a ______." Trying as hard as he could, Bubba could not think of the answer. Seeing the professor was busy reading a book, Bubba took this opportunity to ask his teammate Jed.
"Pssst, Jed," whispered Bubba. "What did Ol' MacDonald have?"
"Gosh, Bubba, that's easy!" said Jed. Looking to make sure the professor wasn't looking, Jed said, "A farm! Bubba! That's what Ol' MacDonald had. Even babies know that!"
"Oh! Right!" nodded Bubba as though it was at the tip of his tongue. But as he proceeded to write down the answer, Bubba stopped to ask Jed again in a low voice.
"Hey, Jed! How do you spell farm?"
"Jeez, you're so dumb, Bubba!" admonished Jed. "Every one knows farm is spelled 'e-i-e-i-o'."
#joke
Google Ads
Knock Knock Collection 085
Knock Knock
Who's there?
Henrietta!
Henrietta who?
Henrietta toadstool but thought it was a mushroom!
Knock Knock
Who's there?
Hepburn!
Hepburn who?
Hepburn and indigestion!
Knock Knock
Who's there?
Herman!
Herman who?
Herman is handsome!
Knock Knock
Who's there?
Hiawatha!
Hiawatha who?
Hiawatha very bad today!
Knock Knock
Who's there?
Hiram!
Hiram who?
Hiram fine, how are you!
#joke
Devil and lawyer
An attorney was sitting in his office late one night, when Satan appeared before him. The Devil told the lawyer, "I have a proposition for you. You can win every case you try, for the rest of your life. Your clients will adore you, your colleagues will stand in awe of you, and you will make embarrassing sums of money. All I want in exchange is your soul, and the souls of all your friends and law partners."
The lawyer thought about this for a moment, then asked, "So, what's the catch?"
How can you tell which end of
How can you tell which end of a worm is which? Tickle it in the middle and see which end smiles.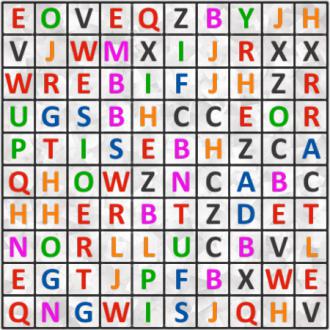 Find a famous person
Find the first and the last name of a famous person. Text may go in all 8 directions. Length of words in solution: 7,6.
"What do mice wear on
"What do mice wear on their feet? Squeakers!"
Arbitrator ar'-bi-tray-ter: A
Arbitrator ar'-bi-tray-ter: A cook that leaves Arby's to work at McDonald's.
Avoidable uh-voy'-duh-buhl: What a bullfighter tries to do.
Baloney buh-lo'-nee: Where some hemlines fall.
Bernadette burn'-a-det: The act of torching a mortgage.
Burglarize bur'-gler-ize: What a crook sees with.
Control kon-trol': A short, ugly inmate.
Counterfeiters kown-ter-fit-ers: Workers who put together kitchen cabinets.
Eclipse i-klips': what an English barber does for a living.
Eyedropper i'-drop-ur: a clumsy ophthalmologist.
Heroes hee'-rhos: what a guy in a boat does.
Left Bank left' bangk': what the robber did when his bag was full of loot.
Misty mis'-tee: How golfers create divots.
Paradox par'-u-doks: two physicians.
Parasites par'-uh-sites: what you see from the top of the Eiffel Tower.
Pharmacist farm'-uh-sist: a helper on the farm.
Polarize po'-lur-ize: what penguins in Antarctica see.
Primate pri'-mat: removing your spouse from in front of the TV.
Relief ree-leef': what trees do in the spring.
Rubberneck rub'-er-nek: what you do to relax your wife.
Seamstress seem'-stres: describes 200 pounds in a size two.
Selfish sel'-fish: what the owner of a seafood store does.
Subdued sub-dood': a guy, that works on one of those submarines.
Sudafed sood'-a-fed: bringing litigation against a government official
#joke
David Alan Grier: Stopped Smoking Reefer
I stopped smoking reefer because I started thinking, if great men throughout history had smoked reefer, no tellin what would have happened. Like if somebody like Martin Luther King Jr. had smoked reefer, he would have been giving speeches like, I had a dream, but the hell if I could remember what it was about. It was either about freedom or Fritos.
#joke
Stuff Happens
Tao: Stuff happens.
Catholicism: If stuff happens, you deserved it.
Protestantism: Let stuff happen to somebody else.
Judasim: Why does stuff always happen to us?
Islam: Stuff happens according to the will of Allah.
Buddhism: The stuff is an illusion.
Zen: What is the sound of stuff happening?
Hinduism: This stuff happened before.
Mormonism: This stuff should multiply.
Baha'i Faith: Stuff happens in a progressive manner.
Agnosticism: I'm not sure about this stuff.
Atheism: That stuff about the stuff is all just made up stuff.
Jonestown: Forget about the stuff and just drink the Kool-Aid.
- Joke shared by Beliefnet member mytmouse57
#joke
Gabriel Iglesias: Tear It Up
Im a big boy, but I can get jiggy with it. Ladies, I will go to dance clubs, and I will tear it up hardcore for a good 30 seconds.
Ant and a grasshopper
THE ORIGINAL VERSION
The ant works hard in the withering heat all summer long, building his house and laying up supplies for the winter. The grasshopper thinks he's a fool and laughs and dances and plays the summer away. Come winter, the ant is warm and well fed. The grasshopper has no food or shelter so he dies out in the cold.
MODERN CANADIAN VERSION
The ant works hard in the withering heat all summer long, building his house and laying up supplies for the winter. The grasshopper thinks he's a fool and laughs and dances and plays the summer away. Come the winter, the shivering grasshopper calls a press conference and demands to know why the ant should be allowed to be warm and well fed while others are cold and starving.
The CBC shows up to provide pictures of the shivering grasshopper next to the ant in his comfortable home with a table filled with food. Canadians are stunned by the sharp contrast. How can it be that, in a country of such wealth, this poor grasshopper is allowed to suffer so?
Then a representative of the NAGB (The national association of green bugs) shows up on The National and charges the ant with green bias, and makes the case that the grasshopper is the victim of 30 million years of greenism. Kermit the Frog appears on the Nature of Things with the grasshopper, and everybody cries when he sings "It's not easy being green.
"Jean Chretien makes a special guest appearance on the CBC Evening News to tell a concerned public that they will do everything they can for the grasshopper who has been denied the prosperity he deserves by those who benefited unfairly during the Reagan/Thatcher summers. Sheila Copps exclaims in an interview with Peter Mansbridge that the ant has gotten rich off the back of the grasshopper, and calls for an immediate tax hike on the ant to make him pay his "fair share."
Finally, the Liberals draft the "Economic Equity and Anti-Greenism Act," retroactive to the beginning of the summer. The ant is fined for failing to hire a proportionate number of green bugs and, having nothing left to pay his retroactive taxes, his home is confiscated by the government. John Turner gets his law firm to represent the grasshopper in a defamation suit against the ant, and the case is tried before a panel of federal hearing officers that Chretien appointed from a list of single-parent welfare moms who can only hear cases on Thursday's between 1:30 and 3 PM.
The ant loses the case.
The story ends as we see the grasshopper finishing up the last bits of the ant's food while the government house he's in, which just happens to be the ant's old house, crumbles around him since he doesn't know how to maintain it.
The ant has disappeared in the snow.
And on the TV, which the grasshopper bought by selling most of the ant's food, they are showing Jean Chretien standing before a wildly applauding group of liberals announcing that a new era of "fairness" has dawned in Canada.
#joke
Arj Barker: Never Drive on Grass
I never smoke grass and drive my car because, for one thing, no matter how many letters I write to the road commissions, they still refuse to start designing highways with second-chance exits.