Jim was a just out of boot cam...
Jim was a just out of boot camp, and was on his first ship. About two hours out of port, he began to get a bit ill from the motion of the ship. He approached an ensign, also just out of training and on his first cruise.
He saluted and said, "Excuse me sir, I am feeling seasick, and I wondered if I may have permission to go downstairs to the dispensary."
The ensign returned his salute and replied, "Sailor, you are in the Navy now. You don't go downstairs, you go below! There is no dispensary on this ship, there is sickbay. Not only that, that is not the floor, it is a deck; that is not the ceiling, it is the overhead; that is not a pillar, it is a stanchion; that is not a water fountain, it is a scuttlebutt. If I ever hear you using civilian words instead of Naval jargon, I will throw you out of that little round window over there."
#joke
"My cousin works in a
"My cousin works in a chocolate shop. He works behind the bar."
Vatican Fried Chicken
A month later, the man upped the price to $100,000,000, and this time the Pope accepted.
At a meeting of the Cardinals, the Pope announced his decision in the good news/bad news format. "The good news is: We have $100,000,000 for charities. The bad news: We lost the Wonder Bread account."
#joke
One Sunday morning William bur
One Sunday morning William burst into the living room and said, "Dad! Mom! I have some great news for you!I am getting married to the most beautiful girl in town. She lives a block away and her name is Susan.
After dinner, William's dad took him aside. "Son, I have to talk with you. Your mother and I have been married 30 years.She's a wonderful wife but she has never offered much excitement in the bedroom, so I used to fool around with women a lot.Susan is actually your half-sister, and I'm afraid you can't marry her."
William was heart-broken. After eight months he eventually started dating girls again. A year later he came home and veryproudly announced, "Diane said yes! We're getting married in June."
Again his father insisted on another private conversation and broke the sad news. "Diane is your half-sister too, William.I'm awfully sorry about this."
William was furious! He finally decided to go to his mother with the news. "Dad has done so much harm. I guess I'm nevergoing to get married," he complained. "Every time I fall in love, Dad tells me the girl is my half-sister."
His mother just shook her head. "Don't pay any attention to what he says, dear. He's not really your father."
#joke
Nuns on the highway...
A cop pulls over a car load of nuns....
Cop: "Sister, this is a 65 MPH highway -- why are you going so slow?"
Sister: "Sir, I saw a lot of signs that said 22, not 65."
Cop: "Oh sister, that's not the speed limit, that's the name of the highway you're on!"
Sister: "Oh! Silly me! Thanks for letting me know. I'll be more careful."
At this point the cop looks in the backseat where the other nuns are shaking and trembling.
Cop: "Excuse me, Sister, what's wrong with your friends back there? They're shaking something terrible."
Sister: "Oh, we just got off of highway 119."
#joke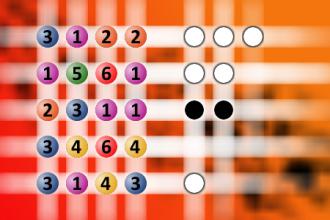 Find the right combination
The computer chose a secret code (sequence of 4 digits from 1 to 6). Your goal is to find that code. Black circles indicate the number of hits on the right spot. White circles indicate the number of hits on the wrong spot.
Purchasing A Turkey

A lady was picking through the frozen turkeys at the grocery store, but couldn't find one big enough for her family.
She asked a stock boy, "Do these turkeys get any bigger?"
The stock boy replied, "No ma'am, they're dead."


Bad Pop Rocks
Cassie was taking two of her grandsons on their very first train ride from Dayton, Ohio to Washington, DC.
A vendor came down the corridor selling Pop Rocks, something neither had ever seen before.
Cassie bought each one a bag.
The first one eagerly tore open the bag and popped one into his mouth just as the train went into a tunnel.
When the train emerged from the tunnel, he looked across to his brother and said: "I wouldn't eat that if I were you."
"Why not?" replied the curious brother
"I took one bite and went blind for half a minute."
#joke
There were two cannibals who c
There were two cannibals who captured a man. They decided it would be fair if they started eating from opposite ends. After a few minutes, the one who started at the head asked the other one, "How's it going down there?" And the other one replies, "I'm having a ball!"
How do you tell a kebab to be ...
How do you tell a kebab to be quiet?
Shh, kebab
Demetri Martin: How to Be a Bouncer
How to be a bouncer: 1) be an a**hole; 2) stand near a door.
A German asks a Mexican if the...
A German asks a Mexican if they have any Jews in Mexico. The Mexican says, "Sí, we have orange jews, apple jews, and grape jews!"
Irish Tradition
Patrick walks into a bar in Dublin, orders three pints of Guinness and sits in the corner of the room, drinking a sip out of each pint in turn. When he had finished all three, he went back to the bar and ordered three more.
The barman says, "You know a pint goes flat soon after I pull it . Your pints would taste better if you bought one at a time."
Patrick replies, "Well now, I have two brodders, one is in America and de odder in Australia and here I am in Dublin . When we all left home, we promised dat we'd drink dis way to remember de days we all drank togedder."
The barman admits that this is a nice custom and says no more.
Patrick becomes a regular customer and always drinks the same way … ordering three pints and drinking a sip out of each in turn, until they are finished. One day, he comes in and orders just two pints. All the other regulars in the bar notice and fall silent. When he goes back to the bar for the second round, the barman says, "I don't want to intrude on your grief but I wanted to offer my condolences on your great loss." Patrick looks confused for a moment, then the penny drops and he starts to laugh, "Oh no," he says,
Bejesus, everyone is fine! Tis me … I've quit drinking!"
#joke #walksintoabar
Big Mouth!
A Jewish gentleman stood before a delicatessen display counter and pointed to a tray. "I'll have a pound of that salmon," he said.
"That's not salmon," the clerk said. "It's ham."
"Mister," the customer snapped, "in case nobody ever told you, you got a big mouth!"