Be rady for Thanksgiving
, check out our latest
Thanksgiving jokes of 2021
on:
Thanksgiving jokes collection
Chester and Earl are going hun
Chester and Earl are going hunting. Chester says to Earl, "I'll send my dog out to see if there are any ducks out in the pond. If there aren't any ducks out there, I'm not going hunting." So he sends the dog out to the pond. The dog comes back and barks twice.
Chester says, "Well I'm not going to go out. He only saw two ducks out there."
Earl says, "You're going to take the dog's barks for the truth?"
Earl doesn't believe it, so he goes to look for himself. When he gets back he says, "I don't believe it, where did you get that dog? There really are only two ducks out there!"
Chester says, "Well, I got him from the breeder up the road. If you want, you can get one from him, too."
So Earl goes to the breeder and says he wants a dog like the one his friend Chester has. The breeder obliges and Earl brings the dog home, tells it to go out and look for ducks. Minutes later the dog returns with a stick in it's mouth and starts humping Earl's leg.
Outraged, Earl takes the dog back to the breeder and says, "This dog is a fraud. I want my money back!"
The breeder asks Earl what the dog did. So Earl tells him that when he sent the dog out to look for ducks, it came back with a stick in its mouth and started humping his leg.
The breeder says, "Earl, all he was trying to tell you was that there are more f**king ducks out there than you can shake a stick at!"
#joke
Four legs
A wife comes home late one night and quietly opens the door to her bedroom.
From under the blanket, she sees four legs instead of just her husband's two.
She reaches for a baseball bat and starts hitting the blanket as hard as she can.
Once she's done, she goes to the kitchen to have a drink.
As she enters, she sees her husband there, reading a magazine.
He says, "Hi darling, your parents have come to visit us, so I let them stay in our bedroom. Did you say hello?"
#joke
How much English can you speak?
"Your Honor, I want to bring to your attention how unfair it is for my client to be accused of theft. He arrived in New York City a week ago and barely knows his way around. What's more, he only speaks a few words of English."
The Judge looks at the defendant and says, "How much English can you speak?"
The defendant looks up and says, "Give me your wallet!"
#joke
Living with the Wolf Man
The Wolf Man comes home one day from a long day at the office. "How was work, dear?" his wife asks.
"Listen! I don't want to talk about work!" he shouts.
"Okay. Would you like to sit down and eat a nice home cooked meal?" she asks nicely.
"Listen!" he shouts again. "I'm not hungry! I don't wanna eat! All right! Is that all right with you? Can I come home from work and just do my own thing without you forcing food down my throat? Huh?"
At this moment, the wolf man started growling, and throwing things around the apartment in a mad rage.
Looking out the window, his wife sees a full moon and says to herself, "Well, I guess it's that time of the month."
#joke
"When a fellow in Ven
"When a fellow in Venice was planning a party, he asked his wife if they should invite Othello. She said, 'Sure, the Moor the merrier.'"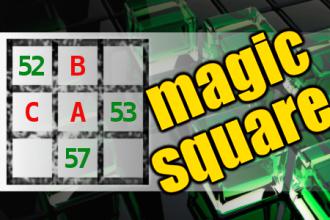 MAGIC SQUARE: Calculate A+B-C
The aim is to place the some numbers from the list (6, 7, 11, 13, 15, 16, 20, 52, 53, 57) into the empty squares and squares marked with A, B an C. Sum of each row and column should be equal. All the numbers of the magic square must be different. Find values for A, B, and C. Solution is A+B-C.
I am very detail-oreinted.
I am very detail-oreinted.
My intensity and focus are at inordinately high levels, and my ability to complete projects on time is unspeakable.
Thank you for your consideration. Hope to hear from you shorty!
Enclosed is a ruff draft of my resume.
I am sicking and entry-level position.
It's best for employers that I not work with people.
Here are my qualifications for you to overlook.
I am a quick leaner, dependable, and motivated.
If this resume doesn't blow your hat off, then please return it in the enclosed envelope.
My fortune cookie said, "Your next interview will result in a job." And I like your company in particular.
You hold in your hands the resume of a truly outstanding candidate!
I saw your ad on the information highway, and I came to a screeching halt.
Insufficient writing skills, thought processes have slowed down some. If I am not one of the best, I will look for another opportunity.
Please disregard the attached resume—it is terribly out of date.
Seek challenges that test my mind and body, since the two are usually inseparable.
Reason for leaving last job: The owner gave new meaning to the word paranoia. I prefer to elaborate privately.
Previous experience: Self-employed--a fiasco.
Exposure to German for two years, but many words are inappropriate for business.
My experience in horticulture is well-rooted.
Experience: Watered, groomed, and fed the family dog for years.
I am a rabid typist.
Education: College, August 1880 - May 1984.
I have a bachelorette degree in computers.
Excellent memory; strong math aptitude; excellent memory; effective management skills; and very good at math.
Graduated in the top 66% of my class.
Accomplishments: Completed 11 years of high school.
Strengths: Ability to meet deadlines while maintaining composer.
Special skills: Experienced with numerous office machines and can make great lattes.
I worked as a Corporate Lesion.
Special Skills: Speak English.
Served as assistant sore manager.
Reason for leaving last job: Pushed aside so the vice president's girlfriend could steal my job.
Married, eight children. Prefer frequent travel.
Education: B.A. in Loberal Arts.
Objective: To have my skills and ethics challenged on a daily basis
#joke
Dentist
A guy and a girl meet at a bar. They get along so well that they decide to go to the girl's place.
A few drinks later, the guy takes off his shirt and then washes his hands.
He then takes of his trousers and washes his hands again.
The girl has been watching him and says, "You must be a dentist."
The guy, surprised, says "Yes! How did you figure that out?"
"Easy," she replied, "you keep washing your hands."
One thing led to another and they make love.
After they have done, the girl says, "You must be a good dentist."
The guy, now with a boosted ego says, "Sure, I'm a good dentist, How did you figure that out?"
"Didn't feel a thing!"
#joke
Some people get lucky and kill...
Some people get lucky and kill two birds with one stone. Chuck Norris once killed four birds with half a stone. What's that? You say there's no such thing as half a stone? The four dead birds didn't think so either.
Chuck Norris can speak braille...
Chuck Norris can speak braille.
An Unusual Vet
There was once an aspiring veterinarian who put himself
through veterinary school working nights as a taxidermist.
Upon graduation, he decided he could combine his two
vocations to better serve the needs of his patients and their
owners, while doubling his practice and, therefore, his
income.
He opened his own offices with a shingle on the door saying,
"Dr. Jones, Veterinary Medicine and Taxidermy -- Either way,
you get your dog back!"
#joke
Business One-liners 113
Goebel's Second Law Of Useless Difficulty: The fastest way to get something done is to determine that it isn't worth doing.
Goebel's Law Of Computer Support: Troubleshooting a computer over the telephone is like having sex through a hole in a board fence. It can be done, but it is neither easy nor pleasant.
Goebel's Law Of Software Compatibility: A statement of absolute functional equivalence made in bold print followed by several pages of qualifications in fine.
Goebel's Theorem Of Software Schedules: Always multiply a software schedule by pi. This is because you think you're going in a straight line but always end up going full circle.
Goebel's Law Of Product Introductions: A future product release date does not say when a product will be introduced. All it says it that you don't have a chance of seeing it before that time.
Goebel's Observation On Utopia: If everyone believed in Peace, they would immediately begin fighting over the best way to achieve it.
Goebel's Law Of Intellectual Obscurity: What fun is it to be an expert if you make yourself easy to understand?
#joke