A football coach walked into t
A football coach walked into the locker room before a game, looked over to his star player and said, "I'm not supposed to let you play since you failed math, but we need you in there. So, what I have to do is ask you a math question, and if you get it right, you can play."
The player agreed, so coach looked into his eyes intently and asked, "Okay, now concentrate hard and tell me the answer to this. What is two plus two?"
The player thought for a moment and then answered, "4?"
"Did you say 4?" the coach exclaimed, excited that he had got it right.
Suddenly all the other players on the team began screaming..., "Come on coach, give him another chance!"
#joke
"The pirates were fig
"The pirates were fighting with each other because they didn't have good anchor management."
The grandfather clock
Harvey's grandfather clock suddenly stops working right one day, so he loads it into his van and takes it to a clock repair shop. In the shop is a little old man who insists he is Swiss, and has a heavy German accent. He asks Harvey, "Vat sims to be ze problem?"
Harvey says, "I'm not sure, but it doesn't go 'tick- tock-tick-tock' anymore. Now it just goes 'tick...tick...tick.'"
The old man says, "Mmm-Hm!" and steps behind the counter, where he rummages around a bit. He emerges with a huge flashlight and walks over to the grandfather clock. He turns the flashlight on, and shines it directly into the clocks face. Then he says in a menacing voice, "Ve haf vays of making you tock!"
#joke
In the zoo
A certain zoo had acquired a very rare species of gorilla. Within a few weeks, the female gorilla became very horny and difficult to handle and, upon examination, the zoo veterinarian found that the gorilla was in heat. To make matters worse, there was no male gorilla of the species available.
While reflecting on their problem the zoo administrators noticed Mike, an employee responsible for cleaning the animals' cages. Mike it was rumored, possessed ample ability to satisfy a female, but he wasn't very bright. So the zoo administrators thought they might have a solution and Mike was approached with a proposition: would he be willing to have sex with the gorilla for $500?
Mike showed some interest but said he would have to think the matter over carefully. The following day Mike announced that he would accept their offer, but only under three conditions.
'First,' he said, 'I don't want to have to kiss her.
Secondly I want nothing to do with any offspring that may result from the union.'
The zoo administration quickly agreed to these conditions, so they asked what his third condition was.
'Well,' said Mike, 'you've gotta give me another week to come up with the $500.'
#joke
Your mama is so ugly that when
Your mama is so ugly that when I told her to do the robot, R2-D2 got herpes.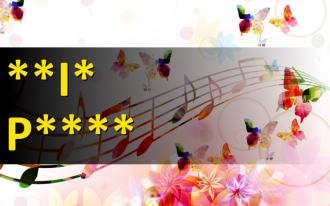 Replace asterisk symbols with ...
Replace asterisk symbols with a letters (**I* P****) and guess the name of musician. Length of words in solution: 4,5.
You can never tell which way t
You can never tell which way the train went by lookingat the track.
Logic is a systematic method of coming to the wrongconclusion with confidence.
Whenever a system becomes completely defined, some damnfool discovers something which either abolishes thesystem or expands it beyond recognition.
Technology is dominated by those who manage what theydo not understand.
If builders built buildings the way programmers wroteprograms, then the first woodpecker that came alongwould destroy civilization.
The opulence of the front office decor varies inverselywith the fundamental solvency of the firm.
The attention span of a computer is only as long as itelectrical cord.
An expert is one who knows more and more about less andless until he knows absolutely everything about nothing.
Tell a man there are 300 billion stars in the universeand he'll believe you. Tell him a bench has wet painton it and he'll have to touch to be sure.
All great discoveries are made by mistake.
Always draw your curves, then plot your reading.
Nothing ever gets built on schedule or within budget.
All's well that ends.
A meeting is an event at which the minutes are kept andthe hours are lost.
The first myth of management is that it exists.
A failure will not appear till a unit has passed finalinspection.
New systems generate new problems.
To err is human, but to really foul things up requires acomputer.
We don't know one millionth of one percent aboutanything.
Any given program, when running, is obsolete.
Any sufficiently advanced technology is indistinguishablefrom magic.
A computer makes as many mistakes in two seconds as 20men working 20 years make.
The faster a computer is, the faster it will reach acrashed state.
Nothing motivates a man more than to see his boss puttingin an honest day's work.
Some people manage by the book, even though they don'tknow who wrote the book or even what book.
The primary function of the design engineer is to makethings difficult for the fabricator and impossible forthe serviceman.
To spot the expert, pick the one who predicts the job willtake the longest and cost the most.
After all is said and done, a hell of a lot more is saidthan done.
Any circuit design must contain at least one part which isobsolete, two parts which are unobtainable and three partswhich are still under development.
A complex system that works is invariably found to haveevolved from a simple system that works.
If mathematically you end up with the incorrect answer, trymultiplying by the page number.
Computers are unreliable, but humans are even moreunreliable. Any system which depends on humanreliability is unreliable.
Give all orders verbally. Never write anything down thatmight go into a "Pearl Harbor File."
Under the most rigorously controlled conditions ofpressure, temperature, volume, humidity, and othervariables the organism will do as it damn well pleases.
If you can't understand it, it is intuitively obvious.
The more cordial the buyer's secretary, the greater the oddsthat the competition already has the order.
In designing any type of construction, no overall dimen-sion can be totaled correctly after 4:30 p.m. on Friday. Thecorrect total will become self-evident at 8:15 a.m. onMonday.
Fill what's empty. Empty what's full. And scratch where ititches.
All things are possible except skiing through a revolvingdoor.
The only perfect science is hind-sight.
Work smarder and not harder and be careful of yor speling.
If it's not in the computer, it doesn't exist.
If an experiment works, something has gone wrong.
When all else fails, read the instructions.
If there is a possibility of several things going wrongthe one that will cause the most damage will be the oneto go wrong.
Everything that goes up must come down.
Any instrument when dropped will roll into the leastaccessible corner.
Any simple theory will be worded in the most complicatedway.
Build a system that even a fool can use and only a foolwill want to use it.
The degree of technical competence is inverselyproportional to the level of management.
Any attempt to print Murphy's laws will jam the printer.

Two Lions
Once upon a time, long, long ago there were two unique lions in the jungles of Africa. Both, it seems, had human-like qualities that made them claim territory, daring the other to cross over the line. Strange as it seems, the boundary between their turf was a well traveled trail through the jungle.
All day every day, both lions lay in the brush staring across the trail at their compatriot, daring him to cross into their territory.
The local natives knew of this animal feud, but all this was unbeknown to African Jack, a well-known and must publicized guide who did not speak Lionese and was unfamiliar with the territory.
While he was leading a safari through the jungle, walking all day and cutting vines with their machetes, all this constant hacking brush had them worn to a frazzle. After seeing two or three of his safari drop from exhaustion, African Jack decided to stop on the trail between these two lions and camp for the night.
After sitting up camp, eating, and getting his safari settled African Jack sat on a stump and began reading. While he was busily engaged in the printed page, the two lions, simultaneously, pounced on African Jack and ate him on the spot.
When the 6 o'clock news heard of the tragedy, they reported, "African Jack killed this evening. The motive is unclear, but it is reported he was reading between the lions."
#joke
Chuck Norris ordered a Big Mac...
Chuck Norris ordered a Big Mac at Burger King, and got one.
Martha Kelly: Preparing for Office Work
Its been a couple of years since I actually worked in an office, so I thought I should do something to prepare to get back into the typing, filing and phone answering, and what not. So what I did was I had a friend of mine go with me down to the local swimming pool, and I had him tie me up in a burlap sack and sink me to the bottom of the pool. And then just as I was about to suffocate, he yanked me up and gave me a lunch break.
#joke
Donald Glover: We Get It
Its kind of redundant -- have a black dude wearing an Obama shirt. Everybodys like, Yeah, we know. You like Obama; we get it. Its just like, I would do the same thing. I realize that its kind of redundant. I dont go up to white people wearing Coldplay shirts. You like Coldplay? For how long? Forever?
#joke
Recently Spotted Bumper Sticker:
"GOD LOVES YOU WHETHER YOU LIKE IT OR NOT!"