"I know a mathematici
"I know a mathematician who could not afford to buy lunch. He could binomial."
Sun Tzu's critically pan
Sun Tzu's critically panned sequel to his masterpiece, aka The Fart of Whore.
A Harley Biker is riding by th...
A Harley Biker is riding by the zoo in Washington, DC when he seesa little girl leaning into the lion's cage. Suddenly, the lion grabs her by the collar of her jacket and tries to pull her inside to slaughter her, under the eyes of her screaming parents.The biker jumps off his Harley, runs to the cage and hits the lion square on the nose with a powerful punch.Whimpering from the pain the lion jumps back letting go of the girl, and the biker brings the girl to her terrified parents, who thank him endlessly. A reporter has watched the whole event.
The reporter addressing the Harley rider says, 'Sir, this was the most gallant and bravest thing I've seen a man do in my whole life.'
The Harley rider replies, 'Why, it was nothing, really. The lion was behind bars. I just saw this little kid in danger, and acted as I felt right.'
The reporter says, 'Well, I'll make sure this won't go unnoticed. I'm a journalist, you know, and tomorrow's paper will have this story on the front page. So, what do you do for a living, and what political affiliation do you have?'
The biker replies "I'm a U.S. Marine, and a Republican".
The journalist leaves.
The following morning the biker buys the paper to see if it indeed brings news of his actions, and reads, on the front page:
U.S. MARINE ASSAULTS AFRICAN IMMIGRANT AND STEALSHIS LUNCH
And THAT pretty much sums up the media's approach to the news these days.
#joke
Do you know what day it is?
"I bet you don't know what day this is", said the wife to her husband as he made his way out the front door. The husband was perplexed, but was always a quick thinker:
"Of course I do, my dear. How could I forget!?" With that, he turned and rushed to catch the bus for work.
At 10 AM, the doorbell rang and when the woman opened the door, she was handed a box containing a dozen long stemmed red roses.
At 1 PM, a foil wrapped, two pound box of her favorite chocolates arrived. Later, a boutique delivered a designer dress. The woman couldn't wait for her husband to come home.
The husband was smug when he returned from work, satisfied that he had recovered what could have been a very bad situation.
His wife was indeed surprised: "First the flowers, then the chocolates and then the dress!" she exclaimed, "I've never had a more wonderful Groundhog Day in my life!"
#joke
Golfing
Two lawyers, Jon and David, head out for their usual 9 holes of golf. Jon offers David a $50 bet. David agrees and they're off. They do a great game. After the 8th hole, David is ahead by one stroke, but cuts his ball into the rough on the 9th.
"Help me find my ball. Look over there,'" he says to Jon. After a few minutes, neither have any luck. Since a lost ball carries a four point penalty, David secretly pulls a ball from his pocket and tosses it to the ground. "I've found my ball!" he announces.
"After all of the years we've been partners and playing together," Jon says, "you'd cheat me out of a lousy 50 bucks?"
"What do you mean, cheat? I found my ball sitting right there!"
"And you're a liar, too!" Jon says. "I've been STANDING on your ball for the last five minutes!"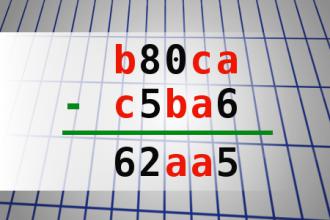 Find number abc
If b80ca - c5ba6 = 62aa5 find number abc. Multiple solutions may exist.
Japanese course
A couple was delighted when finally their long wait to adopt a baby came to an end.
The adoption center called and told them they had a wonderful Japanese baby boy, and the couple took him without hesitation.
On the way home from the adoption center, they stopped by the local college so they each could enroll in night courses.
After they filled out the form, the registration clerk inquired, "What ever possessed you to study Japanese?"
The couple said proudly, "We just adopted a Japanese baby and in a year or so he'll start to talk. We just want to be able to understand him."
#joke
Two golden rules to a happy marriage
Two golden rules to a happy marriage...
A woman gets on a bus with her
A woman gets on a bus with her baby. The bus driver says, "That's the ugliest baby that I've ever seen. Ugh!" The woman goes to the rear of the bus and sits down, fuming. She says to a man next to her, "The driver just insulted me!" The man says, "You go right up there and tell him off – go ahead, I'll hold your monkey for you."
#joke
From Yuppie Businessman to redneck in 35 Easy Steps
Are you a wealthy and successful suit-and-tie yuppie businessman who has always had a secret dream that you would one day become a redneck?
Have you always wanted to be a Bubba, but didn't know how?
Is there an inner Cletus inside that dapper and dignified image, just hollerin' to get out?
Well, now, Mister Corporate High-flyer, YOU can become the redneck you have always wanted to be!
Purchase the following: one pair of overalls, one pack of chewing tobacco and six cases of beer. That is all you will need to start!
Now follow the 35 SIMPLE and EASY guidelines in our manual!
Caution: These instructions MUST be followed in your BUSINESS OFFICE during WORKING HOURS.
1) We assume you are a dignified, well-groomed yuppie executive; therefore, as you read this, it is also assumed you are wearing a pair of well-polished $800 Brooks Brothers black captoe leather shoes and silk business socks, a $2,000 pinstriped Armani business suit tailored for you, a $150 silk necktie with matching pocket square and suspenders, a starched white shirt, monogrammed cufflinks, silver tiepin and a Rolex. If you are not dressed like this, stop NOW and continue when you are.
FIRST, untie and remove high-and-mighty mirror-shined executive shoes. Peel off fancy socks.
DO THIS NOW! This is NOT optional!
Be warned: these shoes and socks have been vital to your identity until now, so do not deceive yourself; this will be a challenge to a true yuppie executive. They MUST be removed to move forward into the wonderful new world that awaits you.
(Note: This will also work with Johnston & Murphy wingtips or those Italian loafers with those little tassels on them.)
2) Stuff silk socks in shiny shoes and drop in garbage can.
3) *URGENT* Do not, under any circumstances, put shoes back on. You MUST remain barefoot. If you fail, return to step one. This will take discipline! This is where most would-be bubbas fail! You will be tempted to put them back on - resist this!
If you have trouble, don't hesitate to call our 800 emergency number. A bona fide trained Bubba coach will help you.
4) The following is guaranteed to help bring you off your high horse in a hurry, and into the redneck world! Trust us!
Prop bare feet on polished office desk, with soles facing open office door. Do NOT remove feet from desk, even when co-workers, clients and/or boss enter office.
5) Remove cufflinks and scratch soles of feet with them when others enter office and during office conference. Put cufflinks back on.
6) Use necktie to wipe nose.
7) Use tiepin and/or collar stud to clean toenails. Put tiepin or collar stud back in tie or shirt.
Eat lunch with knife only. Wipe dirty knife on otherwise spotless business suit.
9) Reach under suit trouser leg and scratch. Scratch under arms.
10) Open can of beer. Drink rapidly and belch loudly. Practice! Dribble on business suit. Discarded business socks may be used to wipe mouth. Repeat. Pile cans on expensive office carpet.
11) Shout with laughter for no reason.
Note: Do NOT be concerned if you experience concern about your dignity. Your dignity will soon disappear! Do not worry!
12) Place tobacco in mouth; place in back of cheek. Practice spitting streams of tobacco juice on to computer screen, or on polished office floor, or on important presentation, or in the cuffs of the trousers of your pinstriped suit. Brooks Brothers shoes may also serve as spittoon.
Note: This is the ONLY time when you may retrieve shoes from garbage! See Step #3.
13) Untie and remove natty silk necktie, unfasten and remove gold monogrammed cufflinks, pluck pocket square from suit, unfasten tiepin, unbutton and pull out suspenders and slide Rolex off wrist. Drop ALL items in garbage can.
14) Strip off classy, expensive tailored Armani business suit, starched shirt and designer underwear. Toss in garbage can.
Note: Removal of business suit can be traumatic for an uppity upper class businessman. It is comparable to an operation. Be prepared for shock to system.
15) Add briefcase, cell phone and day-timer.
16) Cut up credit cards and throw away wallet.
17) Cut up Ivy League degree.
18) Put on overalls. Walk around in hem to get used to your new look.
19) Practice poor posture and sluggish walk.
20) Cancel subscriptions to Wall Street Journal and New York Times. Have cable disconnected.
21) If you have not already been fired, quit high-paying prestigious white-collar job and stop working altogether.
Alternative: become a garbage man or janitor or sling hash in a diner.
22) Make appointment with dentist. Have front teeth removed.
23) Make appointment with surgeon. Have all hair on top of head removed through electrolysis. Let hair grow on sides and back.
24) Shave ONLY twice a week. Be careful to leave stubble at all times.
25) Bathe ONLY twice a week.
26) Begin intensive redneck language course. Do not use more than five words in a sentence. Drop all "NG" endings from words - "havin" instead of "having". Learn to yelp and whoop and holler.
27) Sell Porsche.
28) Buy used pickup.
29) Sell condo.
30) Buy dilapidated shack in backwoods and shotgun rack.
31) Give or throw away all remaining clothes: business suits, ties, shoes, socks, shirts, and accessories, including Burberry tuxedo, overcoat and patent leather pumps worn to corporate black tie events. NOTHING can be retained.
32) Sell stocks and bonds and give all proceeds from these and sale of car and home to a redneck charity. You will NOT need money.
33) Watch NASCAR and pro-wrestling every day. Do NOT miss any episodes.
34) Find wrecked car and leave in front of shack.
35) Have name changed legally from "Mark" or "Andrew" or "Kevin" to "Cletus" or "Bubba" or "Jed".
Congratulations! You, Sir, are now the Redneck you have dreamed of becoming!
Satisfaction Guaranteed! And no one will ever call you "sir" again!
Chuck Norris knows the last di...
Chuck Norris knows the last digit of pi.
Some Musical Christmas Advice
Make out your Chopin Liszt early before Debussy season, when you have time to check out Verdi good bargains are, can still get gifts Faure good price, not have to Handel large crowds and have time to give Bach things you decide you don't want.
A blonde and a lawyer are seat...
A blonde and a lawyer are seated next to each other on a flight from LA to NY. The lawyer asks if she would like to play a fun game?
The blonde, tired, just wants to take a nap, politely declines and rolls over to the window to catch a few winks. The lawyer persists and explains that the game is easy and a lot of fun. He explains, I ask you a question, and if you don't know the answer, you pay me $5.00, and vise versa.
Again, she declines and tries to get some sleep. The lawyer, now agitated, says, "Okay, if you don't know the answer you pay me $5.00, and, if I don't know the answer, I will pay you $500.00."
This catches the blonde's attention and, figuring there will be no end to this torment unless she plays, agrees to the game.
The lawyer asks the first question. "What's the distance from the earth to the moon?" The blonde doesn't say a word, reaches into her purse, pulls out a $5.00 bill and hands it to the lawyer.
Okay says the lawyer, your turn. She asks the lawyer, "What goes up a hill with three legs and comes down with four legs?" The lawyer, puzzled, takes out his laptop computer and searches all his references, no answer. He taps into the air phone with his modem and searches the net and the library of congress, no answer. Frustrated, he sends e-mails to all his friends and coworkers, to no avail.
After an hour, he wakes the blonde, and hands her $500.00. The blonde says, "Thank you," and turns back to get some more sleep.
The lawyer, who is more than a little miffed, wakes the blonde and asks, "Well, what's the answer? "Without a word, the blonde reaches into her purse, hands the lawyer $5.00, and goes back to sleep.