"What happened to you?" said t
"What happened to you?" said the hospital visitor to the heavily bandaged man sitting up in bed.
"I decided to take a ride on the roller coaster. As we came up to the top of the highest loop, I noticed a little sign by the side of the track. I tried to read it but I couldn't make it out."
"I decided to go around again, but we went by so quickly I still couldn't read it. By now, I was determined to read that sign so I went round a third time. As we reached the top, I stood up in the car to get a better view."
"And did you manage to see what the sign said this time?" asked the visitor.
"Yeah. It said, 'Don't stand up in the car.'"
#joke
"A funny criminal is
"A funny criminal is a silicon."
Funny video of the day - How To Climb a Coconut Tree
Why are you crying?
Two guys were sitting outside a medical clinic. One of them was crying, tears were pouring down his face.
The other guy asked, "Why are you crying?"
The first one replied, "I came here for blood test."
The second one asked, "So? Why are you crying? Are you afraid?"
The first guy replied, "No. Not that. During the blood test they cut my finger."
Hearing this, the second one started crying.
The first one was astonished and asked the other, "Why are you crying?"
Then the second guy replied, "I have come for a urine test."
#joke
Two-timer
Mrs. Donnell said to her maid: "Oh Mary, I suspect that my husband is having an affair with his secretary."
"I don't believe it," Mary snapped: "you're just saying that to make me jealous."
Sun Tzu's critically pan
Sun Tzu's critically panned sequel to his masterpiece, aka The Fart of Whore.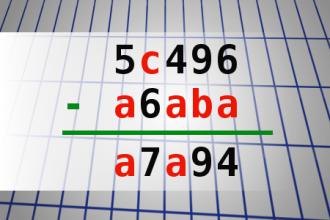 Find number abc
If 5c496 - a6aba = a7a94 find number abc. Multiple solutions may exist.
Golfing
Two lawyers, Jon and David, head out for their usual 9 holes of golf. Jon offers David a $50 bet. David agrees and they're off. They do a great game. After the 8th hole, David is ahead by one stroke, but cuts his ball into the rough on the 9th.
"Help me find my ball. Look over there,'" he says to Jon. After a few minutes, neither have any luck. Since a lost ball carries a four point penalty, David secretly pulls a ball from his pocket and tosses it to the ground. "I've found my ball!" he announces.
"After all of the years we've been partners and playing together," Jon says, "you'd cheat me out of a lousy 50 bucks?"
"What do you mean, cheat? I found my ball sitting right there!"
"And you're a liar, too!" Jon says. "I've been STANDING on your ball for the last five minutes!"
A city slicker shoots a duck o
A city slicker shoots a duck out in the country. As he's retrieving it, a farmer walks up and stops him, claiming that since the duck is on his farm, it technically belongs to him. After minutes of arguing, the farmer proposes they settle the matter "country style."
"What's country style?" asks the city boy.
"Out here in the country," the farmer says, "when two fellers have a dispute, one feller kicks the other one in the balls as hard as he can. Then that feller, he kicks the first one as hard as he can. And so forth. Last man standin' wins the dispute."
Warily the city boy agrees and prepares himself. The farmer hauls off and kicks him in the groin with all his might. The city boy falls to the ground in the most intense pain he's ever felt, crying like a baby and coughing up blood. Finally he staggers to his feet and says, "All right, n-now it's–it's m-my turn."
The farmer grins. "Aw, hell, you win. Keep the duck."
#joke
At The End of Your Rope?
There were eleven people hanging onto a rope that came down from a plane. Ten were blonde, and one was a brunette. They all decided that one person should get off because if they didn't, then the rope would break and everyone would die. No one could decide who should go, so finally the brunette said, "I'll get off." After a really touching speech from the brunette saying she would get off, all of the blondes started clapping.
(Problem solved.)
A woman gets on a bus with her
A woman gets on a bus with her baby. The bus driver says, "That's the ugliest baby that I've ever seen. Ugh!" The woman goes to the rear of the bus and sits down, fuming. She says to a man next to her, "The driver just insulted me!" The man says, "You go right up there and tell him off – go ahead, I'll hold your monkey for you."
#joke
Nick Kroll: Same Perfume
My mother and my girlfriend are wearing the same perfume, which is weird because, all of a sudden, Im attracted to my girlfriend.
Reaching the end of a job inte...
Reaching the end of a job interview, the Human Resources Officer asked a young Engineer fresh out of MIT, "And what starting salary were you looking for?"
The Engineer replies, "In the region of $125,000 a year, depending on the benefits package."
The interviewer inquires, "Well, what would you say to a package of 5-weeks vacation, 14 paid holidays, full medical and dental, company matching retirement fund to 50% of salary, and a company car leased every 2 years say, a red Corvette?"
The Engineer sits up straight and says, "Wow! Are you kidding?"
And the interviewer replies, "Yeah, but you started it."
#joke
Chuck Norris can slam a revolv...
Chuck Norris can slam a revolving door.
Business one-liners 74
If you want to get along, go along.
If you want to make an enemy, do someone a favor.
If your next pot of chili tastes better, it probably is because of something left out, rather than added.
Ignorance is bliss. No wonder I'm so depressed.
Illegitimus non Carborundem: "Don't let the scum bags grind you down"
In a hierarchical organization, the higher the level, the greater the confusion.
In any calculation, any error which can creep in will do so.
In any hierarchy, each individual rises to his own level of incompetence, and then remains there.
In any household, junk accumulates to the the space available for its storage.
In case of doubt, make it sound convincing.
It takes a big man to admit when he's wrong, and an even bigger one to keep his mouth shut when he's right.
#joke