A man and his dog walk into a...
A man and his dog walk into a bar. The man proclaims, "I'll bet you a round of drinks that my dog can talk."
Bartender: "Yeah! Sure ... go ahead."
Man: "What covers a house?"
Dog: "Roof!"
Man: "How does sandpaper feel?"
Dog: "Rough!"
Man: "Who was the greatest baseball player of all time?"
Dog: "Ruth!"
Man: "Pay up. I told you he could talk."
The bartender, annoyed at this point, throws both of them out the door.
Sitting on the sidewalk, the dog looks at the guy and says, "or is the greatest player Mantle?"
#joke
"When you buy a cork
"When you buy a cork board, do you pay thumb tax?"
An eagle was sitting on a tree...
An eagle was sitting on a tree resting, doing nothing.
A small rabbit saw the eagle and asked him, 'Can I also sit like you and do nothing?'The eagle answered: 'Sure, why not.'
So, the rabbit sat on the ground below the eagle and rested. All of a sudden, a fox appeared, jumped on the rabbit and ate it.
Moral of the story:
To be sitting and doing nothing, you must be sitting very, very high up.
#joke
Extra Money
This girl needed some money, so she is doing odd-jobs around her neighborhood. She decides she's not making enough money, so she goes to a rich neighborhood. She walks up to this house and rings the doorbell. The guy answers and tells her she can paint the porch. He gives her a can of paint and $25. When he goes inside, his wife says, "$25! Does she know that the porch wraps all the way around the house?"
"Oh, she'll do fine." the guy says.
An hour later, the doorbell rings. It's the girl. She says, "I'm finished. I even had some extra paint, so I put another coat on."
The guy is surprised. Then the girl says, "Oh, and by the way, that's not a Porsche, that's a Ferrari."
#joke
Bloopers Of Children
Some bloopers of biblical proportions written by Sunday School students of both the Christian and Jewish persuasion:
In the first book of the bible, Guinessis, God got tired of creating the world, so he took the Sabbath off.
Adam & Eve were created from an apple tree.
Noah's wife was called Joan of Ark.
Noah built the ark, which the animals came on in pears.
Lot's wife was a pillar of salt by day, but a ball of fire by night.
The Jews were a proud people and throughout history they had trouble with unsympathetic Genitals.
Sampson was a strongman who let himself be led astray by a jezebel like Delilah.
Sampson slated the Philistines with the axe of apostles.
Moses led the Hebrews to the Red Sea, where they made unleavened bread, which is bread made without any ingredients.
The Egyptians were all drowned in the dessert.
Afterward, Moses went up on Mount Cyanide to get the Ten Amendments.
The first commandment was when Eve told Adam to eat the apple.
The Fifth Commandment is humor thy mother and father.
The Seventh Commandment is thou shalt not admit adultery.
Moses died before he ever reached the UK. Then, Joshua led the Hebrews in the Battle of Geritol.
The greatest miracle in the Bible is when Joshua told his son to stand still and he obeyed him.
David was a Hebrew king skilled at playing the liar. He fought with the Finkelsteins, a race of people who lived in the biblical times.
Solomon, one of David's sons, has 300 wives and 700 porcupines.
When Mary heard that she was the Mother of Jesus, she sang the Magna Carta.
When the three wise guys from the East Side arrived, they found Jesus and the manager.
Jesus was born because Mary had an emaculate contraption.
St. John, the Blacksmith, dumped water on his head.
Jesus enunciated the Golden Rule, which says to do one to others before they do one to you.
He also explained, "Man doth not live by sweat alone."
The people who followed the Lord were called the 12 decibels.
The epistles were the wives of the apostles.
One of the opossums was St. Matthew, who was by profession a taximan.
St. Paul cavorted to Christianity. He preached holy acrimony, which is another name for marriage.
A Christian should have only one wife. This is called monotony.
#joke
Jump out of the plane
An Englishman, Frenchman, Mexican, and Texan were flying across country on a small plane when the pilot comes on the loud speaker and says " We're having mechanical problems and the only way we can make it to the next airport is for 3 of you to open the door and jump, at least one of you can survive"
The four open the door and look out below. The Englishman takes a deep breath and hollers "God Save The Queen" and jumps.
The Frenchman gets really inspired and hollers "Viva La France" and he also jumps.
This really pumps up the Texan so he hollers "Remember the Alamo" and he grabs the Mexican and throws him out of the plane.
#joke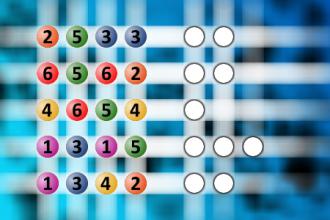 Find the right combination
The computer chose a secret code (sequence of 4 digits from 1 to 6). Your goal is to find that code. Black circles indicate the number of hits on the right spot. White circles indicate the number of hits on the wrong spot.
Chinese Business Trip
A man went on a business trip to China and wanted to buy some gifts for his kids. He went to a shop and found a nice looking CD player. Wary of buying inferior goods, he asked the shopkeeper, 'What would happened if this does not work?'
The shopkeeper quietly points to the only sign in English that reads, 'GUARANTEE NO SPOILT'.
Feeling assured, he paid for the CD player and returns to his hotel. He tried to use the CD player after returning to the hotel but it would not even switch on.
He quickly return to the shop and asked for a refund or an exchange for another unit. When the shopkeeper refused to give either, the man points to the sign assuring him of a guarantee.
The shopkeeper then said, 'Brother, you are in China. We read from the right to the left.'
#joke
The Baloonist
A woman in a hot air balloon realized she was lost.
She reduced altitude and spotted a man below. She descended a bit more and shouted: 'Excuse me, can you help me? I promised a friend I would meet him an hour ago but I don't know where I am..'
The man below replied, 'You're in a hot air balloon hovering approximately 30 feet above the ground. You're between 40 and 41 degrees north latitude and between 59 and 60 degrees west longitude.'
'You must be an Engineer,' said the balloonist.
'I am,' replied the man, 'how did you know?'
'Well,' answered the balloonist, 'everything you have told me is probably technically correct, but I've no idea what to make of your information and the fact is, I'm still lost. Frankly, you've not been much help at all. If anything, you've delayed my trip by your talk.'
The man below responded, 'You must be in Management.'
'I am,' replied the balloonist, 'but how did you know?'
'Well,' said the man, 'you don't know where you are or where you're going. You have risen to where you are, due to a large quantity of hot air. You made a promise, which you've no idea how to keep, and you expect people beneath you to solve your problems. The fact is you are in exactly the same position you were in before we met, but now, somehow, it's my f**king fault.'
#joke
Bad Date
After being with her all evening, the man couldn't take another minute with his blind date. Earlier, he had secretly arranged to have a friend call him to the phone so he would have an excuse to leave if something like this happened.
When he returned to the table, he lowered his eyes, put on a grim expression and said, "I have some bad news. My grandfather just died."
"Thank heavens," his date replied. "If yours hadn't, mine would have had to!"
#joke
D.L. Hughley: Police Following You
You ever have the police follow you so long, you get suspicious of your damn self? Maybe I did kill them people. Im a go ahead and turn myself in.
Marc Maron: Mathematical Cure for Jealousy
I used to be jealous; Im not jealous anymore. And a miracle happened to me, because if youre jealous, its a cancer, its a plague on your spirit, it really is. And I actually cured jealousy in a very weird way -- I cured it with mathematics. And Im not a math person at all, but Ive been with my wife for about seven years, so we have had sex probably, Id like to think, like, 9 million times or, at least, 1,500. So, the way I figured it, if she goes out and screws some other guy once -- Im still winning.
#joke
Internet addictions
Internet Addiction Disorder (IAD)
As the incidence and prevalence of Internet Addiction Disorder (IAD) has been increasing exponentially, a support group. The Internet Addiction Support Group (IASG) has been established. Below are the official criteria for the diagnosis of IAD and subscription information for the IASG.
A maladaptive pattern of Internet use, leading to clinically significant impairment or distress as manifested by three (or more) of the following, occurring at any time in the same 12-month period:
Diagnostic Criteria
(I) tolerance, as defined by either of the following:
(A) A need for markedly increased amounts of time on Internet to achieve satisfaction
(B) markedly diminished effect with continued use of the same amount of time on Internet
(II) withdrawal, as manifested by either of the following
(A) the characteristic withdrawal syndrome
(1) Cessation of (or reduction) in Internet use that has been heavy and prolonged.
(2) Two (or more) of the following, developing within several days to a month after Criterion 1:
(a) psychomotor agitation
(b) anxiety
(c) obsessive thinking about what is happening on Internet
(d) fantasies or dreams about Internet
(e) voluntary or involuntary typing movements of the fingers
(3) The symptoms in Criterion B cause distress or impairment in social, occupational or other important other area of functioning
(B) Use of Internet or a similar on-line service is engaged in to relieve or avoid withdrawal symptoms.
(III) Internet is often accessed more often or for longer periods of time than was intended
(IV) There is a persistent desire or unsuccessful efforts to cut down or control Internet use
(V) A great deal of time is spent in activitied related to Internet use (e.g., buying Internet books, trying out new WWW browsers, researching Internet vendors, organizing files of downloaded materials
(VI) Important social, occupational, or recreational activities are given up or reduced because of Internet use.
(VII) Internet use is continued despite knowledge of having a persistent or recurrent physical, social, occupational, or psychological problem that is likely to been caused or exacerbated by Internet use (sleep deprivation, marital difficulties, lateness for early morning appointments, neglect of occupational duties, or feelings of abandonment in significant others)
#joke