How Do You Pronounce Kissimee?
A man and his wife were driving their Recreational Vehicle across the country and were nearing a town spelled Kissimee.
They noted the strange spelling and tried to figure how to pronounce it - KISS-a-me; kis-A-me; kis-a-ME. They grew more perplexed as they drove into the town.
Since they were hungry, they pulled into a place to get something to eat. At the counter, the man said to the waitress: "My wife and I can't seem to be able to figure out how to pronounce this place. Will you tell me where we are and say it very slowly so that I can understand."
The waitress looked at him and said: "Buuurrrgerrr Kiiiinnnng."
#joke
Funny video of the day - Golf Fails, Sexy Cop Calendars, and Time Machine Pranks
A small tourist hotel was all
A small tourist hotel was all abuzz about an afternoon wedding where the groom was 95 and the bride was 23. The groom looked pretty feeble and the feeling was that the wedding night might kill him, because his bride was a healthy, vivacious young woman.
But lo and behold, the next morning, the bride came down the main staircase slowly, step by step, hanging onto the banister for dear life.
She finally managed to get to the counter of the little shop in the hotel. The clerk looked really concerned, "Whatever happened to you, honey? You look like you've been wrestling an alligator!"
The bride groaned, hung on to the counter and managed to speak, "Ohhh! He told me he'd been saving up for 75 years, and I thought he meant his money!"
#joke
I hope that this will once aga
I hope that this will once again confirm that the most important information in your life won't come from a teacher, the library or the internet, but from a mentor, and on a very personal level.
My long-passed grandfather's birthday is coming up, and for me it is a time to reminisce. The long walks we used to take. The long drives.The special trips he would make to pick me up so I could spend weekends with him, and the advice he used to give!
Much was wasted because I was young when he died. If he were alive today and sharing his pearls of wisdom, I'd be a better man.
Those gems were well and good, but the one I remember most, the jewel in the crown of grandfatherly advice, came when I was on 12. We were sitting in a park, watching children and their mothers enjoying a beautiful spring day. He told me that one day, I'd find a woman and start my own family.
"And son," he said, "be sure you marry a woman with small hands."
"How come, Grandpa?" I asked.
"It makes your pecker look bigger."
Kinda brings a tear to your eye, doesn't it?
#joke
Type What I Tell You
While trying to diagnose a problem over the phone I told the user to type out his autoexec.bat file.
He said it said "File not found".
I told him to do a dir.
I asked him if he saw autoexec.bat listed.
He said, "Well it says autoexec, then there's some spaces, but no dot, and then it says bat."
I said type this in "type autoexec.bat".
Again he got "File not found".
I asked him to tell me exactly what he typed.
He said, "I typed just what you told me: `type autoexecdotbat'.
#joke
"The skeleton was try
"The skeleton was trying tibia little humerus."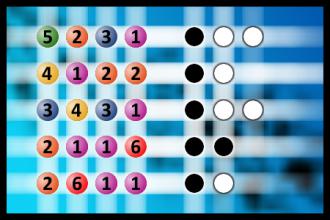 Which is a winning combination of digits?
The computer chose a secret code (sequence of 4 digits from 1 to 6). Your goal is to find that code. Black circles indicate the number of hits on the right spot. White circles indicate the number of hits on the wrong spot.
Preposition
A small-town country boy gets a scholarship to Harvard. During his first week on campus, when he's still learning to get around the place, he's trying to find the library to meet up with a study group. While wandering around, he sees an older, distinguished-looking man walking by. Figuring that the man is a professor, or otherwise associated with the school, he decides to ask him for directions.
"Excuse me," he asks, "do you know where the library is at?"
The man stops, looks at him, and sniffs, "Son, at Harvard we do not end a sentence with a preposition".
"OK. Do you know where the library is at, asshole?"
#joke
Jimmy Carr: Why Men Use Viagra
The reason old men use Viagra is not because theyre impotent. Its because old women are so very ugly.
Neverland search
Police raided the Neverland ranch of Michael Jackson again.
He was reported to be so upset, he dangled himself over a balcony.
Demetri Martin: Rock, Paper, Scissors
I like rock, paper, scissors -- two-thirds. Rock breaks scissors: these scissors are bent, theyre destroyed, I cant cut stuff -- I lose. Scissor cuts paper: this is strips, this is not even paper, this can take me forever to put this back together -- you got me. Paper covers rock: rock is fine, no structural damage to rock. Rock can break through paper at any point, just say the word. Paper sucks. It should be rock, dynamite with a cuttable wick, scissors.
#joke
The Laws Of Golf
LAW 1: No matter how bad your last shot was, the worst is yet to come. This law does not expire on the 18th hole, since it has the supernatural tendency to extend over the course of a tournament, a summer and, eventually, a lifetime.
LAW 2: Your best round of golf will be followed almost immediately by your worst round ever. The probability of the latter increases with the number of people you tell about the former.
LAW 3: Brand new golf balls are water-magnetic. Though this cannot be proven in the lab, it is a known fact that the more expensive the golf ball, the greater its attraction to water.
LAW 4: Golf balls never bounce off of trees back into play. If one does, the tree is breaking a law of the universe and should be cut down.
LAW 5: No matter what causes a golfer to muff a shot, all his playing partners must solemnly chant "You looked up," or invoke the wrath of the universe.
LAW 6: The higher a golfer's handicap, the more qualified he deems himself as an instructor.
LAW 7: Every par-three hole in the world has a secret desire to humiliate golfers. The shorter the hole, the greater its desire.
LAW 8: Topping a 3-iron is the most painful torture known to man.
LAW 9: Palm trees eat golf balls.
LAW 10: Sand is alive. If it isn't, how do you explain the way it works against you?
LAW 11: Golf carts always run out of juice at the farthest point from the clubhouse.
LAW 12: A golfer hitting into your group will always be bigger than anyone in your group. Likewise, a group you accidentally hit into will consist of a football player, a professional wrestler, a convicted murderer and an IRS agent -- or some similar combination.
LAW 13: All 3-woods are demon-possessed.
LAW 14: Golf balls from the same "sleeve" tend to follow one another, particularly out of bounds or into the water (See Law three).
LAW 15: A severe slice is a thing of awesome power and beauty.
LAW 16: "Nice lag" can usually be translated to "lousy putt." Similarly, "tough break" can usually be translated "way to miss an easy one, sucker."
LAW 17: The person you would most hate to lose to will always be the one who beats you.
LAW 18: The last three holes of a round will automatically adjust your score to what it really should be.
LAW 19: Golf should be given up at least twice per month.
LAW 20: All vows taken on a golf course shall be valid only until the sunset.
#joke
When Chuck Norris was a child,...
When Chuck Norris was a child, he made his mother finish his vegetables.