Be rady for Thanksgiving
, check out our latest
Thanksgiving jokes of 2021
on:
Thanksgiving jokes collection
A policeman is on scene at a t...
A policeman is on scene at a terrible accident - body parts everywhere. He is making his notes of where the pieces are and comes across a head.
He writes in his notebook: "Head on bullevard", and scratches out his spelling error.
"Head on bouelevard". Nope, doesn't look right - scratch scratch.
"Head on boolevard..." dang it! Scratch scratch.
He looks around and sees that no one is looking at him as he kicks the head. "Head on curb."
Answering Machine Message 129

Hello. I'm home right now but cannot find the phone. Please leave a message and I will call you up as soon as I find it.


The inventor of pantyhose...
"The inventor of pantyhose really left us quite a legacy."
A judge was interviewing a wom...
A judge was interviewing a woman regarding her pending divorce, and asked, "What are the grounds for your divorce?"
She replied, "About four acres and a nice little home in the middle of the property with a stream running by."
"No," he said, "I mean what is the foundation of this case?"
"It is made of concrete, brick and mortar," she responded.
"I mean," he continued, "What are your relations like?"
"I have an aunt and uncle living here in town, and so do my husband's parents."
He said, "Do you have a real grudge?"
"No," she replied, "We have a two-car carport and have never really needed one."
"Please," he tried again, "is there any infidelity in your marriage?"
"Yes, both my son and daughter have stereo sets. We don't necessarily like the music, but the answer to your questions is yes."
"Ma'am, does your husband ever beat you up?"
"Yes," she responded, "about twice a week he gets up earlier than I do."
Finally, in frustration, the judge asked, "Lady, why do you want a divorce?"
"Oh, I don't want a divorce," she replied. "I've never wanted a divorce. My husband does. He said he can't communicate with me!"
#joke
The dorm rules
On the first day of college, the Dean addressed the students, pointing out some of the rules:
"The female dormitory will be out-of-bounds for all male students, and the male dormitory to the female students. Anybody caught breaking this rule will be fined $20 the first time."
He continued, "Anybody caught breaking this rule the second time will be fined $60. Being caught a third time will cost you a fine of $180. Are there any questions?"
At this point, a male student in the crowd inquired: "How much for a season pass?"
#joke
Make God Laugh
You know how to you make God laugh?
Tell him your plans.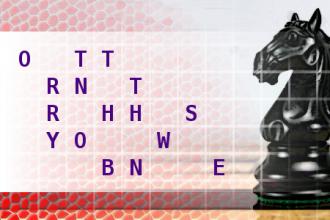 Chess Knight Move
Find the title of movie, using the move of a chess knight. First letter is N. Length of words in solution: 5,2,9.
Bush vs. Osama
Bush and Osama decided to settle the war once and for all. They sat down and decided to settle the whole dispute with one dogfight. They would have 5 years to breed the best fighting dog in the world and whichever side's dog won would be entitled to dominate the world.
Osama found the biggest, meanest Doberman and Rottweiler female dogs in the world and bred them with the meanest Siberian wolves. They selected only the biggest and strongest puppy from the litter, and removed his siblings, which gave him all the milk. After 5 years, they came up with the biggest, meanest dog the world had ever seen. Its cage needed steel bars that were 5 " thick and nobody could get near it.
When the day came for the dog fight, Bush showed up with a strange looking animal. It was a 9 foot long Dachshund. Everyone felt sorry for Bush because there was no way that this dog could possibly last 10 seconds with the Afghanistani dog. When the cages were opened up, the Dachshund came out of it's cage, and slowly waddled over towards Osama's dog. Osama's dog snarled and leaped out of its cage and charged the American Dachshund---but when it got close enough to bite, the Dachshund opened its mouth and consumed Osama's dog in one bite. There was nothing left of his dog at all.
Osama came up to Bush, shaking his head in disbelief, "We don't understand how this could have happened. We had our best people working for 5 years with the meanest Doberman and Rottweiler female dogs in the world and the biggest, meanest Siberian wolves."
"That's nothing,", said Bush. "We had Michael Jackson's plastic surgeons working for 5 years to make that alligator look like a weenie dog."
GOD BLESS AMERICA!!!!!!!!!
#joke
Model Nun
Sister Margaret was a model nun all of her life, until she was called to get her just rewards. As she approached the pearly gates, Saint Peter said "Hold on, Sister Margaret...not so fast!"
"But I have been good all my life and dedicated to the work of the Lord. From the time I was taken in as an infant by the sisters at the convent to my dying breath... I have lived for this moment!" Sister Margaret exclaimed in disbelief.
"That is precisely the problem," replied St. Peter, "...you never learned right from wrong and to get into heaven, you must know the difference between right and wrong".
"Well, what can I do? I will do anything to get into heaven!" Sister Margaret pleaded.
"I am going to have to send you back down to Earth. When you get there, I want you to smoke a cigarette and call me when you are finished. We will discuss your situation then." ordered St. Peter.
Sister Margaret returned to Earth, smoked a Camel, and then immediately called St. Peter, coughing and hacking. "Saint Peter" she gasped, "I can hardly breathe, my mouth tastes terrible, my breath stinks, I feel dizzy, and I think I am going to throw up".
"Good!" replied the old saint, "Now you are finally getting a feel for right and wrong. Now go out tonight and drink some hard liquor and call me back when you are ready."
Sister Margaret phoned St. Peter immediately after taking several belts of Jack Daniels.
"Saint Peter, I feel woozy... that vile liquid burned my throat and nauseated me...it is all I can do to keep it down."
"Good...good! Now you are starting to see the difference between right and wrong," said St. Peter with delight.
"Tomorrow I want you to seek out a man and know him in the Biblical sense, and then call me."
A week passed before Sister Margaret called St. Peter and left a message:
"Yo, Pete...it's Peggy...It's gonna be a while!"
#joke