A housewife with three young c...
A housewife with three young children was getting dinner ready when the phone rang. The six-year-old picked it up and said, "Hi, Daddy!" and she began telling him about her day.
She then passed the phone to her brother and sister as was the custom whenever Daddy called from work.
When it was finally the wife's turn to talk she took the receiver and said, "Hi, honey."
"Thank goodness, lady," the voice on the other end replied. "I just called to tell you that the wallpaper you ordered is here!"
#joke
"The forensic psychol
"The forensic psychologist was irritable because judges and juries tried his patients."
Dolly Parton and Queen Elizabe
Dolly Parton and Queen Elizabeth went to the Pearly Gates on the same day.
They both met with an Angel to find out if they would be admitted to Heaven.
The angel said "Unfortunately, there's only one space in Heaven today so I must decide which one of you will be admitted."
The Angel asked Dolly if there was some particular reason why she should go to Heaven. Dolly took off her top and said, "Look at these, they're the most perfect breasts God ever created and I'm sure it will please God to be able to see them every day, for eternity."
The Angel thanked Dolly, and asked Her Majesty, Queen Elizabeth the same question.
The Queen walked over to a toilet, pulled the lever and flushes it without saying a word.
The Angel immediately said, "OK, your Majesty, you may go into Heaven."
Dolly was outraged and asked, "What was that all about? I showed you two of God's own perfect creations and you turned me down. She simply flushed a commode and she got admitted to Heaven! Would you explain that to me?
"Sorry, Dolly," said the Angel, "but even in Heaven, a royal flush beats a pair - no matter how big they are."
#joke
Where are the monkeys?
The young lady strolled thru the National Zoo and finally paused in front of the monkey island. Mystified as to the whereabouts of the animals, she queried the keeper, "Where are all of the monkeys?"
"They're all back in the cave Miss." he responded, "It's right in the midst of the mating season."
"I see." she replied, "Do you think they'd come out if I offered them some of these peanuts?"
Smiling the keeper responding, "Well, I can't rightly say as I know Miss. Would *YOU*?"
#joke
The Bum
Q: What does a bum call a dumpster.
A: Bed and Breakfast.
The Top Ten Signs That Your Co-worker Is A Computer Hacker
10. You ticked him off once and your next phone bill was $20,000.
9. He's won the Publisher's Clearing House sweepstakes three years running.
8. When asked for his phone number, he gives it in hex.
7. Seems strangely calm whenever the office LAN goes down.
6. Somehow he/she gets HBO on his PC at work.
5. Mumbled, "Oh, puh-leeez" 95 times during the movie "The Net"
4. Massive RRSP contribution made in half-cent increments.
3. Video dating profile lists "public-key encryption" among turn-ons
2. When his computer starts up, you hear, "Good Morning, Mr. President."
1. You hear him murmur, "Let's see you use that Visa card now, jerk."
#joke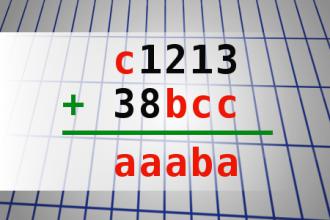 Find number abc
If c1213 + 38bcc = aaaba find number abc. Multiple solutions may exist.
A doctor is complaining to a mechanic...
A doctor is talking to a car mechanic, "Your fee is several times more per hour then we get paid for medical care."
"Yeah, but you see, doc, you have always the same model, it hasn't changed since Adam; but we have to keep up to date with new models coming every month."
MONDAY: It's fun to cook for...
MONDAY: It's fun to cook for Tom. Today I made angel food cake. The recipe said beat 12 eggs separately. The neighbors were nice enough to loan me some extra bowls.
TUESDAY: Tom wanted fruit salad for supper. The recipe said serve without dressing. So I didn't dress. What a surprise when Tom brought a friend home for supper.
WEDNESDAY: A good day for rice. The recipe said wash thoroughly before steaming the rice. It seemed kind of silly but I took a bath anyway. I can't say it improved the rice any.
THURSDAY: Today Tom asked for salad again. I tried a new recipe. It said prepare ingredients, lay on a bed of lettuce one hour before serving. Tom asked me why I was rolling around in the garden.
FRIDAY: I found an easy recipe for cookies. It said put the ingredients in a bowl and beat it. There must have been something wrong with this recipe. When I got back, everything was the same as when I left.
SATURDAY: Tom did the shopping today and brought home a chicken. He asked me to dress it for Sunday (oh boy).For some reason Tom keeps counting to ten.
SUNDAY: Tom's folks came to dinner. I wanted to serve roast but all I had was hamburger. Suddenly I had a flash of genius. I put the hamburger in the oven and set the controls for roast. It still came out hamburger, much to my disappointment.
GOOD NIGHT DEAR DIARY. This has been a very exciting week. I am eager for tomorrow to come so I can try out a new recipe on Tom. If I can talk Tom into buying a bigger oven, I would like to surprise him with chocolate moose.
Chemistry Song 04
Silent Labs
Silent labs, difficult labs
All with math, all with graphs
Observations of colors and smells
Calculations and graph curves like bells
Memories of tests that have past
Oh, how long will chemistry last?
Silent labs, difficult labs
All with math, all with graphs
Lots of equations that need balancing
Gas pressure problems that make my head ring
Santa Chlorine's on his way
Oh, Please Santa bring me an 'A'.
#joke
Jesus is watching
A burglar broke into a house one night. He shone his torch around looking for valuables.
When he picked up a CD player to place in his sack, a strange disembodied voice echoed from the dark, saying,
'Jesus is watching you.'
He nearly jumped out of his skin, clicked his flashlight off and froze.
When he heard nothing more after a little while, he shook his head, promised himself a holiday after the next score, and then clicked his light back on and began searching for more valuables.
Just as he pulled the stereo out so he could disconnect the wires, clear as a bell, he heard,
'Jesus is watching you.'
Freaked out, he shone his light around frantically looking for the source of the voice.
Finally, in the corner of the room, his torch came to rest on a parrot.
'Did you say that?' he hissed at the parrot.
'Yep,' the parrot confessed, and then squawked, 'I'm trying to warn you.'
The burglar relaxed.
'Warn me, eh? Who are you?'
'Moses,' replied the parrot.
`Moses?' The burglar laughed. 'What kind of stupid people would name a parrot Moses?'
The parrot replied, 'Probably the same kind of people that would name a Rottweiler Jesus.'
#joke
Join us on WhatsApp