A little boy was sitting outsi...
A little boy was sitting outside a store eating one snickers candy bar after another, when an older man walked up and said: "You shouldn't be eating so much candy, it'll rot your teeth, it's just bad for you to eat so much candy."
The little boy looked up and said: "My grandfather lived to be 95 years old."
The older man asked: "Oh? by eating snickers candy bars?"
The little boy said: "No... by minding his own business."
#joke
"Labyrinths are amazi
"Labyrinths are amazing."
Closer Than You Think!

Closer Than You Think!
An unemployed man goes to apply for a job with Microsoft as a janitor. The manager there arranges for him to take an aptitude test (Section: Floors, sweeping and cleaning).
After the test, the manager says, "You will be employed at minimum wage, $5.15 an hour. Let me have your e-mail address, so that I can send you a form to complete and tell you where to report for work on your first day. Taken aback, the man protests that he has neither a computer nor an e-mail address. To this the MS manager replies, "Well, then, that means that you virtually don't exist and can therefore hardly expect to be employed.
Stunned, the man leaves. Not knowing where to turn and having only $10 in his wallet, he decides to buy a 25 lb flat of tomatoes at the supermarket. Within less than 2 hours, he sells all the tomatoes individually at 100% profit. Repeating the process several times more that day, he ends up with almost $100 before going to sleep that night. And thus it dawns on him that he could quite easily make a living selling tomatoes. Getting up early every day and going to bed late, he multiplies his profits quickly.
After a short time he acquires a cart to transport several dozen boxes of tomatoes, only to have to trade it in again so that he can buy a pick-up truck to support his expanding business. By the end of the second year, he is the owner of a fleet of pick-up trucks and manages a staff of a hundred former unemployed people, all selling tomatoes.
Planning for the future of his wife and children, he decides to buy some life insurance. Consulting with an insurance adviser, he picks an insurance plan to fit his new circumstances. At the end of the telephone conversation, the adviser asks him for his e-mail address in order to send the final documents electronically. When the man replies that he has no e-mail, the adviser is stunned, "What, you don't have e-mail? How on earth have you managed to amass such wealth without the Internet, e-mail and e-commerce? Just imagine where you would be now, if you had been connected to the Internet from the very start!"
After a moment of thought, the tomato millionaire replied, "Why, of course! I would be a floor cleaner at Microsoft!"
Moral of this story:
1. The Internet, e-mail and e-commerce do not need to rule your life.
2. If you don't have e-mail, but work hard, you can still become a millionaire.
3. Since you got this story via e-mail, you're probably closer to becoming a janitor than you are to becoming a millionaire.
4. If you do have a computer and e-mail, you have already been taken to the cleaners by Microsoft.
#joke
Top secret....
You've all heard of the Air Force's ultra-high-security, super- secret base in Nevada, known simply as "Area 51?"
Well, late one afternoon, the Air Force folks out at Area 51 were very surprised to see a Cessna landing at their "secret" base. They immediately impounded the aircraft and hauled the pilot into an interrogation room.
The pilot's story was that he took off from Vegas, got lost, and spotted the Base just as he was about to run out of fuel. The Air Force started a full FBI background check on the pilot and held him overnight during the investigation.
By the next day, they were finally convinced that the pilot really was lost and wasn't a spy. They gassed up his airplane, gave him a terrifying "you-did-not-see-a-base" briefing, complete with threats of spending the rest of his life in prison, told him Vegas was that-a-way on such-and-such a heading, and sent him on his way.
The next day, to the total disbelief of the Air Force, the same Cessna showed up again. Once again, the MP's surrounded the plane...only this time there were two people in the plane.
The same pilot jumped out and said, "Do anything you want to me, but my wife is in the plane and you have to tell her where I was last night!"
#joke
Knock Knock Collection 127
Knock Knock
Who's there?
Maybelle!
Maybelle who?
Maybelle doesn't ring either!
Knock Knock
Who's there?
Mecca!
Mecca who?
Mecca me happy!
Knock Knock
Who's there?
Medellin!
Medellin who?
Medellin where you don't belong!
Knock Knock
Who's there?
Meg!
Meg who?
Meg up your mind!
Knock Knock
Who's there?
Melita!
Melita who?
Melita chickadee!
#joke
More beer
A man came home from an exhausting day at work, plopped down on the couch in front of the television, and told his wife: "Get me a beer before it starts!"
The wife sighed and got him a beer.
Ten minutes later, he said: "Get me another beer before it starts!"
She looked cross, but fetched another beer and slammed it down next to him. He finished that beer and a few minutes later said: "Quick, get me another beer, it's going to start any minute!"
The wife was furious. "Is that all you're going to do tonight! Drink beer and sit in front of that TV! You're nothing but a lazy, drunken, fat slob and furthermore..."
The man sighed and said: "It's started."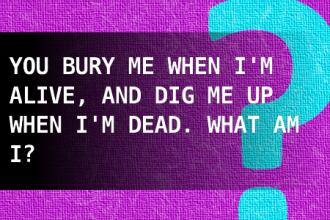 You bury me when I'm alive, an...
You bury me when I'm alive, and dig me up when I'm dead. What am I?
Daniel Tosh: Saw Myself Naked
Saw myself naked in front of a mirror a couple days ago -- thats not the joke, thats what we called the setup. I saw myself naked, and I said, Holy cow, Im The White Man. Ive heard a lot of bad things about you, cracka.
Chuck Norris can stop mid-snee...
Chuck Norris can stop mid-sneeze...with his eyes open.
Rory Albanese: Kids With ADD
Follow this sentence: children who cant pay attention are considered to have a disorder. Children who cant pay attention? I dont know, he just wont focus. He could be seven. That could be the issue.
Hunter Shot By Fox
The following is supposedly a true story. To be included, besides being true, the story is most likely strange, weird, surprising, or funny.
Hunter Shot to Death By a Fox, Belgrade, Associated Press
A fox shot and killed a 38-year-old hunter in central Yugoslavia, the official Yugoslav news agency Tanjug reported yesterday.
Salih Hajdur, a farmer from the village of Gornje Hrasno in the Republic of Bosnia-Hercegovina, went to a nearby forest Sunday to shoot a fox, Tanjug said.
Hajdur wounded a fox in the leg, the agency said, but to spare the skin he did not fire again. Instead, he hit the animal with his refle butt. The struggling animal triggered a shot that hit Hajdur in the chest and killed him instantly, Tanjug said. The fox died later, Tanjug added.
#joke