A married couple is driving do
A married couple is driving down the interstate doing 55 mph. The husband is behind the wheel. His wife looks over at him and says, "Honey, I know we've been married for 15 years, but, I want a divorce."
The husband says nothing but slowly increases speed to 60 mph.
She then says, "I don't want you to try to talk me out of it, because I've been having an affair with your best friend, and he's a better lover than you."
Again the husband stays quiet and just speeds up as he clenches his hands on the wheels.
She says, "I want the house." Again the husband speeds up, and now is doing 70 mph.
She says, "I want the kids too." The husband just keeps driving faster, and faster, until he's up to 80 mph.
She says, "I want the car, the checking account, and all the credit cards too."
The husband slowly starts to veer toward a bridge overpass piling, as she says, "Is there anything you want?"
The husband says, "No, I've got everything I need right here."
She asks, "What's that?"
The husband replies just before they hit the wall at 90 mph, "I've got the airbag!"
#joke
"Bookkeepers are prob
"Bookkeepers are problems for libraries."
Funny video of the day - It's the Effort that Counts
A note from mom...
John, a well-to-do bachelor, invited his mother over for dinner one night. During the meal, Mom couldn't help notice how attractive and shapely the house keeper was, and wondered if there was more going on than meets the eye. John sensing what his mother was thinking said to her "I know what you're thinking, Mom, but I assure you my relationship with the house keeper is purely professional."
A week later, the house keeper told John that ever since his mother's visit a silver gravy ladle has been missing. John sent his mother a note which said, "Mom, I'm not saying you did take the gravy ladle, and I'm not saying you didn't, but the fact remains one has been missing since you were here".
A few days later he receives a note from his mother. "John: I'm not saying you sleep with your house keeper, nor am I saying you're not. But the fact remains that if she were sleeping in her own bed she would have found the gravy ladle by now. Love, Mom".
#joke
Dumb Alabama Laws
It is illegal for a driver to be blindfolded while operating a vehicle.

Dominoes may not be played on Sunday.

You may not drive barefooted.

It is illegal to maim oneself to escape duty.

It is illegal to impersonate a person of the clergy.

Women are able to retain all property they owned prior to marriage in the case of divorce. However, this provision does not apply to men.

Masks may not be worn in public.

Putting salt on a railraod track may be punishable by death.

Boogers may not be flicked into the wind.

Bear wrestling matches are prohibited.

It is legal to drive the wrong way down a one-way street if you have a lantern attached to the front of your automobile.

Men may not spit in front of the opposite sex.

Incestous marriages are legal.

It is illegal to wear a fake moustache that causes laughter in church.

You must have windshield wipers on your car.

You may not have an ice cream cone in your back pocket at any time.

Anniston
You may not wear blue jeans down Noble Street.

Jasper
It is illegal for a husband to beat his wife with a stick larger in diameter than his thumb.

Lee County
It is illegal to sell peanuts in Lee County after sundown on Wednesday.

Mobile
It is unlawful to wear women's pumps with sharp, high heels.

It is unlawful to howl at ladies inside the city limits.

Montgomery
It is considered an offense to open an umbrella on a street, for fear of it spooking horses. (Repealed)



#joke
Two guys, one 80 and one 87...
Two guys, one 80 and one 87, were sitting on their usual park bench one morning.
The 87 year old had just finished his morning jog and wasn't even short of breath.
The 80 year old was amazed at his friend's stamina and asked him what he did to have so much energy.
The 87 year old said, "Well, I eat Italian bread every day. It keeps your energy level high and you'll have great stamina with the ladies."
So, on the way home, 80 year old stops at the bakery. As he was looking around, the lady asked if he needed any help. He said "Do you have any Italian bread?"
She said, "Yes, there's a whole shelf of it. Would you like some?"
He said, "I want 5 loaves."
She said, "My goodness, 5 loaves ... by the time you get to the 5th loaf, it'll be hard."
He replied, "I can't believe it, everybody knows about this sh*t but me."
#joke
Expert Advice
A doctor and a lawyer were talking at a party. Their conversation was constantly interrupted by people describing their ailments and asking the doctor for free medical advice. After an hour of this, the exasperated doctor asked the lawyer, "What do you do to stop people from asking you for legal advice when you're out of the office?"
"I give it to them," replied the lawyer, "and then I send them a bill."
The doctor was shocked, but agreed to give it a try. The next day, still feeling slightly guilty, the doctor prepared the bills. When he went to place them in his mailbox, he found a bill from the lawyer.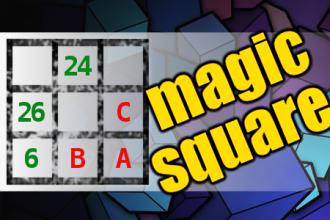 MAGIC SQUARE: Calculate A*B-C
The aim is to place the some numbers from the list (6, 7, 8, 24, 25, 26, 64, 65, 66) into the empty squares and squares marked with A, B an C. Sum of each row and column should be equal. All the numbers of the magic square must be different. Find values for A, B, and C. Solution is A*B-C.
Deon Cole: Getting Fit
When I moved out to LA they told me I had to work out. I was like, I dont wanna do that. They gave me this trainer, and the dude was like... The most important thing is, you cant eat late at night or youll get fat. And Im like, Forget that, you supposed to eat late at night. He was like, No you not. Im like, Well, why they put a light in the refrigerator?
#joke
Twins
A man was driving along the highway, and saw a rabbit hopping across the middle of the road. He swerved to avoid hitting the rabbit, but unfortunately the rabbit jumped in front of the car and was hit. The driver, being a sensitive man as well as an animal lover, pulled over to the side of the road and got out to see what had become of the rabbit. Much to his dismay, the rabbit was dead. The driver felt so awful he began to cry.
A woman driving down the highway saw the man crying on the side of the road and pulled over. She stepped out of her car and asked the man what was wrong.
"I feel terrible," he explained. "I accidently hit this rabbit and killed it."
The woman told the man not to worry. She knew what to do. She went to her car trunk and pulled out a spray can. She walked over to the limp, dead rabbit, and sprayed the contents of the can onto the rabbit. Miraculously, the rabbit came to life, jumped up, waved its paw at the two humans and hopped down the road. 50 feet away the rabbit stopped, turned around, waved at the two again, hopped down the road another 50 feet, turned, waved, and hopped another 50 feet. The man was astonished. He couldn't figure out what substance could be in the woman's spray can! He ran over to the woman and demanded, " What was in your spray can? What did you spray onto that rabbit?" The woman turned the can around so that the man could read the label. It said:
"'Hare Spray' Restores Life to Dead Hare. Adds Permanent Wave."
#joke
Donald Glover: iPhone Raps
I write raps so sometimes I will write them in my iPhone. So I was writing the n-word in my iPhone and my iPhone goes, Did you mean niggardly? And I was like, No iPhone. I meant n***er; write it. But then, two weeks later, I was writing Jigga -- which is the shortened form of Jay-Z. And my iPhone goes, Did you mean n***er? And I went, Whoa, iPhone. You do not get to say that.
#joke