"Fan of musical puns,
"Fan of musical puns, Aria?"
How do London taxi drivers stu
How do London taxi drivers study for their licensing exam? Road memorization.
Larry goes to the revival and
Larry goes to the revival and listens to the preacher.
After awhile the preacher asks anyone with needs to be prayed over to come forward to the front at the altar.
Larry gets in line, and when it's his turn, the preacher asks:
"Larry, what do you want me to pray about for you?"
Larry replies: "Preacher, I need you to pray for my hearing."
The preacher puts one finger in Larry's ear, and he places the other hand on top of Larry's head and prays and prays and prays.
After a few minutes, the preacher removes his hands, stands back and asks Larry:
"Larry, how is your hearing now?"
Larry says, "I don't know, Reverend, it's not until next Wednesday."
#joke
True or false...
A little kid's in school, taking a true-false test and he's flipping a coin. At the end of the test he's flipping the coin again. The teacher says, "What are you doing?" He says, "Checking my answers."
Pleasing Sister Mary
There was this nun named Sister Mary who, though she tried and tried, could never please the Mother Superior. One day she comes up with an idea: since the abbey was always cold, she decided to cut some wood and build a fire in the fireplace to heat the place up. She spent all day chopping, hauling and stacking wood. Subsequently, she wound up shredding the sleeves of her habit.
Later that night, as the other nuns came into the rectory, they were delighted to find the place warm and cozy, with a big fire roaring in the fireplace. Then Mother Superior comes in and yells, "Sister Mary! Go fix your torn habit this instant!"
Sister Mary, crying, asks, "But Mother Superior, aren't you happy that the abbey is warm?" To which the Mother Superior replies, "Yes, but when you ax, then ye shall re-sleeve."
#joke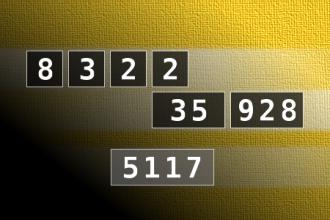 Calculate the number 5117
NUMBERMANIA: Calculate the number 5117 using numbers [8, 3, 2, 2, 35, 928] and basic arithmetic operations (+, -, *, /). Each of the numbers can be used only once.
Pretending to be happy
Pretending to be happy: Raise your hand  if you have been acting like you are all ok, but inside you are really not.
Rider
After a round of golf, four ladies sat around the club house, chatting.
Seeing the ladies, the Pro approached them and asked: "How did your game go?
The first lady, a brunette, said she had a good round ... making the comment that she actually had 25 riders. The Pro was a bit perplexed not knowing what a "Rider" was.
The second was a blonde lady who quickly chimed in and said that she had a very good round as well with 16 riders.
The third lady then said that her round was average and that she only had 10 riders.
The fourth lady admitted that she played the worst round of the day and that she only had 2 riders all day long.
The Pro was completely confused not knowing what the term "rider" meant. But, because he didn't want to look dumb, he made a quick polite remark, wished the ladies well and then left.
He then approached the bartender and asked "Hey, can you tell me what these ladies are talking about when they refer to "Riders"?"
The bartender simply smiled and said..."A 'Rider" is when you hit a shot long enough to ride on the golf cart to your ball.    
Bowling ball humor
I worry about the germs in the holes of bowling balls. Nobody cleans those holes. There are years of impacted pizza fingers in there. Taco fingers. Chicken fingers. I'm amazed those balls still have holes. Ever smell a bowling ball hole? You think the balls are knocking down the pins? You're wrong. The pins are passing out from the smell.
#joke
The chemical formula for the h...
The chemical formula for the highly toxic cyanide ion is CN-. These are also Chuck Norris' initials. This is not a coincidence.
Beer Machismo
After the Great Britain Beer Festival, in London, all the Presidents of the brewreys decide to go to the pub for a drink. The coors President said "Can I have the only beer made with Rocky Mountain Spring Water: a Coors, please."
The bartender gave him the drink.
Then the Budweiser President orders, "The King Of Beers -- Budweiser."
The bartender proceeds with the order.
The Amstel President walks in and orders "The Finest Beer ever."
The bartender gives him an Amstel.
Then the Guinness President says, "I'll have a coke please."
The bartender is taken aback by this but gives the coke to him anyway.
All the Presidents looked over at him and said, "Why have you ordered a coke?"
He replied, "Well if you all aren't drinking beer, then neither shall I."
Zen Sarcasm
1. Do not walk behind me, for I may not lead. Do not walk ahead of me, for I may not follow. Do not walk beside me either. Just pretty much leave me alone.
2 The journey of a thousand miles begins with a broken fan belt or a leaky tire.
3. It's always darkest before dawn, so if you're going to steal your neighbor's newspaper, that's the time to do it.
4. Don't be irreplaceable. If you can't be replaced, you can't be promoted.
5. Always remember that you're unique. Just like everyone else.
6. Never test the depth of the water with both feet.
7. If you think nobody cares if you're alive, try missing a couple of car payments.
8. Before you criticize someone, you should walk a mile in their shoes. That way, when you criticize them, you're a mile away and you have their shoes.
9. If at first you don't succeed...Skydiving is not for you.
10. Give a man a fish and he will eat for a day. Teach him how to fish, and he will sit in a boat and drink beer all day.