There was man from a country k
There was man from a country known for having a large population have trannys, because of his age he thought it would be a good idea to get a prostate exam. So he arrives for his appointment and the nurse calls him in, she tells him to undress and put on the gown and the doctor would be in shortly.
The doctor comes in and she proceeds to give the man his exam and tells him, "It's perfectly normal to get an erection during this type of exam."
The man says, "I don't have an erection!"
The doctor says, "I do."
Cast the first stone
Jesus saw a crowd chasing down a woman to stone her and approached them. "What's going on here, anyway?" he asked.
"This woman was found committing adultery and the law says we should stone her!" one of the crowd responded.
"Wait," yelled Jesus, "Let he who is without sin cast the first stone."
Suddenly, a stone was thrown from out of the sky, and knocked the woman on the side of her head.
"Aw, c'mon, Dad...," Jesus cried, "I'm trying to make a point here!"
#joke
Funny video of the day - Fails of the Week 4 September 2016
Offer Legal Advice
Taylor was desperate for business, and was happy to be appointed by the court to defend an indigent defendant.
The judge ordered Taylor, "You are to confer with the defendant in the hallway, and give him the best legal advice you can."
After a time, Taylor re-entered the courtroom alone.
When the judge asked where the defendant had gone, Taylor replied, "You asked me to give him good advice. I found out that he was guilty, so I told him to split."
#joke
Jimmy Carr: Teasing
My girlfriend said she wanted me to tease her. I said, 'Alright, fatty.'
"Fan of musical puns,
"Fan of musical puns, Aria?"
Upon arriving home, a husband...
Upon arriving home, a husband was met at the door by his sobbing wife. Tearfully she explained, "It's the pharmacist. He insulted me terribly this morning on the phone."
Immediately the husband drove downtown to confront the phamacist and demand an apology. Before he could say more than a few words, the druggist told him, "Now, just a minute, please listen to my side of it...
This morning the alarm failed to go off, so I was late getting up. I went without breakfast and hurried out to the car, just to realize that I locked the house with both house and car keys inside. I had to break a window to get my keys. Then, driving a little too fast, I got a speeding ticket.
Later, about three blocks from the store, I had a flat tire. When I got to the store there was a bunch of people waiting for me to open up. I opened and started waiting on these people, and all the time the darn phone was ringing off the hook."
He continued, "Then I had to break a roll of nickels against the cash register drawer to make change, and they spilled all over the floor. I got down on my hands and knees to pick up the nickels; the phone was still ringing. When I came up I cracked my head on the open cash drawer, which made me stagger back against a showcase with bunch of perfume bottles on it...all of them hit the floor and broke.
Meanwhile, the phone is still ringing with no let up, and I finally got to answer it. It was your wife. She wanted to know how to use a rectal thermometer...and, honest mister, all I did was tell her!"
#joke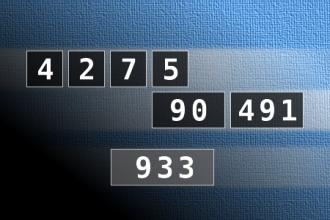 Calculate the number 933
NUMBERMANIA: Calculate the number 933 using numbers [4, 2, 7, 5, 90, 491] and basic arithmetic operations (+, -, *, /). Each of the numbers can be used only once.
Chuck Norris listens to "Requi...
Chuck Norris listens to "Requiem for a Tower" when he eats pancakes.
Dating a Nun
Did you hear about the guy who tried to date a nun?
He wanted to take her to the county fair, but she declined on account of she had taken a vow abstaining from Carnival pleasures.
- Joke shared by Beliefnet member BeerLover
Sticks and stones may break yo...
Sticks and stones may break your bones, but a Chuck Norris glare will liquify your kidneys.
Best room in the hotel?
The drunk staggered up to the hotel reception and demanded his room be changed.
"But sir," said the clerk, "you have the best room in the hotel."
"I insist on another room!!" said the drunk.
"Very good, sir. I`ll change you from 502 to 555. Would you mind telling me why you don't like 502?" asked the clerk.
"Well, for one thing," said the drunk, "it's on fire."
#joke
Kangaroo Sleepovers
A kangaroo mom with seven babies in her pouch told another kangaroo mom, "These sleepovers are killing me."