The mother of a 17-year-old gi
The mother of a 17-year-old girl was concerned that her daughter was having sex. Worried the girl might become pregnant and adversely impact the family's status, she consulted the family doctor.
The doctor told her that teenagers today were very willful and any attempt to stop the girl would probably result in rebellion. He then told her to arrange for her daughter to be put on birth control and until then, talk to her and give her a box of condoms.
Later that evening, as her daughter was preparing for a date, the woman told her about the situation and handed her a box of condoms. The girl burst out laughing and reached over to hug her mother saying: "Oh Mom! You don't have to worry about that! I'm dating Susan!"
A pub that doesn't serve
A pub that doesn't serve coffee is more like a less bean bar.
Funny video of the day - Alligator Attack Caught on Tape
Last year, when the power mowe...
Last year, when the power mower was broken and wouldn't run, I kept hinting to my husband that he ought to get it fixed, but somehow the message never sank in. Finally I thought of a clever way to make the point.
When my husband arrived home that day, he found me seated in the tall grass, busily snipping away with a tiny pair of sewing scissors.
He watched silently for a short time and then went into the house. He was gone only a few moments when he came out again. He handed me a toothbrush. "When you finish cutting the grass," he said, "you might as well sweep the sidewalks."
#joke
You Might Be A Redneck If ...
You might be a redneck if...
On your first date you had to ask your Dad to borrow the keys to the tractor.
Your parakeet knows the phrase "Open up, Police!"
You saved lots of money on your honeymoon by going deer hunting.
In tough situations you ask yourself, "What would Curly do?"
Taking your wife on a cruise means circling the Dairy Queen.
You think the last words to the Star Spangled Banner are "Play Ball..."
You have a color coordinating rope that ties down your car hood.
You bring your dog to work with you.
Your grandmother can correctly execute the sleeper hold.
You've ever held somebody up with a caulk gun.
#joke
Jimmy Carr: Teasing
My girlfriend said she wanted me to tease her. I said, 'Alright, fatty.'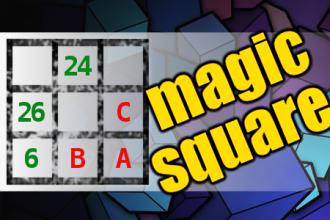 MAGIC SQUARE: Calculate A*B-C
The aim is to place the some numbers from the list (6, 7, 8, 24, 25, 26, 64, 65, 66) into the empty squares and squares marked with A, B an C. Sum of each row and column should be equal. All the numbers of the magic square must be different. Find values for A, B, and C. Solution is A*B-C.
"Fan of musical puns,
"Fan of musical puns, Aria?"
q: What do you get when you c...
q: What do you get when you cross an impressionist painter with a New York City cab driver?
A: You get Vincent Van Go Fuck Yourself.
Top 10 Mom Scoldings in the Bible
10. Sampson, get your hands off of that lion, you don't know where it's been!
9. David, I told you not to play in the house with that string! Go practice your harp. We pay good money for those lessons.
8. Abraham! Stop wandering around the countryside and get home for supper!
7. Shadrach, Meschach and Abendeco! I told you, never play with fire!
6. Cain! Get off your brother! You're going to kill him some day!
5. Noah, no you can' t help them. Don't bring home any strays.
4. Gideon! Have you been hiding in that wine press again? Look at my clothes.
3. James and John! No more burping at the dinner table, please. People are going to call you sons of thunder.
2. Judas! Have you been in my purse again?
1. Jesus! Close the door! You think you were born in a barn.
- Joke shared by Beliefnet member Jalus
#joke
Hurt Bee Back
Q: How did the bee hurt his back?
A: He fell off his honey.
As President Roosevelt said: "...
As President Roosevelt said: "We have nothing to fear but fear itself. And Chuck Norris."