A guy runs into his office, we
A guy runs into his office, wearing only a hat and carrying a briefcase. His boss stops him and says, "What are you doing, Cliff? Do you realize you're naked? Shouldn't this be your day off?"
Cliff calmly explains that he was on a party when suddenly the lights went out. Some voice said, "Gentleman, take off your ties." Somebody turned on the lights again and not a single guy was wearing a tie.
The situation repeated - the lights went out, but this time the voice said "Gentleman, strip naked." When the light went back on, the ladies started giggling and clapping their hands becuase all the guys were naked.
The lights went out again and this time the voice said, "Ladies, take your clothes off!" When the light came back on, all the ladies were naked.
The same voice said, "Gentleman, now get to work!"
"So I grabbed my hat and briefcase and came here, sir."
#joke
Where are the worst hotels?
Where are the worst hotels?
- Texas, the lone star state.
The captains shirt...
Long ago, when sailing ships ruled the sea, a captain and his crew were in danger of being boarded by a pirate ship. As the crew became frantic, the captain bellowed to his First Mate, "Bring me my red shirt!"
The First Mate quickly retrieved the captain's red shirt, the captain put it on and led the crew to battle the pirate ship. Although some casualties occurred among the crew, the pirates were repelled.
Later that day, the lookout screamed that there were two pirate vessels about to attack. The crew cowered in fear, but the captain, calm as ever, bellowed, "Bring me my red shirt!" And once again the battle was on.
This time, the Captain and his crew repelled both pirate ships, although this time more casualties occurred. Weary from the battles, the men sat around on deck that night recounting the day's occurrences when an ensign looked to the Captain and asked, "Sir, why did you call for your red shirt before the battles?"
The Captain, giving the ensign a look that only a captain can give, exhorted, "If I am wounded in battle, the red shirt does not show the wound, and thus, you men will continue to fight unafraid."
The men sat in silence marveling at the courage of such a man. As dawn came the next morning, the lookout screamed more pirate ships were approaching, 10 of them, all ready to attack. The men became silent and looked to the Captain, their leader, for his usual command. The Captain, calm as ever, bellowed, "Bring me my brown pants!"
#joke
"Why are you enjoying
"Why are you enjoying life while eating hotdogs? Because you're relishing the moment."
Lawyers On A Flight
An airliner was having engine trouble, and the pilot instructed the cabin crew to have the passengers take their seats and get prepared for an emergency landing.
A few minutes later, the pilot asked the flight attendants if everyone was buckled in and ready.
"All set back here, Captain," came the reply, "except the lawyers are still going around passing out business cards."
The Law of Volunteering"

The Law of Volunteering"
If you dance with a grizzly bear, you had better let him lead.
"The Law of Avoiding Oversell"
When putting cheese in a mousetrap, always leave room for the mouse.
"The Law of Common Sense"
Never accept a drink from a urologist.
"The Law of Reality"
Never get into fights with ugly people, they have nothing to lose.
"The Law of Self Sacrifice"
When you starve with a tiger, the tiger starves last.
"Weiler's Law"
Nothing is impossible for the man who doesn't have to do it himself.
"Law of Probable Dispersal"
Whatever hits the fan will not be evenly distributed.
"Law of Volunteer Labor"
People are always available for work in the past tense.
"Conway's Law"
In any organization there is one person who knows what is going on. That person must be fired.
"Iron Law of Distribution"
Them that has, gets.
"Law of Cybernetic Entomology"
There is always one more bug.
"Law of Drunkenness"
You can't fall off the floor.
"Heller's Law"
The first myth of management is that it exists.
"Osborne's Law"
Variables won't; constants aren't.
"Main's Law"
For every action there is an equal and opposite government program.
"Weinberg's Second Law"
If builders built buildings the way programmers wrote programs, then the first woodpecker that came along would have destroyed civilization.
#joke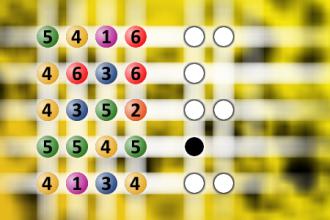 Which is a winning combination of digits?
The computer chose a secret code (sequence of 4 digits from 1 to 6). Your goal is to find that code. Black circles indicate the number of hits on the right spot. White circles indicate the number of hits on the wrong spot.
Ways To Get Rid Of Telemarketers
An old one, but a good one…
1. If they want to loan you money, tell them you just filed for Bankruptcy and you could sure use some money.
2. If they start out with, "How are you today?" say, "Why do you want to know?" Or you can say, "I'm so glad you asked, because no one seems to care these days and I have all these problems, my sciatica is acting up, my eyelashes are sore, my dog just died…" When they get try to get back to the sell, just continue your problems.
3. If they say they're Joe Doe from the XYZ Company, ask them to spell their name, then ask them to spell the company name, then ask them where it located. Continue asking them personal questions or questions about their company for as long as necessary.
4. This one works better if you are male: Telemarketer: "Hi, my name is Judy and I'm with Canter and Siegel services…. You: "Hang on a second." (few seconds pause) "Okay, (in a really husky voice) what are you wearing?"
5. Crying out, in well-simulated tones of pleasure and surprise, "Judy!! Is this really you? Oh, my gosh! Judy, how have you BEEN?" Hopefully, this will give Judy a few brief moments of terror as she tries to figure out where the hell she could know you from.
6. Say, "No", over and over. Be sure to vary the sound of each no, and keep an even tempo even as they're trying to speak. This is the most fun if you can keep going until they hang up.
7. If MCI calls trying to get you to sign up with their Family and Friends plan, reply, in a sinister a voice as you can muster, "I don't have any friends…would you be my friend?"
8. If they clean rugs: "Can you get blood out, you can? Well, how about goat blood or HUMAN blood.
9. Let the person go through their spiel, providing minimal but necessary feedback in the form of an occasional "Uh- huh, really, or "That's fascinating." Finally, when they ask you to buy, ask them to marry you. They get all flustered, but just tell them you couldn't give your credit card number to someone that's a complete stranger.
10. Tell them you work for the same company they work for. Example: Telemarketer: "This is Bill from Watertronics." You: "Watertronics!! Hey I work for them too. Where are you calling from?" Telemarketer: "Uh, Dallas, Texas." You: "Great, they have a group there too? How's business/the weather? Too bad the company has a policy against selling to employees! Oh well, see ya."
11. Answer the phone. As soon as you realize it is a telemarketer, set the receiver down, shout or scream, "Oh, my goodness!!!" and then hang up.
12. Tell the Telemarketer you are busy and if they will give you their phone number you will call them back. If they say they are not allow to give out their number, then ask them for their home number and tell them you will call them at home. (This is usually the most effective method of getting rid of Telemarketers)
#joke