A drunk staggered up to the ho
A drunk staggered up to the hotel reception desk and demanded his room be changed.
"But sir," said the clerk, "you have the best room in the hotel."
"I insist on another room!!" said the drunk.
"Very good, sir. I'll change you from 502 to 555. Would you mind telling me why you don't like 502?" asked the clerk.
"Well, for one thing," said the drunk, "it's on fire."
#joke
"I have a bad, bad pa
"I have a bad, bad pain in my toe, no gout about it."
The ancient Greek phal
The ancient Greek phallus o' furs never shaved.
Marriage...A childs perspective
HOW DO YOU DECIDE WHO TO MARRY? (written by kids)
You got to find somebody who likes the same stuff. Like, if you like sports, she should like it that you like sports, and she should keep the chips and dip coming. -- Alan, age 10
No person really decides before they grow up who they're going to marry. God decides it all way before, and you get to find out later who you're stuck with. -- Kristen, age 10
WHAT IS THE RIGHT AGE TO GET MARRIED? Twenty-three is the best age because you know the person FOREVER by then. -- Camille, age 10
HOW CAN A STRANGER TELL IF TWO PEOPLE ARE MARRIED? You might have to guess, based on whether they seem to be yelling at the same kids. -- Derrick, age 8
WHAT DO YOU THINK YOUR MOM AND DAD HAVE IN COMMON? Both don't want any more kids. -- Lori, age 8
WHAT DO MOST PEOPLE DO ON A DATE? Dates are for having fun, and people should use them to get to know each other. Even boys have something to say if you listen long enough. -- Lynnette, age 8 (isn't she a treasure)
On the first date, they just tell each other lies and that usually gets them interested enough to go for a second date. -- Martin, age 10
WHAT WOULD YOU DO ON A FIRST DATE THAT WAS TURNING SOUR? I'd run home and play dead. The next day I would call all the newspapers and make sure they wrote about me in all the dead columns. -- Craig, age 9
WHEN IS IT OKAY TO KISS SOMEONE? When they're rich. -- Pam, age 7
The law says you have to be eighteen, so I wouldn't want to mess with that. - - Curt, age 7
The rule goes like this: If you kiss someone, then you should marry them and have kids with them. It's the right thing to do. -- Howard, age 8
IS IT BETTER TO BE SINGLE OR MARRIED? It's better for girls to be single but not for boys. Boys need someone to clean up after them. -- Anita, age 9 (bless you child)
HOW WOULD THE WORLD BE DIFFERENT IF PEOPLE DIDN'T GET MARRIED? There sure would be a lot of kids to explain, wouldn't there? -- Kelvin, age 8
And the #1 Favorite is........ HOW WOULD YOU MAKE A MARRIAGE WORK? Tell your wife that she looks pre tty, even if she looks like a dump truck. -- Ricky, age 10
#joke
Late for Work
Tom had this problem of getting up late in the morning and was always late for work. His boss was mad at him and threatened to fire him if he didn't do something about it. So Tom went to his doctor who gave him a pill and told him to take it before he went to bed.
Tom slept well and in fact beat the alarm in the morning. He had a leisurely breakfast and drove cheerfully to work. "Boss," he said, "The pill actually worked!"
"That's all fine" said the boss. "But where were you yesterday?"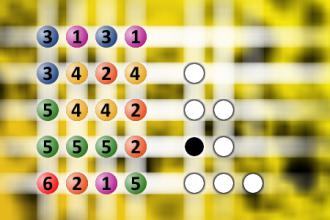 Which is a winning combination of digits?
The computer chose a secret code (sequence of 4 digits from 1 to 6). Your goal is to find that code. Black circles indicate the number of hits on the right spot. White circles indicate the number of hits on the wrong spot.
Dress Code:
1)
Dress Code:
1) You are advised to come to work dressed according to your salary.
2) If we see you wearing Prada shoes and carrying a Gucci bag, we willassume you are doing well financially and therefore do not need araise.
3) If you dress poorly, you need to learn to manage your money better,so that you may buy nicer clothes, and therefore you do not need araise.
4) If you dress just right, you are right where you need to be andtherefore you do not need a raise.
Sick Days:
We will no longer accept a doctor's statement as proof of sickness. Ifyou are able to go to the doctor, you are able to come to work.
Personal Days:Each employee will receive 104 personal days a year. They are calledSaturdays & Sundays.
Bereavement Leave:
This is no excuse for missing work. There is nothing you can do fordead friends, relatives or co-workers. Every effort should be made to havenon-employees attend the funeral arrangements in your place. In rarecases where employee involvement is necessary, the funeral should bescheduled in the late afternoon. We will be glad to allow you to workthrough your lunch hour and subsequently leave one hour early.
Bathroom Breaks:
Entirely too much time is being spent in the toilet. There is now astrict three-minute time limit in the stalls. At the end of three minutes,an alarm will sound, the toilet paper roll will retract, the stalldoor will open, and a picture will be taken. After your second offense,your picture will be posted on the company bulletin board under the"Chronic Offenders" category. Anyone caught smiling in the picture will besectioned under the company's mental health policy.
Lunch Break: (Love this one)
* Skinny people get 30 minutes for lunch, as they need to eat more, sothat they can look healthy.
* Normal size people get 15 minutes for lunch to get a balanced meal tomaintain their average figure.
* Chubby people get 5 minutes for lunch, because that's all the timeneeded to drink a Slim-Fast.
Thank you for your loyalty to our company. We are here to provide apositive employment experience. Therefore, all questions, comments,concerns, complaints, frustrations, irritations, aggravations, insinuations,allegations, accusations, contemplations, consternation and inputshould be directed elsewhere.

Top 10 Reasons God Created Eve
10. God worried that Adam would always be lost in the garden because men hate to ask for directions.
9. God knew that Adam would one day need someone to hand him the TV remote.
8. God knew that Adam would never buy a new fig leaf when his seat wore out and would therefore need Eve to get one for him.
7. God knew that Adam would never make a doctor's appointment for himself.
6. God knew that Adam would never remember which night was garbage night.5. God knew that if the world was to be populated, men would never be able to handle childbearing.
4. As "Keeper of the Garden," Adam would never remember where he put his tools.
3. The scripture account of creation indicates Adam needed someone to blame his troubles on when God caught him hiding in the garden.
2. As the Bible says, "It is not good for man to be alone!"
1. When God finished the creation of Adam, He stepped back, scratched His head and said, "I can do better than that."
Hardware Store
Yo mamma is like a hardware store 10 cents a screw!
When Chuck Norris watches a po...
When Chuck Norris watches a pot, it boils immediately.
Rich Vos: Best Relationship Ever
The best relationship I ever had -- I used to go out with a homeless girl. Yeah, it was great cause after sex, I could just drop her off anywhere.