Jokes of the day for Sunday, 16 October 2016
Funny jokes, funny photo and funny video collected from the internet on Sunday, 16 October 2016
Read this question, come up wi
Read this question, come up with an answer and then scroll down to the bottom for the result. This is not a trick question.It is as it reads. No one I know has gotten it right. Few people do.
A woman, while at the funeral of her own mother, met a guy whom she did not know. She thought this guy was amazing.She believed him to be her dream guy so much that she fell in love with him right there, but never asked for his number andcould not find him. A few days later she killed her sister.
Question: What is her motive for killing her sister?
[Give this some thought before you answer, see answer below]
Answer:
She was hoping the guy would appear at the funeral again. If you answered this correctly, you think like a psychopath.This was a test by a famous American psychologist used to determine if one has the same mentality as a killer.Many arrested serial killers took part in the test and answered the question correctly. If you didn't answer the questioncorrectly, good for you...
#joke
A redneck goes to a drug store...
A redneck goes to a drug store and says to the pharmacist, "I got a hot date tonight, and I need me some protection. How much is a pack of them rubbers gonna cost me?"
The pharmacist responds, "A three-pack of condoms is $4.99 with tax."
"Tacks!" the shocked redneck says. "Don't they stay on by themselves?"
#joke
Increase the donation
The crumbling, old church building needed remodeling, so the preacher made an impassioned appeal, looking directly at the richest may in town. At the end of the message, the rich man stood up and announced, "Pastor, I will contribute $1,000."
Just then, plaster fell from the ceiling and struck the rich man on the shoulder. He promptly stood again and shouted, "Pastor, I will increase my donation to $5,000."
Before he could sit back down, plaster fell on him again, and again he virtually screamed, "Pastor, I will double my last pledge."
He sat down, and an larger chunk of plaster fell hitting him on the head. He stood once more and hollered, "Pastor, I will give $20,000!"
This prompted a deacon to shout, "Hit him again, Lord! Hit him again!"
#joke
Steven Wright 18
I have an answering machine in my car. It says, "I'm home now. But leave a message and I'll call when I'm out."
Last year we drove across the country. We switched on the driving... Every half mile... We had one cassette tape to listen to on the entire trip... I don't remember what it was.
I saw a sign: "Rest Area 25 Miles". That's pretty big. Some people must be really tired.
I like to pick up hitchhikers. When they get in the car I like to say, "Sooo, how far did you THINK you were going anyway?", or "Put on your seat belt. I want to try something. I saw it once in a cartoon, but I think I can do it."
I decided to leave and go to California, so I packed up my Salvador Dali print of two blindfolded dental hygienists trying to make a circle on an Etch-a-Sketch, and I headed for the highway and began hitching. Within three minutes I got picked up by one of those huge trailer trucks carrying 20 brand new cars. I climbed up the side of the cab and opened the door. The guy said, "I don't have much room up here, why don't you get into one of the cars out back." So I did. And he was really into picking people up because he picked up 19 more. We all had our own cars. Then he went 90 miles per hour and we all got speeding tickets.
A cop stopped me for speeding. He said, "Why were you going so fast?" I said, "See this thing my foot is on? It's called an accelerator. When you push down on it, it sends more gas to the engine. The whole car just takes right off. And see this thing? This steers it."
I was going 70 miles an hour and got stopped by a cop who said, "Do you know the speed limit is 55 miles per hour?" "Yes, officer, but I wasn't going to be out that long..."
One time a cop pulled me over for running a stop sign. He said, "Didn't you see the stop sign?" I said, "Yeah, but I don't believe everything I read."
I got my driver's license photo taken out of focus on purpose. Now when I get pulled over the cop looks at it (moving it nearer and farther, trying to see it clearly)... And says, "Here, you can go."
#joke
"I have a bad, bad pa
"I have a bad, bad pain in my toe, no gout about it."
Late for Work
Tom had this problem of getting up late in the morning and was always late for work. His boss was mad at him and threatened to fire him if he didn't do something about it. So Tom went to his doctor who gave him a pill and told him to take it before he went to bed.
Tom slept well and in fact beat the alarm in the morning. He had a leisurely breakfast and drove cheerfully to work. "Boss," he said, "The pill actually worked!"
"That's all fine" said the boss. "But where were you yesterday?"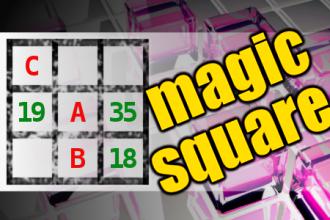 MAGIC SQUARE: Calculate A+B+C
The aim is to place the some numbers from the list (15, 18, 19, 21, 24, 25, 35, 38, 39, 67, 79, 97) into the empty squares and squares marked with A, B an C. Sum of each row and column should be equal. All the numbers of the magic square must be different. Find values for A, B, and C. Solution is A+B+C.
Two Men Camping
Two young men were out in the woods on a camping trip, when the came upon this great trout brook. They stayed there all day, enjoying the fishing, which was super.
At the end of the day, knowing that they would be graduating from college soon, they vowed that they would meet, in twenty years, at the same place and renew the experience.
Twenty years later, they met and traveled to a spot near where they had been years before. They walked into the woods and before long came upon a brook. One of the men said to the other, "This is the place!".
The other replied, "No, it's not!".
The first man said, "Yes, I do recognize the clover growing on the bank on the other side.
To which the other man replied, "Silly, you can't tell a brook by it's clover."
#joke
Mike Vecchione: Gun Is Like a Penis
Having a gun, lets face it guys, is a lot like having a penis, I think. You got to keep it concealed. And if you wave it in a womans face, chances are shell call the cops.
When Arnold says "I'll be back...
When Arnold says "I'll be back" in the Terminator movie it is implied that he's going to ask Chuck Norris for help.
The Dentist
The dentist pulls out a Novocain needle to give the man a shot, so he can extract the man's tooth. 'No way! No needles. I hate needles' the patient said.
The dentist starts to hook up the nitrous oxide and the man objects I can't do the gas thing. The thought of having the gas mask on is suffocating to me! The dentist then asks the patient if he has any objection to taking a pill. 'No objection,' the patient says. 'I'm fine with pills.'
The dentist then returns and says, Here's a Viagra tablet.'
The patient says, 'Wow! I didn't know Viagra worked as a pain killer!'
It doesn't' said the dentist, 'but it's going to give you something to hold on to when I pull your tooth.
#joke