Each evening bird-lover Tom st...
Each evening bird-lover Tom stood in his backyard, hooting like an owl. One night, an owl called back to him. For a year, the man and his feathered friend hooted back and forth. He even kept a log of the "conversation."
Just as he thought he was on the verge of a breakthrough in interspecies communication, his wife had a chat with her next-door neighbor.
"My husband spends his nights... calling out to owls," she said.
"That's odd," the neighbor replied. "So does my husband."
#joke
What do you call a b...
"What do you call a bald monster?
- A lock-less monster."
Talking clock
While proudly showing off his new fraternity house to friends, a college student led the way into the den. "What is the big brass gong and hammer for?" one of his friends asked.
"That's the talking clock", the man replied, with a grin. "Let me show you how it works!" And with that, he gave the gong an ear-shattering pound with the hammer.
Suddenly someone screamed from the other side of the wall, "KNOCK IT OFF, YOU IDIOT! IT'S 2 AM!"
#joke
Steal From Lawyers
Jack and Mugs, two second-story men from Flatbush, were comparing notes on recent burglaries.
"Didja get anything on that last heist?" Jack asked.
"Nuttin' at all," Mugs admitted. "Toins out that the guy that lives there's a lawyer."
"Jeez, ain't that the breaks," his friend sympathized.
"Didja lose anything?"
A week after their marriage, t...
A week after their marriage, the Redneck newlyweds paid a visit to their doctor..." I can't figure it out doc, and I'm really worried," said the husband." My testicles are turning blue."
"That's pretty unusual," said the doctor. "Let me examine you."
The doctor takes a look. Sure enough, the Redneck's testicles are blue. The doctor turns to the wife. "Are you using the diaphragm that Iprescribed?"
"Yes, I am," she replied.
"And what kind of jelly are you using with it?"
"Grape"
Viagra/Gore
What's the difference between Viagra and Al Gore.....Viagra
really works !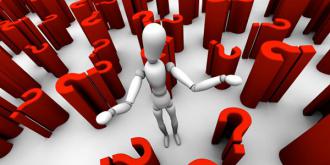 My shallow hills are the fac...
My shallow hills are the faces of kings. My horizon is always near. My music sends men to the grave. My absence sends men to work. What am I?
Weeping Willows are a result o...
Weeping Willows are a result of Chuck Norris yelling at trees for not being tough enough.
Ponderings Collection 34
Whose cruel idea was it for the word "lisp" to have an "s" in it?
Since light travels faster than sound, isn't that why some people appear bright until you hear them speak?
How come abbreviated is such a long word?
If it's zero degrees outside today and it's supposed to be twice as cold tomorrow, how cold is it going to be?
Since Americans throw rice at weddings, do Asians throw hamburgers?
Why are they called apartments, when they're all stuck together?
Why do banks charge you a "non-sufficient funds fee" on money they already know you don't have?
If a tree falls in the forest and no one is around to see it, do the other trees make fun of it?
When two airplanes almost collide why do they call it a near miss?? It sounds like a near hit to me!!
Do fish get cramps after eating?
#joke
True or false?
A little kid's in school, taking a true-false test and he's flipping a coin. At the end of the test he's flipping the coin again. The teacher says, "What are you doing?" He says, "Checking my answers."
Patton Oswalt: Obituary Fear
My other big obituary fear is, when I die, theyll have my picture, and they always have underneath it, in quotes, He loved to laugh. Oh, he loved to laugh. Well, that doesnt tell you anything. Everybody loves to laugh -- youre laughing! Thats like saying, He hungered for food.