A Doctor recently had a patien
A Doctor recently had a patient "drop" in on him for an unscheduled appointment.
"What can I do for you today?" the Doctor asked.
The aged gentleman replied: "Doctor, you must help me. Every time I make love to my wife, my eyes get all bleary, my legs go weak, I can hardly catch my breath... Doctor, I'm scarred!"
The Doctor, looking at his 86 year old patient, said: "Mr. Smith, these sensations tend to happen over time, especially to a man of your advanced years, but tell me, when did you first notice these symptoms?"
The old gent's response was: "Well... three times last night, and twice again this morning!"
A man was sitting at a bar whe
A man was sitting at a bar when he noticed a pirate walk in the front door. The pirate had a peg leg,a hook for one hand, and a patch over one eye. Feeling sorry for the pirate, the man said,"Come over here friend. You look like you've had a hard life and I'd liketo buy you a drink." The pirate came over and ordered rum.
"Just out of curiosity," the man said, "how did you lose your leg?"
"Arrrgh!" said the pirate, "I lost that timber to a tiger shark in the Caribbean when I was thrown overboardfor stealing a man's rum."
"That's just terrible. How did you lose your hand?" the man said.
"Arrrgh!" said the pirate, "I lost that fighting cannibals offMadagascar under Admiral Hawk."
"Oh my!" the man said, "I can't even imagine!How did you lose your eye?"
"Arrrgh! A seagull pooped in it!" said the pirate.
"A seagull!" the man exclaimed. "Is seagull poop dangerous?!"
he asked. "Nay, matey, it was me first day with the hook..."
#joke
Funny video of the day - Fails of the Week 3 October 2016
Mary Poppins
Mary Poppins was traveling home, but due to worsening weather, she decided to stop at a hotel for the night. She approached the receptionist and asked for a room for the night.
"Certainly madam," he replied courteously.
"Is the restaurant open still?" inquired Mary.
"Sorry, no," came the reply, "but room service is available all night.
Would you care to select something from this menu?"
Mary smiled and took the menu and perused it. "Hmm, I would like cauliflower cheese please," said Mary.
"Certainly, madam," he replied.
"And can I have breakfast in bed?" asked Mary politely.
The receptionist nodded and smiled.
"In that case, I would love a couple of poached eggs, please," Mary mused.
After confirming the order, Mary signed in and went up to her room for the night.
The night passed uneventfully and the next morning Mary came down early to check out. The same guy was still on the desk.
"Morning madam...sleep well?"
"Yes, thank you," Mary replied.
"Food to your liking?"
"Well, I have to say the cauliflower cheese was exceptional, I don't think I have had better. Shame about the eggs, though....they really weren't that nice at all," replied Mary truthfully.
"Oh...well, perhaps you could contribute these thoughts to our Guest Comments Book. We are always looking to improve our service and would value your opinion," said the receptionist.
"OK, I will...thanks!" replied Mary....who checked out, then scribbled a comment into the book. Waving, she left to continue her journey.
Curious, the receptionist picked up the book to see the comment Mary had written.
"Supercauliflowercheesebuteggswerequiteatrocious!"
#joke
"I've been eating a
"I've been eating a lot of pasta lately I think it's becoming a part of my daily rotini!"
Business One-liners 10
Ambition is a poor excuse for not having sense enough to be lazy.
An executive will always return to work from lunch early if no one takes him.
An error in the premise will appear in the conclusion.
An object at rest will always be in the wrong place.
An object in motion will always be headed in the wrong direction.
An original idea can never emerge from committee in its original form.
An ounce of application is worth a ton of abstraction.
An ounce of pretension is worth a pound of manure.
An ounce of rejection is worse than a pound of "sure".
Any argument carried far enough will end up in semantics.
#joke
While the bar patron savored a...
While the bar patron savored a double martini, an attractive women sat down next to him. The bartender served her a glass of orange juice, and the man turned to her and said, "This is a special day. I'm celebrating."
"I'm celebrating, too," she replied, clinking glasses with him.
"What are you celebrating?" he asked.
"For years I've been trying to have a child," she answered, "Today my gynecologist told me I'm pregnant!"
"Congratulations," the man said, lifting his glass. "As it happens, I'm a chicken farmer, and for years all my hens were infertile. But today they're finally fertile."
"How did it happen?"
"I switched cocks."
"What a coincidence," she said, smiling.
#joke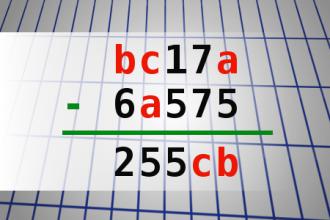 Find number abc
If bc17a - 6a575 = 255cb find number abc. Multiple solutions may exist.
A man awoke one evening to dis...
A man awoke one evening to discover prowlers in his storage shed. He immediately called 911, gave his address, to report the prowlers and possible burglary. The operator at the other end said "Are they in your house?" He said they were not, only in his storage shed in back of the house. The operator said there were no cars available at that time. He thanked the operator, hung up the phone and counted to 30 and called again. "I just called you about prowlers in my storage shed. Well you do not have to worry, as I just shot them all dead!" Within seconds there were 3 police cars, an ambulance and fire engine at the scene. After capturing the prowlers red-handed, the policeman asked the caller, "I thought you said you had shot them all!" The man answered, "I thought you said there were no police available!"
Getting to Heaven from the Post Office
A preacher, newly called to a small country town, needed to mail a letter. Passing a young boy on the street, the pastor asked where he could find the post office.
After getting his answer, the minister thanked the boy and said, "If you'll come to the community church this evening, you can hear me tell everyone how to get to heaven."
"I don't know, sir," the boy replied. "You don't even know how to get to the post office!"
From "The Book of Church Jokes," published by Barbour Publishing, Inc., Uhrichsville, Ohio. Copyright 2009. Used by permission of Barbour Publishing, Inc.

#joke