I'M NO BIRD EXPERT...
I'M NO BIRD EXPERT BUT I'M GUESSING 4 FEMALES AND 1 MALE
Doc, you've got to help my husband...
"Doc, you've got to help my husband," a farmer's wife said frantically. "He thinks he's a racehorse. He wants to live in a stable; he walks on all fours and he even eats hay."
"I'm sure I can cure him," the doctor replied, "but it'll be very costly."
"Oh, money's no object," she responded. "He's already won two races."
"Children who fail th
"Children who fail their coloring exams always need a shoulder to crayon."
No room at the inn
By the time the sailor pulled into a little town every hotel room was taken. "You've got to have a room somewhere," he pleaded. "Or just a bed, I don't care where."
"Well, I do have a double room with one occupant - an Air Force guy," admitted the manager, "and he might be glad to split the cost. But to tell you the truth, he snores so loudly that people in adjoining rooms have complained in the past.
I'm not sure it'd be worth it to you."
"No problem," the tired Navy man assured him. "I'll take it." The next morning, the sailor came down to breakfast bright-eyed and bushy tailed. "How'd you sleep?" asked the manager. "Never better." The manager was impressed. "No problem with the other guy snoring?" "Nope. I shut him up in no time," said the Navy guy.
"How'd you manage that?" asked the manager.
"He was already in bed, snoring away, when I came in the room," the sailor explained. "I went over, gave him a kiss on the cheek, and said, 'Goodnight beautiful,'
...and he sat up all night watching me."
#joke
Too Much Hunting
Saturday morning I got up early, put on my long johns, dressed quietly, made my lunch, grabbed my shotgun and the dog, slipped quietly into the garage to load the truck, and proceeded to back out into a torrential downpour.
There was snow mixed with the rain, and the wind was blowing 50 mph. I pulled back into the garage, turned on the radio, and discovered that the weather would be bad throughout the day.
I went back into the house, quietly undressed, and slipped back into bed. There I cuddled up to my wife's back, now with a different anticipation, and whispered, "The weather out there is terrible."
She sleepily replied, "Can you believe my stupid husband is out hunting in that sh*t?"   
#joke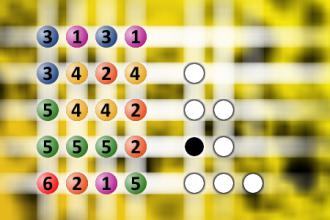 Which is a winning combination of digits?
The computer chose a secret code (sequence of 4 digits from 1 to 6). Your goal is to find that code. Black circles indicate the number of hits on the right spot. White circles indicate the number of hits on the wrong spot.
YOU know you need a Different Lawyer ...
YOU know you need a Different Lawyer when ......
* You met him in prison.
* During your initial consultation he tries to sell you Amway.
* He tells you that his last good case was a Budweiser.
* When the prosecutors see who your lawyer is, they high-five each other.
* He picks the jury by playing "duck-duck-goose."
* He tells you that he's never told a lie.
* He asks a hostile witness to "pull my finger."
* A prison guard is shaving your head.
Once upon a time there was a n...
Once upon a time there was a non-conforming sparrow who decided not to fly south for the winter. However, soon the weather turned so cold that he reluctantly decided to fly south. In a short time ice began to form on his wings and he fell to Earth in a barnyard, nearly frozen solid. A cow passed by where he had fallen, and crapped on the little sparrow.The sparrow thought it was the end, but the manure warmed him and defrosted his wings!
Warm and happy, able to breath, he started to sing.
Just then a large cat came by, and hearing the chirping he investigated the sounds. The cat cleared away the manure, found the chirping bird, and promptly ate him.
The Moral of the Story:
Everyone who craps on you is not necessarily your enemy
Everyone who gets you out of crap is not necessarily your friend.
And if you're warm and happy in a pile of crap, you might just want to keep your mouth shut.
#joke
Chuck Norris does the Sunday N...
Chuck Norris does the Sunday New York Times Crossword Puzzle in ink.
Forgive Me Father
About a month ago, a man in Amsterdam felt that he needed to confess, so he went to his priest, "Forgive me Father, for I have sinned. During WWII I hid a refugee in my attic."
"Well," answered the priest, "that's not a sin."'
"But I made him agree to pay me 200 Euros for every week he stayed."
"I admit that wasn't good, but you did it for a good cause."
"Oh, thank you, Father; that eases my mind." He paused for a moment and then said, "I have one more question..."
"What is that, my son?"
"Do I have to tell him the war is over?"
#joke
Benefits of the Revival
After the revival had concluded, the three pastors were discussing the results with one another.
The Methodist minister said, "The revival worked out great for us! We gained 4 new families."
The Baptist preacher said, "We did better than that! We gained 6 new families."
The Presbyterian pastor said, "Well, we did even better than that! We got rid of our 10 biggest trouble makers!"
#joke
Jobs at the food company...
One day, three unemployed factory workers heard that a large food company was enlarging and needed more staff. So they went downtown to see if they could get themselves a job.
After filing out their applications, each one was interviewed and each one managed to get hired. As they were waiting to be assigned their new duties, a foreman came by and spoke to the hiring boss.
The foreman told the boss that he didn't think it was such a good idea as one of the workers had snapped for no apparent reason at his last job.
Also a second was said to have had cracked up after severe mental stress.
The third, he believed was their father who he felt was a bit odd but he couldn't put his finger on it.
The hiring boss reassured the foreman and said that they would start on something easy and after a week, the company would re-assess them to see if they would be kept on.
The foreman reluctantly agreed and asked the boss where he thought they should start.
The boss replied, "Why not take them and put them in our Cereal Division...Snap, Crackle and Pop should work out fine down there."
#joke