Be rady for Thanksgiving
, check out our latest
Thanksgiving jokes of 2021
on:
Thanksgiving jokes collection
The bookie slowly counted out...
The bookie slowly counted out the money into the old lady's wrinkled hands.
"Lady," he said, "I just don't understand. However did you manage to pick the winner?"
The old lady patted her white locks in place. She looked a little bewildered. "Really," she said, "I don't know myself. I just stick a pin in the paper and, well, there it is."
The bookie took a deep breath. "That's all very well, lady," he cried. "But how on earth did you manage to pick four winners yesterday afternoon?"
"Oh," replied the old lady, "that was easy. I used a fork."
#joke
"Gravy is baste on tu
"Gravy is baste on turkey drippings."
Funny video of the day - Halloween Light Show 2016 - Highway to Hell
For his final project in a sta...
For his final project in a statistics class, a student decided to conduct a survey. He chose to find out peoples' favorite pastimes.
The teacher required that he sample at least 100 people, so he started out his project visiting a fairly large apartment building near the university.
He knocked on the first door and a man answered.
"Sir, what is your name?" asked the student.
"John."
"Sir, I'm doing a school study and would like to know what is your favorite pastime?"
"Watching bubbles in the bath," came the reply.
He liked the esoterical answer and continued down the hall, until he came to the next door.
He asked again, "Sir, what is your name?"
"Jeff."
"Sir, Would you please tell me your favorite pastime?"
"Watching bubbles in a bath," was the answer.
Quite amused and confused, he went on to ask a good number of people in the building and all of them had the same pastime..."watching bubbles in a bath".
He left the building and walked across the street where there were several row houses, to continue the survey.
At the first house, he knocks and an attractive girl opens the door.
Our surveyor starts again - "What is your name?"
"Bubbles."
#joke
Executive recruiting...
One day while walking down the street a highly successful executive woman was tragically hit by a bus and died. Her soul arrived up in heaven where she was met at the pearly gates by St. Peter himself.
"Welcome to Heaven," said St. Peter. "Before you get settled in though, it seems we have a problem. You see, strangely enough, we've never once had an executive make it this far, and we're not really sure what to do with you."
"No problem, just let me in." said the woman.
"Well, I'd like to, but I have higher orders. What we're going to do is let you have a day in Hell and a day in Heaven and then you can choose whichever one you want, to spend an eternity in."
"Actually, I think I've made up my mind; I prefer to stay in Heaven", said the woman.
"Sorry, we have rules..."
And with that, St. Peter put the executive in an elevator and it went down-down-down to hell.
The doors opened and she found herself stepping out onto the putting green of a beautiful golf course. In the distance was a country club and standing in front of her were all her friends - fellow executives whom she had worked with, and they were all dressed in evening gowns and cheering for her.
They ran up and kissed her on both cheeks and they talked about old times. They played an excellent round of golf and at night went to the country club where she enjoyed an excellent steak and lobster dinner.
She met the Devil who was actually a really nice guy (kinda cute) and she had a great time telling jokes and dancing. She was having such a good time that before she knew it, it was time to leave. Everybody shook her hand and waved good bye as she got on the elevator. The elevator went up-up-up and opened back up at the Pearly Gates and she found St. Peter waiting for her.
"Now it's time to spend a day in Heaven," he said. So she spent the next 24 hours lounging around on clouds and playing the harp and singing. She had a great time and before she knew it her 24 hours were up and St. Peter came and got her.
"So, you've spent a day in Hell and you've spent a day in Heaven. Now you must choose your eternity," he said.
The woman paused for a second and then replied, "Well, I never thought I'd say this, I mean, Heaven has been really great and all, but I think I had a better time in Hell."
So St. Peter escorted her to the elevator and again she went down-down-down, back to Hell. When the doors of the elevator opened she found herself standing in a desolate wasteland covered in garbage and filth.
She saw her friends were dressed in rags and were picking up the garbage and putting it in sacks. The Devil came up to her and put his arm around her.
"I don't understand," stammered the woman, "yesterday I was here and there was a golf course and a country club and we ate lobster and we danced and had a great time. Now all there is, is a wasteland of garbage and all my friends look miserable."
The Devil looked at her and smiled. "Yesterday we were recruiting you. Today, you're STAFF."
#joke
Learning From Teachers
Eight-year-old Sally brought her report card home from school. Her marks were good...mostly A's and a couple of B's.
However, her teacher had written across the bottom: "Sally is a smart little girl, but she has one fault. She talks too much in school. I have an idea I am going to try, which I think may break her of the habit."
Sally's dad signed her report card, putting a note on the back: "Please let me know if your idea works on Sally because I would like to try it out on her mother."  
#joke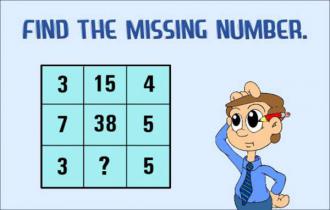 Find the missing number
Find the missing number.
Why You So Fat?
A family is at the dinner table. The father looks at his oldest son.
"Tony! Why are you so fat?"
"Pop, it's Mama's casseroles!" Tony says.
"I can't stop eating them, it's so good."
"Tony, you should take a smaller bites."
Pop says.
Then Pop looks at his middle son.
"Fred! Why are you so fat?"
"Pop, it's a Mama's roast beef," Vinny says.
"I can't stop eating it, it's so good."
"Fred, you should take a smaller bites."
Then Pop looks at his youngest son, "John! How you stay so slim and trim?"
"It's easy, Pop," John says.
"I eat a lots and lots of pussy."
"Pussy? Pussy?"
Pop says.
"That tastes like shit!"
"Pop, you should a take smaller bites."
#joke
A funeral service is being hel...
A funeral service is being held for a woman who has just passed away. At the end of the service the pall bearers are carrying the casket out when they accidentally bump into a wall, jarring the casket. They hear a faint moan.
They open the casket to find that the woman is actually alive. She lives for ten more years and then dies. A ceremony is again held at the same church and at the end of the ceremony the pall bearers are again carrying out the casket. As they are walking the husband cries out,
"WATCH OUT FOR THE WALL"
#joke
Chuck Norris has a pet kitten ...
Chuck Norris has a pet kitten - every night for a snack.
Where Is My Goat?
There were these two guys out hiking when they came upon an old, abandoned mine shaft. Curious about its depth they threw in a pebble and waited for the sound of it striking the bottom, but they heard nothing. They went and got a bigger rock, threw it in and waited. Still nothing. They searched the area for something larger and came upon a railroad tie. With great difficulty, the two men carried it to the opening and threw it in. While waiting for it to hit bottom, a goat suddenly darted between them and leapt into the hole!
The guys were still standing there with astonished looks upon their faces from the actions of the goat when a man walked up to them. He asked them if they had seen a goat anywhere in the area and they said that one had just jumped into the mine shaft in front of them! The man replied, "Oh no. That couldn't be my goat, mine was tied to a railroad tie."
#joke
He who laughs last thinks slow...
He who laughs last thinks slowest.
Depression is merely anger without enthusiasm.
The early bird may get the worm, but the second mouse gets the cheese.
I drive way too fast to worry about cholesterol.
Support bacteria. They're the only culture some people have.
Monday is an awful way to spend 1/7 of your week.
A clear conscience is usually the sign of a bad memory.
Change is inevitable, except from vending machines.
Get a new car for your spouse. It'll be a great trade!
Plan to be spontaneous tomorrow.
Always try to be modest, and be proud of it!