"I'm prone to lying.
"I'm prone to lying."
Ten Reasons Thanksgiving Di...
Ten Reasons Thanksgiving Dinner is Better than Sex
10. You're sure to get at least one of your favorite dishes.
9. The turkey never suffers from modesty.
8. You can nibble before dinner even if mom sees you.
7. You are expected to pass the dishes around.
6. There are always at least two kinds of desert, with or without whipped cream.
5. They give you the day off WITH pay to have dinner.
4. Thanksgiving dinner is a "sure" thing.
3. Seconds are encouraged. Take home, too!!
2. You're expected to fall asleep after dinner.
1. You are EXPECTED to watch football BEFORE and AFTER dinner.
A part in the play...
A young lad's father picked him up from school to take him to a dental appointment.
Knowing the parts for the school play were supposed to be posted today, he asked his son if he got a part.
The boy enthusiastically announced that he'd gotten a part. "I play a man who's been married for twenty years."
"That's great, son. Keep up the good work and before you know it they'll be giving you a speaking part."
#joke
My mother says she never holds...
My mother says she never holds grudges but then will blindside you with something that happened years ago.
Last week she said, "You know, you really hurt me on your birthday."
And I was like, "Which birthday was that?"
So she replied, "The first one. You have a really big head, you know."
#joke
The Auction
One day a man went to an auction. While there, he bid on a parrot. He really wanted this bird, so he got caught up in the bidding. He kept on bidding, but kept getting outbid, so he bid higher and higher and higher. Finally, after he bid way more than he intended, he won the bid - the parrot was his at last!
As he was paying for the parrot, he said to the auctioneer, "I sure hope this parrot can talk. I would hate to have paid this much for it, only to find out that he can't talk!"
"Don't worry," said the auctioneer, "He can talk. Who do you think kept bidding against you?" 
#joke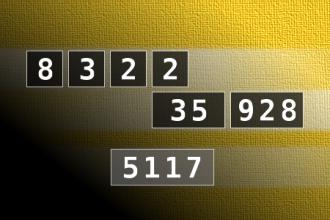 Calculate the number 5117
NUMBERMANIA: Calculate the number 5117 using numbers [8, 3, 2, 2, 35, 928] and basic arithmetic operations (+, -, *, /). Each of the numbers can be used only once.
Answering Machine Message 223
(Noble, aristocratic voice:) Yes, one million dollars could be yours, IF you leave your name, telephone number, and the reason WHY you want to join the ranks of The Rich and Famous! If this is Ross Perot, Bill Gates, or Michael Jordan, just leave your VISA number and expiration date, and we will definitely get back to you!
#joke
Two girlfriends were speeding ...
Two girlfriends were speeding down the highway at well over 90 mph.
"Hey," asked the brunette at the wheel, "see any cops following us?"
The blonde turned around for a long look. "As a matter of fact, I do."
"Fuck!" cursed the brunette. "Are his flashers on?
The blonde turned around again. "Yup...nope...yup...nope....yup....."
Chuck Norris once broke the la...
Chuck Norris once broke the land speed record on a bicycle that was missing its chain and the back tire.
Satan vists the church
One bright, beautiful Sunday morning, everyone in tiny Jonestown wakes up early and goes to their local church. Before the service starts, the townspeople sit in their pews and talk about their lives and their families.
Suddenly, at the altar, Satan appears!! Everyone starts screaming and running for the front entrance, trampling each other in their determined efforts to get away from Evil Incarnate. Soon, everyone is evacuated from the church except for one man, who sit calmly in his pew, seemingly oblivious to the fact that God's ultimate enemy is in his presence. This confuses Satan a bit. Satan walks up to the man and says, "Hey, don't you know who I am?" The man says, "Yep, sure do."
Satan says, "Well, aren't you afraid of me?" The man says, "Nope, sure ain't."
Satan, perturbed, says, "And why aren't you afraid of me?" The man says, "Well, I've been married to your sister for 25 years."
#joke
Boy Scout on the plane
A doctor, a lawyer, a little boy scout and a pastor were out for a Sunday afternoon flight on a small private plane.
Suddenly, the plane developed engine trouble. In spite of the best efforts of the pilot, the plane started to go down.
Finally, the pilot grabbed a parachute, yelled to the passengers that they had better jump, and bailed out.
Unfortunately there were only three parachutes remaining.
The doctor grabbed one and said "I'm a doctor, I save lives, so I must live," and jumped out.
The lawyer then said "I'm the smartest man in the world, I deserve to live!" He grabbed a parachute and jumped, also.
The pastor looked at the little boy scout and said, "My son, I've lived a long and full life. You are young and have your whole life ahead of you. Take the last parachute and live in peace."
The little boy scout handed the parachute back to the pastor and said "Not to worry, Preacher. 'The smartest man in the world' just jumped out with my back pack."
Too Much Analysis
Two psychiatrists were walking down a hall.
One turned to the other and said, "Hello."
The other one thought, "I wonder what he meant by that."