I mixed up the cardi...
"I mixed up the cardiac resuscitation equipment with the lie detector, but I will de-fib you later."
I have a new nose. Tha...
I have a new nose. That's sniffty.
A famed English explorer was i...
A famed English explorer was invited to Dartmouth to tell of his adventures in the African jungle.
"Can you imagine, a people so primitive that they love to eat the embryo of certain birds, and slices from the belly of certain animals? And grind up grass seed, make it into paste, burn it over a fire, then smear it with a greasy mess they extract from the mammary fluid of certain other animals?"
When the students looked startled by such barbarism, the explorer added softly, "What I've been describing, of course, is a breakfast of bacon and eggs and buttered toast."
#joke
I believe...
A Scottish atheist was spending a quiet day fishing in the lake when suddenly his boat was attacked by the Loch Ness monster. In one easy flip, the beast tossed him and his boat at least a hundred feet into the air. It then opened its mouth waiting below to swallow them both.
As the Scotsman sailed head over heels and started to fall towards the open jaws of the ferocious beast, he cried out, "Oh, my God! Help me!"
Suddenly, the scene froze in place and as the atheist hung in midair, a booming voice came out of the clouds and said, "I thought you didn't believe in Me!"
"God, come on, give me a break!" the man pleaded, "Just seconds ago I didn't believe in the Loch Ness monster either!"
#joke
NUDITY
I was driving wi
NUDITY
I was driving with my three young children one warm summer evening when a woman in the convertible ahead of us stood up and waved. She was stark naked! As I was reeling from the shock, I heard my 5-year-old shout from the back seat, "Mom! That lady isn't wearing a seat belt!
HONESTY
My son Zachary, 4, came screaming out of the bathroom to tell me he'd dropped his toothbrush in the toilet. So I fished it out and threw it in the garbage. Zachary stood there thinking for a moment, then ran to my bathroom and came out with my toothbrush. He held it up and said with a charming little smile, "We better throw this one out too then, 'cause it fell in the toilet a few days ago.
KETCHUP
A woman was trying hard to get the ketchup to come out of the jar. During her struggle the phone rang so she asked her 4-year-old daughter to answer the phone. "It's the minister, Mommy," the child said to her mother. Then she added, "Mommy can't come to the phone to talk to you right now. She's hitting the bottle."
MORE NUDITY
A little boy got lost at the YMCA and found himself in the women's locker room. When he was spotted, the room burst into shrieks, with ladies grabbing towels and running for cover. The little boy watched in amazement and then asked, "What's the matter haven't you ever seen a little boy before?"
ELDERLY
While working for an organization that delivers lunches to elderly shut-ins, I used to take my 4-year-old daughter on my afternoon rounds. The various appliances of old age, particularly the canes, walkers and wheelchairs, unfailingly intrigued her. One day I found her staring at a pair of false teeth soaking in a glass. As I braced myself for the inevitable barrage of questions, she merely turned and whispered, "The tooth fairy will never believe this!"
DRESS-UP
A little girl was watching her parents dress for a party. When she saw her dad donning his tuxedo, she warned, "Daddy, you shouldn't wear that suit." "And why not, darling?" "You know that it always gives you a headache the next morning."
SCHOOL
A little girl had just finished her first week of school. "I'm just wasting my time," she said to her mother. "I can't read, I can't write and they won't let me talk!"
BIBLE
A little boy opened the big family bible. He was fascinated as he fingered through the old pages. Suddenly, something fell out of the Bible. He picked up the object and looked at it. What he saw was an old leaf that had been pressed in between the pages. "Mama, look what I found", the boy called out." What have you got there, dear?" With astonishment in the young boy's voice, he answered, "I think it's Adam's underwear
#joke
What Are The Pictures?
A young lad was visiting a church for the first time, checking all the announcements and posters along the walls.
When he came to a group of pictures of men in uniform, he asked a nearby usher, "Who are all those men in the pictures?"
The usher replied, "Why, those are our boys who died in the service".
Dumbfounded, the youngster asked, "Was that the morning service or the evening service?"
#joke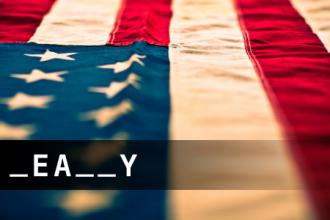 Find the missing text [*EA**Y]
Background picture associated with the solution.
A Guy was staying in a fancy h...
A Guy was staying in a fancy hotel and was enjoying the pool when the manager told him quite bluntly to get out. When asked for the reason, the manager said, "Because you peed in the pool."
"Well," replied the swimmer, "lots of people do that."
"True," answered the manager, "but you did it from the diving board."
#joke
What Will The Neighbors Think?
Jack was living in Arizona during a heat wave when the following took place.
"It's just too hot to wear clothes today," complained Jack as he stepped out of the shower. "Honey, what do you think the neighbors would think if I mowed the lawn like this?"
"Probably that I married you for your money."
#joke
Finally, the good-natured boss...
Finally, the good-natured boss was compelled to call Smith into his office.
"It has not escaped my attention," he pointed out, "that every time there's a home game at the stadium, you have to take your aunt to the doctor."
"You know you're right, sir," exclaimed Smith, "I didn't realize it. You don't suppose she's faking, do you?"
Carlos Mencia: Super-Fence
You know what they said in California? I saw it on C-Span -- people we vote for -- this is what they said, I propose that we kick all of the illegal aliens out of this country. Then we build a super-fence so they cant get back in. And I went, Um, whos gonna build it?
"Astral projection to...
"Astral projection to church is mass tranceportation."