There was once a great actor w...
There was once a great actor who could no longer remember his lines. After several years of searching, he finally finds a theater where they seem prepared to give him a chance to shine again.
The director says, "This is the most important part, and it has only one line. At the opening you walk on stage carrying a rose. You hold the rose to your nose with just one finger and thumb, sniff the rose deeply and then say the line 'Ah, the sweet aroma of my mistress.'"
The actor is thrilled. All day long before the play, he's practicing his line over and over again. Finally, the time comes. The curtain goes up, the actor walks onto the stage, and with great passion delivers the line, "Ah, the sweet aroma of my mistress."
The theater erupts. The audience is screaming with laughter, but the director is steaming!
"Argh! You idiot!" he cries. "You've ruined me!"
The actor is bewildered, "What happened, did I forget my line?"
"No!" screams the director. "You forgot the rose!"
#joke
Parrot wih an attitude...
A young man named John received a parrot as a gift. The parrot had a bad attitude and an even worse vocabulary. Every word out of this bird's mouth was rude, obnoxious and laced with profanity.
John tried and tried to change the bird's attitude by constantly saying polite words, playing soft music, and anything he could think of to set a good example. Nothing worked.
Finally, John got fed up and he yelled at the parrot. And, the bird yelled back. John shook the parrot, and the bird got angrier and ruder. Finally, in a moment of desperation, John put the bird in the refrigerator freezer.
For a few minutes, John heard the bird squawk and kick and scream... then suddenly there was quiet. Not a peep for over a minute. Fearing that he'd hurt the bird, John quickly opened the door to the freezer. The parrot calmly stepped out onto John's outstretched arm and said, "I believe I may have offended you with my rude language and actions. I am truly sorry, and I will do everything to correct my poor behavior."
John was astonished at the bird's change of attitude. As he was about to ask the parrot what had made such a dramatic change in his behavior, the bird continued,
"May I ask what the chicken did?"
#joke
Funny video of the day - Naughty Girls Compilation
Halls Of Justice
A judge was annoyed to find that his car wouldn't start. He called a taxi, and soon one arrived at his house.
Climbing in, he told the driver to take him to the halls of justice. "Where are they," asked the driver.
"You mean to say that you don't know where the courthouse is?" asked the incredulous judge.
"The courthouse? Of course I know where that is." replied the driver. "But I thought you said you wanted to go to the 'halls of justice.'"
#joke
Conflatulationsron
Conflatulations on your achievements in synchronized farting!
A government employee sat in h...
A government employee sat in his office, and out of boredom, decided to see what was inside his old filing cabinet. He poked through the contents and came across an old brass lamp. "This will look good on my mantel," he said, and took it home with him.
While polishing the lamp, a genie appeared and, as usual, granted him three wishes.
"I would like an ice-cold Coke right now." He gets his Coke and drinks it. Now that he can think more clearly, he states his second wish. "I wish to be on an island with beautiful women, who find me irresistible."
Suddenly, he's on an island with gorgeous women eyeing him lustfully. He tells the genie his third and last wish. "I wish I'd never have to work again." Instantly, he was back in his government office.
#joke
Why would an hour gl...
"Why would an hour glass only take half an hour to finish? It was filled with quick sand."
FLEX WORDLE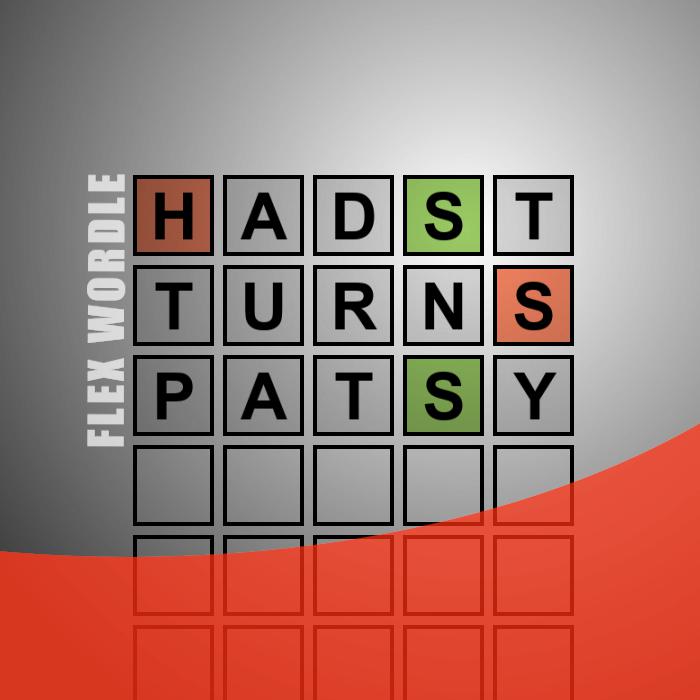 Guess the
WORDLE
in 3 tries. After each guess, the color of the tiles will change to show how close your guess was to the solution.
"Brokeback Mountain" is not ju...
"Brokeback Mountain" is not just a movie. It's also what Chuck Norris calls the pile of dead ninjas in his front yard.
An elderly couple is vacationi...
An elderly couple is vacationing in the West. Sam always wanted a pair of authentic cowboy boots. Seeing some on sale one day, he buys them, wears them home, walking proudly. He walks into their room and says to his wife, "Notice anything different, Bessie?"
Bessie looks him over. "Nope."
Sam says excitedly, "Come on, Bessie, take a good look. Notice anything different about me?"
Bessie looks again. "Nope."
Frustrated, Sam storms off into the bathroom, undresses, and walks back into the room completely naked except for the boots. Again he asks, a little louder this time, "Notice anything different?"
Bessie looks up and down and says, "Sam, what's different? It was hanging down yesterday, it's hanging down today and it will be hanging down tomorrow!"
Furious, Sam yells, "And do you know why its hanging down, Bessie? It's hanging down because it's looking at my new boots!"
Bessie replies, "Should'a bought a hat, Sam!"
#joke
Laura Kightlinger: Christmas Sadness
My grandmother, she passed away at Christmas time. So now, I have this built in sadness, you know, every holiday. Cause Im plagued with the thought of, you know, what she would have given me. What didnt I get to open this year?
Give him an orange
One day in Contract Law class, Professor Jepson asked one of his better students, "Now if you were to give someone an orange, how would you go about it?"
The student replied, "Here's an orange."
The professor was livid. "No! No! Think like a lawyer!" The student then recited, "Okay, I'd tell him, 'I hereby give and convey to you all and singular, my estate and interests, rights, claim, title, calim and advantages of and in, said orange, together with all its rind, juice, pulp, and seeds, and all rights and advantages with full power to bite, cut, freeze and otherwise eat, the same, or give the same away with and without the pulp, juice, rind and seeds, anything herein before or hereinafter or in any deed, or deeds, instruments of whatever nature or kind whatsoever to the contrary in anywise notwithstanding..."
Join us on WhatsApp