"Mail order cows were
"Mail order cows were first shipped by raft down the Mississippi River. They traveled on cattle logs."
One lovely morning, Ben and Th...
One lovely morning, Ben and Thomas were out golfing. Ben slices his ball deep into a wooded ravine. He grabs his 8-iron and proceeds down the embankment into the ravine in search of his ball. Ben searches diligently through the thick underbrush and suddenly he spots something shiny. As he gets closer, he realizes that the shiny object is in fact an 8-iron in the hands of a skeleton lying near an old golf ball.
Ben excitedly calls out to his golfing partner: "Hey Thomas, come here, I got big trouble down here."
Thomas comes running over to the edge of the ravine and calls out, "What's the matter Ben?"
Ben shouts back in a nervous voice, "Throw me my 7-iron! Looks like you can't get out of here with an 8-iron."
#joke
Only one kiss per yard...
Walking up to a department store's fabric counter, the pretty girl said, "I would like to buy this material for a new dress. How much does it cost?"
"Only one kiss per yard," replied the male clerk with a smirk.
"That's fine," said the girl. "I'll take ten yards."
With expectation and anticipation written all over his face, the clerk quickly measured out the cloth, wrapped it up, then teasingly held it out.
The girl snapped up the package, pointed to the old geezer standing beside her, and smiled, "Grandpa will pay the bill."
#joke
Question And Answer Jokes
Q: What do have when a lawyer is buried up to his neck in wet cement?
A: Not enough cement.
Q: Did you hear they just released a new Barbie doll called "Divorced Barbie"?
A: Yeah, it comes with half of Ken's things and alimony.
Q: What's the problem with lawyer jokes?
A: Lawyer's don't think they're funny, and no one else thinks they're jokes.
Q: How many lawyers does it take to change a light bulb?
A: Fifty four. Eight to argue, one to get a continuance, one to object, one to demur, two to research precedents, one to dictate a letter, one to stipulate, five to turn in their time cards, one to depose, one to write interrogatories, two to settle, one to order a secretary to change the bulb, and twenty-eight to bill for professional services.
Q: Where can you find a good lawyer?
A: In the cemetery.
Q: Where can you find a good lawyer?
A: At the city morgue.
Q: What's the difference between a porcupine and a Mercedes Benz full of lawyers?
A: The porcupine has pricks on the outside.
I tried to sign off Constipati
I tried to sign off ConstipationForum.com, butt I remain logged in.
Louisiana Highway Department e...
Louisiana Highway Department employees stopped at a farm and talkedwith an old farmer. The man in charge told the farmer, 'We need to inspectyour farm for a possible new road.'
The old farmer said, 'OK, but don't get out in that pasture over there.'
The Highway Dept. employee flashed out his identification card andsaid, 'I have the authority of the State of Louisiana to go anywhere I want.See this card? I will go wherever I wish.'
So the old farmer went about his chores.It wasn't too much later when the farmer heard loud screams and yelling.
He looked over and saw several Highway Department employees running fortheir lives and right behind was the farmer's huge prize bull. The bull was madder than a hornet's nest and was gaining on the Highway employees at every step.
The old farmer yelled out, 'Show him your card, Smart *ss.... Show himyour card!!
#joke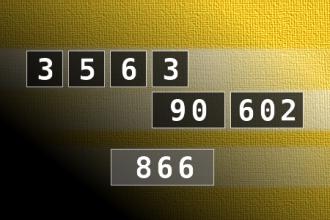 Calculate the number 866
NUMBERMANIA: Calculate the number 866 using numbers [3, 5, 6, 3, 90, 602] and basic arithmetic operations (+, -, *, /). Each of the numbers can be used only once.
Three convicts were on the way...
Three convicts were on the way to prison. They were each allowed to take one item with them to help them occupy their time whilst stuck behind bars. On the bus, one turned to another and said, "So, what did you bring?"
The second convict pulled out a box of paints and stated that he intended to paint anything he could. He wanted to become the "Grandma Moses of Jail."
Then he asked the first, "What did you bring?"
The first convict pulled out a deck of cards and grinned and said, "I brought cards. I can play poker, solitaire and gin, and any number of games."
The third convict was sitting quietly aside grinning to himself. The other two took notice and asked, "Why are you so smug? What did you bring?"
The guy pulled out a box of tampons and smiled. "I brought these."
The other two were puzzled and asked, "What can you do with those?"
He grinned and pointed to the box and said, "Well according to the box, I can go horseback riding, swimming, roller-skating..."
#joke
Charlie Viracola: Believed in Santa
Christmas always sucked when I was a kid because I believed in Santa Claus, and unfortunately, so did my parents.
Robert Schmidt 13
My uncle's an airline pilot ... kinda makes it difficult to hold the bottle though...
When my Dad came home last night, my mom fainted.
Don't tell anyone I said but we're live on national TV.
I broke a leg one time ... spilt coffee all over.
I bought this thing for my car. You put it on your car, it sends out this little noise, so when you drive through the woods, deer won't run in front of your car. I installed it backwards by accident. Driving down the street with a herd of deer chasing me. Those were the days.
That's a good thing to say to the police the next time they stop you. "License and registration, please." "Hermits have no peer pressure." "License and registration, please." "Whenever I think about the past, it just brings back so many memories." "License and registration, please." "There's a fine line between fishing and standing on the shore looking like an idiot. Wouldn't you" say, Officer?" "License and registration, please." "What's another word for Thesaurus?" See the cop have a nervous breakdown. "I was just trying to give him a ticket."
I can't wait to be arrested and go all the way to the witness stand. "Do you swear to tell the whole truth and nothing but the truth so help you, God?" "Yes, you're ugly. See that women in the jury? I'd really like to sleep with her. Should I keep going or are you going to ask me questions?"
In the Roadrunner cartoon, the coyote has been chasing him for 25 years. I'd like to see him finally get right up to him and go "Sorry, I thought you were someone else."
Driving hasn't been the same since I installed the funhouse rearview mirrors. "What is that?"
Driving down the street at 150 miles per hour with a friend of mine on cruise control. Both of us in the back seat. The police pulled us over. They don't know who to arrest, nobody's driving. So, they arrested us both. I'm on the witness stand. You know the rest.
#joke
Would you like me to be your friend?
Kathy began a job as an elementary school counselor and she was eager to help.
One day, during recess, Kathy noticed a young girl standing by herself on one side of the playing field while the rest of the kids were playing a game of soccer.
A while later, Kathy walked over to the young girl and offered, "Would you like me to be your friend?"
The girl looked at Kathy suspiciously, then said hesitantly, "Okay, I guess so..."
"Why are you standing here all alone?" asked Kathy.
"Because," the little girl said with great exasperation, "I'm the goalie!"
#joke