"I told the knight th
"I told the knight that I could knock him out of his saddle. Of course, I was speaking in joust."
A woman was found guilty in tr
A woman was found guilty in traffic court and when asked for her occupation she said she was a schoolteacher. The judge rose from the bench. "Madam, I have waited years for a schoolteacher to appear before this court."
He smiled with delight. "Now sit down at that table and write 'I will not run a red light' five hundred times."
#joke
Airplane ride...
Stumpy and his wife Martha went to the State Fair every year.
Every year Stumpy would say, "Martha, I'd like to ride in that there airplane."
And every year Martha would say, "I know, Stumpy, but that airplane ride costs ten dollars, and ten dollars is ten dollars."
This one year Stumpy and Martha went to the fair and Stumpy said, "Martha, I'm 71 years old. If I don't ride that airplane this year I may never get another chance. "
Martha replied, "Stumpy, that there airplane ride costs ten dollars, and ten dollars is ten dollars."
The pilot overheard them and said, "Folks, I'll make you a deal. I'll take you both up for a ride. If you can stay quiet for the entire ride and not say one word, I won't charge you, but if you say one word it's ten dollars."
Stumpy and Martha agreed and up they go.
The pilot does all kinds of twists and turns, rolls and dives, but not a word is heard.
He does all his tricks over a gain, but still not a word.
They land and the pilot turns to Stumpy, "By golly, I did everything I could think of to get you to yell out, but you didn't."
Stumpy replied, "Well, I was gonna say something when Martha fell out, but ten dollars is ten dollars."
#joke
Don't discuss units of h
Don't discuss units of heat with me. I will BTU!
A blonde was driving home afte
A blonde was driving home after a football game, and got caught in a really bad hailstorm. Her car was covered with dents, so the next day she took it to a repair shop. The shop owner saw that she was a blonde, so he decided to have some fun. He told her just to go home and blow into the tail pipe really hard, and all the dents would pop out. So, the blonde went home, got down on her hands and knees and started blowing into her car's tailpipe. Nothing happened. She blew a little harder, and still nothing happened.
Her roommate, another blonde, came home and said, "What are you doing?"
The first blonde told her how the repairman had instructed her to blow into the tailpipe in order to get all the dents to pop out. Her roommate rolled her eyes and said, ...
"HELLLLO" "You need to roll up the windows"
Interviewing Crazy
A man who had been in a mental home for some years finally seemed to have improved to the point where it was thought he might be released.
The head of the institution, in a fit of commendable caution, decided, however, to interview him first.
"Tell me," said he, "if we release you, as we are considering doing, what do you intend to do with your life?'
The inmate said, "It would be wonderful to get back to real life and if I do, I will certainly refrain from making my former mistake. I was a nuclear physicist, you know, and it was the stress of my work in weapons research that helped put me here. If I am released, I shall confine myself to work in pure theory, where I trust the situation will be less difficult and stressful."
"Marvelous," said the head of the institution.
"Or else," ruminated the inmate. "I might teach. There is something to be said for spending one's life in bringing up a new generation of scientists."
"Absolutely," said the head.
"Then again, I might write. There is considerable need for books on science for the general public. Or I might even write a novel based on my experiences in this fine institution."
"An interesting possibility," said the head.
"And finally, if none of these things appeals to me, I can always continue to be a teakettle."
#joke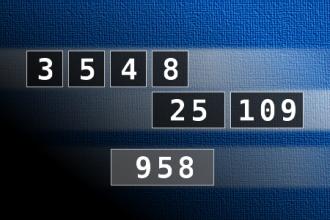 Calculate the number 958
NUMBERMANIA: Calculate the number 958 using numbers [3, 5, 4, 8, 25, 109] and basic arithmetic operations (+, -, *, /). Each of the numbers can be used only once.
Mr. Baldwin, the biology teach...
Mr. Baldwin, the biology teacher called on Mary, "Can you tell me the part of the body that, under the right conditions, expands to six times it's normal size, and state the conditions."
Mary gasped and said in a huff, "Why, Mr. Baldwin! That is an inappropriate question and my parents are going to hear of it when I get home!" She sat down, red-faced.
"Susan, can you tell me the answer?" asked Mr. Baldwin
"The pupil of the eye, under dark conditions," said Susan.
"Correct. Now Mary, I have three things to say to you. First, you have not studied your lesson. Second, you have a dirty mind. And third, boy are you going to be disappointed someday!"
#joke
One Monday morning a postman i...
One Monday morning a postman is walking the neighbourhood on his usual route. As he approaches one of the homes he noticed that both cars were in the driveway. His wonder was cut short by Bob, the homeowner, coming out with a load of empty beer and liquor bottles.
"Wow Bob, looks like you guys had one hell of a party last night," the postman comments.
Bob in obvious pain replies, "Actually we had it Saturday night. This is the first I have felt like moving since 4:00 am Sunday morning. We had about fifteen couples from around the neighbourhood over for Christmas Cheer and it got a bit wild. We got so drunk around midnight that we started playing 'Who Am I.'"
The postman thinks a moment and says, "How do you play that?"
Well all the guys go in the bedroom and we come out one at a time with a sheet covering us and only our "privates" showing through a hole in the sheet. Then the women try to guess who it is."
The mailman laughs and says, "Damn, I'm sorry I missed that."
"Probably a good thing you did," Bob responds. "Your name came up four or five times."
A Joke for Kids
Q: Why was Adam a famous runner?

A: Because he was first in the human race.
Once there was a little boy th...
Once there was a little boy that lived in the country. They had to use an outhouse, and the little boy hated it because it was hot in the summer and cold in the winter and stank all the time.The outhouse was sitting on the bank of a creek and the boy determined that one day he would push that outhouse into the creek. One day after a spring rain, the creek was swollen so the little boy decided today was the day to push the outhouse into the creek. So he got a large stick and started pushing. Finally,the outhouse toppled into the creek and floated away. That night his dad told him they were going to the woodshed after supper.Knowing that meant a spanking, the little boy asked why.
The dad replied, "Someone pushed the outhouse into the creek today.It was you, wasn't it son?"
The boy answered yes. Then he thought a moment and said, "Dad, I read in school today that George Washington chopped down a cherry tree and didn't get into trouble because he told the truth."
The dad replied, "Well, son, George Washington's father wasn't in the cherry tree."
#joke