Top 10 things NOT to say to...
Top 10 things NOT to say to parents when picking up a date
1. "Sorry I'm a little late. I had to stop by the drugstore."
2. "Show me how you used to spank her."
3. "Please come inside? Wow, you sound just like your daughter."
4. "Do you think she would put out if I told her that I loved her?"
5. "I just got my license today."
6. "I believe being sexually active since I was 12 has helped me mature."
7. "Five bucks says she's a D-cup."
8. "Hey do you have an empty pop can and some matches?"
9. "Hi. I'm Robert, but my friends call me 'Back Door Bob'."
10. "So, does your wife just lay there during sex too?"
#joke
Signs of the times
In the front yard of a funeral home, 'Drive carefully, we'll wait.'
On an electrician's truck, 'Let us remove your shorts.'
Outside a radiator repair shop, 'Best place in town to take a leak.'
On a maternity room door, 'Push, Push, Push.'
On a taxidermist's window, 'We really know our stuff.'
On a butcher's window, 'Let me meat your needs.'
On a fence, 'Salesmen welcome. Dog food is expensive.'
On a muffler shop, 'No appointment necessary. We'll hear you coming.'
In a dry cleaner's emporium, 'Drop your pants here.'
On a desk in a reception room, 'We shoot every 3rd salesman, and the 2nd one just left.'
In a veterinarian's waiting room, 'Be back in 5 minutes. Sit! Stay!'
In a Beauty Shop, 'Dye now!'
In a restaurant window, 'Don't stand there and be hungry, come in and get fed up.'
In a cafeteria, 'Shoes are required to eat in the cafeteria. Socks can eat any place they want.'
#joke
Funny video of the day - Fails of the Week - Insult to Injury (January 2017)
Farm Jokes 06
Where do you take sick ponies?
To the horsepital!
What do you say if you see a flying pig?
'I see bacon's going up'!
Who tells chicken jokes?
Comedihens!
What do you get if you cross pigs with a lot of grapes?
A swine gut!
Why did the chicken cross the road at the fairground?
To get to the other side!
What did the lovesick bull say to the cow?
'When I fall in love it will be for heifer'!
Why were the hens lying on their backs with their legs in the air?
Because eggs were going up!
What do you call a sheep with no legs or head?
A cloud!
What do you get if you feed gunpowder to a chicken?
An egg-splosion!
#joke
If you want to see my duck, yo
If you want to see my duck, you better make it quack.
Using a prism allows...
"Using a prism allows me to see the sun in a different light."
A man went on a business trip
A man went on a business trip to China and wanted to buy some giftsfor his kids. He went to a shop and found a nice looking CD player.Wary of buying inferior goods, he asked the shopkeeper, 'What wouldhappened if this does not work?'
The shopkeeper quietly points to the only sign in English that reads,'GUARANTEE NO SPOILT'.
Feeling assured, he paid for the CD player and returns to his hotel.He tried to use the CD player after returning to the hotel but itwould not even switch on.
He quickly return to the shop and asked for a refund or an exchangefor another unit. When the shopkeeper refused to give either, the man points to the signassuring him of a guarantee.
The shopkeeper then said, 'Brother, you are in China. We read from theright to the left.'
#joke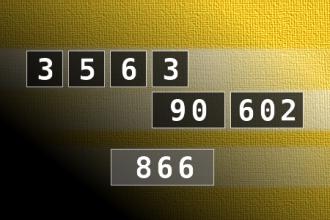 Calculate the number 866
NUMBERMANIA: Calculate the number 866 using numbers [3, 5, 6, 3, 90, 602] and basic arithmetic operations (+, -, *, /). Each of the numbers can be used only once.
An old man goes to the Wizard ...
An old man goes to the Wizard to ask him if he can remove a "Curse" he has been living with for the last 40 years.
The Wizard says "maybe, but you will have to tell me the exact words that were used to put the curse on you."
The old man says without hesitation "'I now pronounce you man and wife'".
#joke
Conway Twitty, Is That Really You?
A young pastor moved to town and decided he would go around and introduce himself to the new congregation. He rang the first door bell and a lady came to the door. She stared at him as he introduced himself.
She said, "I can't believe how much you look like Conway Twitty, the country music singer."
He replied, "Yes, ma'am, I hear that a lot."
He went to the next house and the next, and every lady that came to the door said the same thing—that he looked like Conway Twitty.
At the last house, a shapely young lady came to the door with a towel around her. He started to introduce himself, but she loosened her towel, threw her arms in the air, and screamed, "Conway Twitty!"
The pastor stood there, stunned. Then he said, "Hello, darling!"
#joke
How Many Women?
A little boy was attending his first wedding. After the service, his cousin asked him, "How many women can a man marry?"
"Sixteen," the boy responded.
His cousin was amazed that he knew the answer so quickly. "How do you know that?"
"Easy," the little boy said.
"All you have to do is add it up, like the Preacher said: 4 better, 4 worse, 4 richer, 4 poorer."
#joke
Traffic lights camera
A...
Traffic lights camera
A man was driving down the road. He passed a traffic camera and saw it flash.
Astounded that he had been caught speeding when he was under the speed limit, he turned around and, going even slower, he passed by the camera.
Again, he saw it flash. He couldn't believe it! So he turned and, going at snail's pace, he passed the camera.
AGAIN, he saw the camera flash. He guessed it must have a fault, and home he went.
Four weeks later he received 3 traffic fines in the mail, all for not wearing a seatbelt.
#joke