I hired a zombie to...
"I hired a zombie to do some work around my house. He is the working dead."
A guy who had forgotten the da...
A guy who had forgotten the dates for a number of his friends' and relatives' birthdays and anniversaries, decided to compile a list on the computer and have the dates highlighted on screen when the machine was turned on.
He went to a number of computer stores to find a software program that would do the job but had no luck at the first few. Finally, he found one where the clerk seemed experienced.
"Can you recommend something that will remind me of birthdays and anniversaries?" the guy asked.
"Have you tried a wife?" the clerk responded.
#joke
My memory
An agitated patient was stomping around the psychiatrist's office, running his hands through his hair, almost in tears.
"Doctor, my memory's gone. Gone! I can't remember my wife's name. Can't remember my children's names. Can't remember what kind of car I drive. Can't remember where I work. It was all I could do to find my way here."
"Calm down. How long have you been like this?"
"Like what?"
A Maharajah Of India
The maharajah of an Indian Province issued a royal decree. He ordered that no one was to kill any wild animals while he was the country's leader. The decree was honored until there were so many Bengal Tigers running loose that the people revolted and threw the maharajah from power. This is the first known instance of the reign being called on account of the game.
#joke
Why Do Frogs Like St. Patrick's Day?
Q: Why did St. Patrick drive all the snakes out of Ireland? A: He couldn't afford plane fareQ: What do you call a fake stone in Ireland?A: A sham rockQ: Why do frogs like St. Patrick's Day? A: Because they're always wearing greenQ: What does a leprechaun call a happy man wearing green?A: A Jolly Green GiantQ: What did one Irish ghost say to the other? A: 'Top o' the moaning!Q: How can you tell if an Irishman is having a good time? A: He's Dublin over with laughter!
***
Knock, knock! Who's there? Irish. Irish who? Irish you a happy St. Patrick's Day!
#joke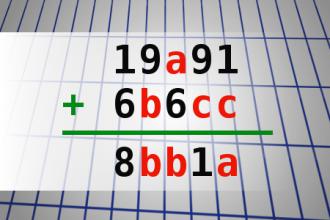 Find number abc
If 19a91 + 6b6cc = 8bb1a find number abc. Multiple solutions may exist.
The warehouse smelled like an
The warehouse smelled like an olfactory.
Two guys walking down the stre...
Two guys walking down the street talking. One says to the other, "I wish I had a million dollars."
The second guy says, "Oh, I'm working on my second million."
"Really?" asked the first guy, surprised.
"Yea, I gave up on the first million, didn't quite work out."
A man walked into a cafe...
A man walked into a cafe,went to the bar and ordered a beer.
"Certainly, Sir , that'll be one cent."
One Cent?" the man exclaimed.
He glanced at the menu and asked: "How much for a nice juicy steak and a bottle of wine?"
"A nickel," the barman replied.
"A nickel?" exclaimed the man.
"Where's the guy who owns this place?"
The bartender replied: "Upstairs, with my wife."
The man asked: "What's he doing upstairs with your wife?"
The bartender replied: "The same thing I'm doing to his business down here."
Can We....
On their way to get married, a young Catholic couple is involved in a fatal car accident.  The couple find themselves sitting outside the Pearly Gates waiting for St. Peter to process them into Heaven.
While waiting, they begin to wonder: Could they possibly get married in Heaven?
When St. Peter showed up, they asked him. St. Peter said, 'I don't know. This is the first time anyone has asked. Let me go find out,' and he leaves.
The couple sat and waited, and waited. Two months passed and the couple are still waiting. While waiting, they began to wonder what would happen if it didn't work out; could you get a divorce in heaven.
After yet another month, St. Peter finally returns, looking somewhat bedraggled. 'Yes,' he informs the couple, 'you can get married in Heaven.'
'Great!' said the couple, 'But we were just wondering, what if things don't work out? Could we also get a divorce in Heaven?'
St. Peter, red-faced with anger, slammed his clipboard onto the ground.
'What's wrong?' asked the frightened couple.

'OH, COME ON!', St. Peter shouted, 'It took me three months to find a priest up here! Do you have any idea how long it'll take me to find a lawyer?
To be or not to be? That is th...
To be or not to be? That is the question. The answer? Chuck Norris.
Drunk date
A guy enters a bar and orders two shots of vodka. He drinks the first and dumps the second on his right hand.
He then orders a second round of shots, drinks the first and again dumps the second on his right hand.
The bartender sees this and becomes curious as the guy orders a third round and does the exact same thing.
So the bartender asks the guy, "Hey man, I hope you don't mind me asking but why the waste of good drinks?"
So the man says, "I have to get my date drunk."
Submitted by Curtis
Edited by Yisman
#joke