Of all my books, my...
"Of all my books, my favorite is the one I received last Christmas. There is no tome like the present."
The salesman was demonstrating...
The salesman was demonstrating unbreakable combs in the department store. He was impressing the people who stopped by to look by putting the comb through all sorts of torture and stress.
Finally to impress even the skeptics in the crowd, he bent the comb completely in half, and it snapped with a loud crack. Without missing a beat, he bravely held up both halves of the 'unbreakable' comb for everyone to see and said,
"And this, ladies and gentlemen, is what an unbreakable comb looks like on the inside..."
#joke
Heaven or ???
A spiritualist who'd recently been widowed met a colleague and reported excitedly that she'd just received a message from her dead husband - asking her to send him a pack of cigarettes.
"The only thing is," she mused, "that I don't know where to send them."
"Why not?" asked her friend.
"Well, he didn't actually say that he was in Heaven - but I can't imagine he'd be in Hell."
"Hm," responded the friend. "Well, maybe I shouldn't bring this up, but. . . he didn't mention anything about including matches in the package, did he?"
#joke
You Might Be A Redneck If 73
You might be a reneck if...
Duct tape and wire are the only two things holding your truck together.
Your bumper sticker reads "If you're missing your cat, look in my treads. "
You think the Gettysburg Address is where Lincoln lived.
You've ever parked your date next to a YIELD sign hoping she'd take the hint.
Your kids learned to shoot before they learned to walk.
You place a classified asking less than $1.
You think the freeway is the back door of the movie theater.
Higher math means counting over 10.
The lake has to be restocked after you take a bath.
You have a lucky rabbit's foot in your pocket and a lucky rabbit nailed above your fireplace.
#joke
In my mature years, I'm fina
In my mature years, I'm finally beginning to understand the Bible!For those who haven't heard, the State of Washington just passed two laws:
* Same-sex Marriage
* Legalized Marijuana
The fact that same-sex marriage and marijuana were legalized on the same day makes perfect biblical sense because Leviticus 20:13 says:
"If a man lies with another man they should be stoned."
I just hadn't interpreted it correctly before.
#joke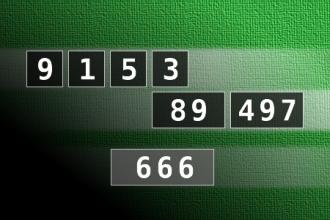 Calculate the number 666
NUMBERMANIA: Calculate the number 666 using numbers [9, 1, 5, 3, 89, 497] and basic arithmetic operations (+, -, *, /). Each of the numbers can be used only once.
A mime was arrested and put in
A mime was arrested and put into an invisible cell at the police station.
They figured if he can't get out of an invisible box on a stage, an invisible prison cell would be twice as difficult.
Where Did She Go?
An elderly woman in her nineties had a visitor from her church come to see her at the nursing home. "How are you?" the visitor asked. "Oh," said the elderly woman, "I'm just worried sick!""You look like you're in good health. They take good care of you here, don't they?""Oh, yes, they take good care of me here.""Do you have any pain?" the visitor asked."No, I can't say I do," the elderly woman replied."Then what has you worried sick?" the visitor asked.The elderly woman leaned in and explained, "All of my closest friends have already died and gone to heaven. I'm sure they are all wondering where I went!"From "
The Book of Church Jokes
," published by
Barbour Publishing, Inc.
, Uhrichsville, Ohio. Copyright 2009. Used by permission of Barbour Publishing, Inc.
#joke
Saving up for 75 years
A small tourist hotel was all abuzz about an afternoon wedding where the groom was 95 and the bride was 23.
The groom looked pretty feeble and the feeling was that the wedding night might kill him, because his bride was a healthy, vivacious young woman.
But lo and behold, the next morning, the bride came down the main staircase slowly, step by step, hanging onto the banister for dear life.
She finally managed to get to the counter of the little shop in the hotel. The clerk looked really concerned, "Whatever happened to you, honey? You look like you've been wrestling an alligator!"
The bride groaned, hung on to the counter and managed to speak, "Oh God! When he told me he'd been saving up for 75 years, I thought he meant his money!!"

#joke
A man runs to the doctor and s...
A man runs to the doctor and says: "Doctor, you've got to help me. My wife thinks she's a chicken!"
The doctor asks: How long was she had this condition?"
"Two years." replies the man.
"Then why did it take you so long to come and see me?" asked the doctor. The man shrugs his shoulders and replies: "We needed the eggs"
Coffee Maker
The newlywed Blonde went to the store to ask how to operate the new coffeemaker received as a wedding gift. The salesman carefully explained how everything worked; how to plug it in, set the timer, go to bed, and upon rising, the coffee is ready.
A few weeks later the goober was back in the store and the salesman asked her how she liked the coffee maker.
"Wonderful!" she replied, "But... it's just awfully inconvenient to have to go to bed every time I want to make a pot of coffee."
Passing A School Bus
The following is supposedly a true story. To be included, besides being true, the story is most likely strange, weird, surprising, or funny.
"Unlawful to Pass School Bus from Either Direction"
I guess that some people misunderstood that, because now it reads:
"Unlawful to Pass Stopped School Bus from Either Direction".
#joke