Be rady for Thanksgiving
, check out our latest
Thanksgiving jokes of 2021
on:
Thanksgiving jokes collection
A doctor and his wife were sun...
A doctor and his wife were sunbathing on a beach when a well-endowed, beautiful, young, blonde woman in a tight-fitting bikini strolled passed. The woman looked at the doctor, smiled seductively, and said in a very sexy voice, "Hi there handsome. How are you doing?" before wiggling her backside and walking off.
"Who was that?" demanded the doctor's wife.
"Just a woman I met professionally," replied the doctor.
"Oh yeah?" snarled his wife, "In whose profession? Yours or hers?"
Final arrangements...
A woman from New York was getting her affairs in order. She wrote her will and made her final arrangements. As part of these arrangements she met with her rabbi to talk about what type of funeral service she wanted. She told her rabbi she had two final requests.
First, she wanted to be cremated, and second, she wanted her ashes scattered over Bloomindgales.
"Bloomingdales!" the rabbi said. "Why Bloomingdales?"
"That way, I know my daughters will visit me at least twice a week."
#joke
The Inspired Sermon
The pastor was greeting folks at the door after the service. A woman said, "Father, that was a good sermon." The priest replied, "Oh, I have to give the credit to the Holy Spirit.""It wasn't THAT good!" she said.
We can't wait for Pride!
We can't wait for Pride! The best ribs and burgers are served at LGBBQ events.
1. I can please only one perso
1. I can please only one person per day. Today is not your day. Tomorrow isn't looking good either.
2. I love deadlines. I especially like the whooshing sound the make as they go flying by.
3. Am I getting smart with you? How would you know?
4. I'd explain it to you, but your brain would explode.
5. Someday we'll look back on all this and plow into a parked car.
6. There are very few personal problems that cannot be solved through a suitable application of high explosives.
7. Tell me what you need, and I'll tell you how to get along without it.
8. Accept that some days you're the pigeon, and some days you're the statue.
9. Needing someone is like needing a parachute. If he isn't there the first time you need him, chances are you won't be needing him again.
10. I don't have an attitude problem. You have a perception problem.
11. Last night I lay in bed looking up at the stars in the sky and I thought to myself, "Where the hell is the ceiling?!"
12. My Reality Check bounced.
13. On the keyboard of life, always keep one finger on the escape key.
14. I don't suffer from stress. I'm a carrier.
15. You're slower than a herd of turtles stampeding through peanut butter.
16. Do not meddle in the affairs of dragons, 'cuz, like to them, you are crunchy and taste good with ketchup.
17. Everybody is somebody else's weirdo.
18. Never argue with an idiot. They drag you down to their level then beat you with experience.
#joke
A new hair salon opened up for...
A new hair salon opened up for business right across the street from the old established hair cutters' place.
They put up a big bold sign which read: "WE GIVE SEVEN DOLLAR HAIR CUTS!"
Not to be outdone, the old Master Barber put up his own sign: "WE FIX SEVEN DOLLAR HAIR CUTS!"
#joke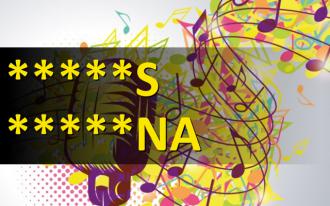 Replace asterisk symbols with ...
Replace asterisk symbols with a letters (*****S *****NA) and guess the name of musician. Length of words in solution: 6,7.
I finally got one over
The other day, Louise and I got into some petty argument. (I say it was petty. She would have said it was Armageddon.) As is our nature, neither of us would admit the possibility that we might be in error.
To her credit, Louise finally said, 'Look. I'll tell you what. I'll admit I'm wrong if you admit I was right.'
'Fine.' I said.
She took a deep breath, looked me in the eye and said, 'I'm wrong.'
I grinned and replied, 'You're right.'
#joke
A red blood count is...
"A red blood count is a communist vampire."
Hannibal Buress: Cancer Walks
I don't believe in cancer walks. Well, I believe in them because they exist but I'd rather just give money straight up and save my Saturday afternoon. I can make my own t-shirt, that's not incentive. Plus I don't think cancer responds to how far people walk. I don't think cancer's sitting at home, 'What? How many people walked how far? How many people walked how far wearing the same shirt? That's crazy! I'm out of here!' Remission.
#joke
Knock Knock Collection 187
Knock Knock
Who's there?
Vivaldi!
Vivaldi who?
Vivaldi books, there's nothing to read!
Knock Knock
Who's there?
Vlad!
Vlad who?
Vlad to meet you!
Knock Knock
Who's there?
Voodoo!
Voodoo who?
Voodoo you think you are!
Knock Knock
Who's there?
Waddle!
Waddle who?
Waddle you give me if I go away!
Knock Knock
Who's there?
Wade!
Wade who?
Wade till next time!
#joke
And The Fairy Said….
A married couple in their early 60s were out celebrating their 35th wedding anniversary in a quiet, romantic little restaurant.
Suddenly, a tiny yet beautiful fairy appeared on their table and said, "For being such an exemplary married couple and for being faithful to each other for all this time, I will grant you each a wish. "Ooh, I want to travel around the world with my darling husband." said the wife.
The fairy moved her magic stick and – abracadabra! – two tickets for the new QM2 luxury liner appeared in her hands.
Now it was the husbands turn. He thought for a moment and said: "Well this is all very romantic, but an opportunity like this only occurs once in a lifetime, so, I'm sorry my love, but my wish is to have a wife 30 years younger than me."
The wife, and the fairy, were deeply disappointed, but a wish is a wish… So the fairy made a circle with her magic stick and -abracadabra! – the husband became 92 years old.
The moral of this story: "Fairies are female."
#joke
Hillbilly at the hospital...
A hillbilly was making his first visit to a hospital where his teenage son was about to have an operation.
Watching the doctor's every move, he asked, "What's that?"
The doctor explained, "This is an anesthetic. After he gets this he won't know a thing."
"Save your time, Doc," exclaimed the man. "He don't know nothing now."
Making God Laugh
You know how to you make God laugh?
- Tell him your plans.
American-Yiddish Dictionary
JEWBILATION - Pride in finding out that one's favorite celebrity is Jewish.
TORAHFIED - Inability to remember one's lines at one's Bar or Bat mitzvah.
CHUTZPAPA - A father who wakes his wife at 4:00 AM so she can change the baby's diaper.
DISORIYENTA - When Aunt Sadie gets lost in a department store and strikes up a conversation with everyone she passes.
MISHPOCHAMARKS - The assorted lipstick and make-up stains found on one's face and collar after kissing all one's aunts and cousins at a reception.
ROSH HASHANANA - A rock 'n roll band from Brooklyn.
FEELAWFUL - Indigestion from eating Israeli street food.
KINDERSCHLEP - To transport other kids in your car besides yours.
OYVAYSMEAR - What one says when the cream cheese squeezes out of the bagel and falls on your clean pants.
JEWDO - A traditional form of self-defense based on talking one's way out of a tight spot.
#joke