Favorite Henny Youngman Quote
Upon Entering the Friars Dining Room
'I would like a table by a waiter'
"When I got an inocul
"When I got an inoculation, it was like a shot in the arm."
Funny video of the day - Houdini Baby Makes Great Escape From Gate
A robust-looking gentleman ate
A robust-looking gentleman ate a fine meal at an expensive restaurant and topped it off with some Napoleon brandy, then he summoned the headwaiter. "Do you recall," he asked pleasantly, "how a year ago, I ate just such a repast here and then, because I couldn't pay for it, you had me thrown into the gutter like a common bum?"
"I'm very sorry sir..." began the contrite headwaiter.
"Oh, it's quite all right," said the guest, "but I'm afraid I'll have to trouble you again..."
#joke
The last request...
Two men, sentenced to die in the electric chair on the same day, were led down to the room in which they would their maker. The priest had given them last rites, the formal speech had been given by the warden, and a final prayer had been said among the participants.
The warden, turning to the first man, solemnly asked, "Son, do you have a last request?" To which the man replied, "Yes sir, I do. I love dance music. Could you please play the Macarena for me one last time?" "Certainly," replied the warden.
He turned to the other man and asked, "Well, what about you, son? What is your final request?" "Please," said the condemned man, "kill me first."
#joke
Angelic Assistance?
An old-time pastor was riding furiously down the road, hurrying to get to church on time. Suddenly, his horse stumbled and threw him to the ground.Lying in the dirt, his body wracked with pain, the pastor called out, "All you angels in heaven, help me get up on my horse!"With extraordinary strength, he leaped onto the horse's back—and fell off the other side.From the ground again, he called out, "All right, just half of you angels this time!"
#joke
Do terrorists seek inu
Do terrorists seek inure peace?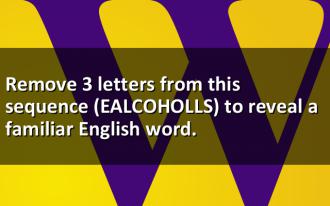 Remove 3 letters from this seq...
Remove 3 letters from this sequence (EALCOHOLLS) to reveal a familiar English word.
There were these twin sisters...
There were these twin sisters just turning one hundred years old in St. Luke's Nursing Home and the editor of the Cambridge rag, "The Cambridge Distorter," told a photographer to get over thereand take the pictures of these 100 year old twin bitteys.
One of the twins was hard of hearing and the other could hear quite well.
The photographer asked them to sit on the sofa and the deaf one said to her twin, "WHAT DID HE SAY?"
He said, "WE GOTTA SIT OVER THERE ON THE SOFA!" said the other.
"Now get a little closer together," said the cameraman.
Again, "WHAT DID HE SAY?"
"HE SAYS SQUEEZE TOGETHER A LITTLE." So they wiggled up close to each other.
"Just hold on for a bit longer, I've got to focus a little," said the photographer.
Yet again, "WHAT DID HE SAY?"
"HE SAYS HE'S GONNA FOCUS!"
With a big grin the deaf twin shouted out, "OH MY GOD - BOTH OF US?"
#joke
Todd Barry: Germaphobe
It's paralyzing being a germaphobe; lots of places are really paralyzing to me. Laundromats have these baskets on wheels -- some guy will come in with a big bag of disgusting laundry, put it in the basket, move it into the washer. And I'm supposed to take my clean laundry out of the dryer, put it in that exact same basket. I don't mind something having a dual purpose but can't it be like, 'What's that big green box over there?' 'Oh that's a dumpster and we also use that to store soup.'
#joke
So I was having lunch with Bob
So I was having lunch with Bobby Fischer, the former world chess champion, and the table had a checkered tablecloth.
It took him two hours to pass the salt!
Lightbulb Joke Collection 70
Q: How many experienced computer users does it take to change a lightbulb ?
A: Why do they have to keep changing it ? Every bloody week. You'd've thought they'd have learnt by now, if it's not broken they shouldn't bugger about with it. What's that ? It WAS broken this time you say ? *Blush*
Q: How many PC users does it take to change a lightbulb ?
A: Two. One to do it, but one to check the new bulb for viruses first.
Q: How many municipal employees does it take to screw in a light bulb?
A: Seven - two to administer the Civil Service examination for the Light Bulb Administrator position, the Commissioner of Public Works, who ends up hiring his brother for the position anyway, one to plow the mayor's driveway, a Summer Youth student to actually screw it in, and a Union steward to protest that its the electrician's job to screw in lightbulbs.
Q: How many fat-cat factory owners does it take to change a light bulb?
A: None. The replacement bulbs have refused to cross the union picket lines.
Q: How many carpenters does it take to screw in a light bulb?
A: Sod you! That's the electrician's job.
Q: How many utilitarians does it take to screw in a light bulb?
A: As many as are happy screwing in light bulbs.
Q: How many surrealists does it take to change a light bulb?
A: Two. One to hold the giraffe and the other to fill the bathtub with brightly colored machine tools.
Q: How many sado-masochists does it take to change a lightbulb ?
A: Two. One to hold it and one to kick the chair out from under him.
#joke
T.J. Miller: Holding a Baby
This woman wouldnt let me hold her baby the other day because she said I was too drunk. First of all, dont bring your baby into the bar. And second of all, if Im drinking malt liquor on a playground, I call that a bar.
One Line Zingers


If Cain and Able were Siamese twins, would they be Cable?


Blessed are those who hunger and thirst, for they are sticking to their diets.


The best vitamin for a Christian is B1.


"I've taken a vow of poverty. To annoy me, send money."


Warning notice at a seminary swimming pool: "First-year students are only allowed to walk on the shallow end."


"If absence makes the heart grow fonder," said a minister, "a lot of folks must love our church."

This joke was reprinted from "Laugh Yourself Healthy" by Charles and Frances Hunter, with permission of Strang Communications. Copyright 2008. All rights reserved.

#joke
Eliot Chang: Politically Correct Friend
He actually said this to me; hes like, Hey man, you got to be careful. Theres a lot of women that have an Asian fetish. Well, what do you mean? Theyll have sex with you just cause youre Asian. Arent you offended? Uh, Ill be offended after my orgasm.
Who Should Make the Coffee?
A man and his wife were having an argument about who should brew the coffee each morning.
The wife said, "You should do it, because you get up first, and then we don't have to wait as long to get our coffee."
The husband said, "You are in charge of the cooking around here so you should do it, because that is your job, and I can just wait for my coffee."Wife replies, "No, you should do it, and besides it says in the Bible that the man should do the coffee."
Husband replies, "I can't believe that! Show me."
So she fetched the Bible, and opened the New Testament and showed him at the top of several pages, that it indeed says, "HEBREWS."
#joke
Three bulls heard via the grap...
Three bulls heard via the grapevine that the rancher was going to bring another bull onto the ranch, and the prospect raised a discussion among them.
The first bull says, "Boys, we all know I've been here 5 years. Once we settled our differences, we agreed on which 100 of the cows would be mine. Now, I don't know where this newcomer is going to get HIS cows, but I ain't' givin' him any of mine."
The second bull says, "That pretty much says it for me, too. I've been here 3 years and have earned my right to the 50 cows we've agreed are mine. I'll fight 'im till I run him off or kill 'im, but I'M KEEPIN' ALL MY COWS."
The third bull says, "I've only been here a year, and so far you guys have only let me have 10 cows to "take care of". I may not be as big as you fellows yet, but I am young and virile, so I simply MUST keep all MY cows."
They had just finished their big talk when an eighteen-wheeler pulls up in the middle of the pasture with only ONE ANIMAL IN IT: the biggest Son-of-Another-Bull these guys had ever seen! At 4700 pounds, each step he took toward the ground strained the steel ramp to the breaking point.
The first bull says, "Ahem...You know, it's actually been some time since I really felt I was doing all my cows justice, anyway. I think I can spare a few for our new friend."
The second bull says, "I'll have plenty of cows to take care of if I just stay on the opposite end of the pasture from HIM. I'm certainly not looking for an argument."
They look over at their young friend, the third bull, and find him pawing the dirt, shaking his horns, and snorting up a storm.
The first bull says, "Son, let me give you some advice real quick. Let him have some of your cows and live to tell about it."
The third bull says, "Heck, he can have ALL my cows. I'm just making sure he knows I'M a bull!"
#joke