Happy New Year 2021!!
Parents & Grand Parents ….. Don't feel bad
Tech Help
The computer in my high school classroom recently started acting up. After watching me struggle with it, one of my students came up and took over. 'Your hard drive crashed,' he said.
I called the computer services office and explained, 'My computer is down. The hard drive crashed.'
'We can't just send people down on your say so. How do you know that's the problem'?
'A student told me,' I answered.
'We'll send someone over right away.'
#joke
"I have a difficult t
"I have a difficult time discerning fine jewelry. I guess I've been out of the loupe too long."
Persevere!
A young pastor was sitting in a restaurant eating lunch. He opened a letter he'd just received that morning from his mom. As he opened it a twenty-dollar bill fell out. He thought to himself, Thanks, Mom, I sure needed that right now.As he finished his feel, he noticed a beggar outside on the sidewalk leaning against the light post. Thinking that the poor man could probably use the twenty dollars more than he, he crossed out the names on the envelope and wrote across the top in large letters, PERSEVERE!So as not to make a scene, he put the envelope under his arm and dropped it as he walked past the man. The man picked it up and read the message and smiled. The next day, as the pastor enjoyed his meal, the same man tapped him on the shoulder and handed him a big wad of bills. Surprised, the young pastor asked him what that was for. The man replied, "This is your half of the winnings. Persevere came in first in the fourth race at the track yesterday and paid thirty to one."
#joke
A police officer arrives at an
A police officer arrives at an accident scene where apparently three blondes have leaped to their death from a very tall building...
He suddenly notices that one is still breathing so he approaches her and asks, "Why did you three beautiful girls leap out of that building?"
The blond answers in a very weak voice, "We wanted to try out our new maxi-pads with wings."
Wash the dog
A young boy, about eight years old, was at the corner grocery picking out a large size box of laundry detergent. The grocer walked over and trying to be friendly, asked the boy if he had a lot of laundry to do.
"Nope, no laundry," the boy said, "I'm going to wash my dog." "But, you shouldn't use this to wash your dog. It's very powerful and if you wash your dog in this, he'll get sick. In fact, it might even kill him."
But, the boy was not to be stopped and carried the detergent to the counter and paid for it, even as the grocer still tried to talk him out of washing his dog.
About a week later, the boy was back in the store to buy some candy. The grocer asked the boy how his dog was doing.
"Oh, he died," the boy said.
The grocer, trying not to be an "I-told-you-so" said he was sorry the dog died, but added, "I tried to tell you not to use that detergent on your dog."
"Well, the boy replied, "I don't think it was the detergent that killed him."
"Oh? What was it then?"
"I think it was the spin cycle!"
#joke
Knock Knock Collection 175
Knock Knock
Who's there?
Thayer!
Thayer who?
Thayer sorry and I won't tell teacher!
Knock Knock
Who's there?
Thea!
Thea who?
Thea later, alligator!
Knock Knock
Who's there?
Thelma!
Thelma who?
Thelma your soul!
Knock Knock
Who's there?
Thelonius!
Thelonius who?
Thelonius kid in town!
Knock Knock
Who's there?
Theodore!
Thedore who?
Theodore is shut, please open it!
#joke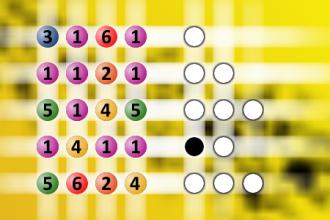 Find the right combination
The computer chose a secret code (sequence of 4 digits from 1 to 6). Your goal is to find that code. Black circles indicate the number of hits on the right spot. White circles indicate the number of hits on the wrong spot.
The most well-insulated part o
The most well-insulated part of the brain, aka cerebral Goretex™.
Nick Kroll: Dreamcatcher
I actually keep a dreamcatcher above my bed. But then, just to be fair, I keep a picture of my dad next to it so that I can have a dreamcrusher there as well.
Please, always be alert and wa
Please, always be alert and watch out for the people around you.
Yesterday, when I was on a sidewalk making my way home, a man came to me and drew scissors.
I was panicked so I immediately responded with a rock.
Imagine if I was not alert, I might have accidentally answered with paper and lost the game.
#joke
1. A bicycle can't stand alon
1. A bicycle can't stand alone because it is two-tired.
2. What's the definition of a will? (It's a dead giveaway).
3. Time flies like an arrow. Fruit flies like a banana.
4. A backward poet writes inverse.
5. In democracy it's your vote that counts; In feudalismit's your count that votes.
6. She had a boyfriend with a wooden leg, but broke it off.
7. A chicken crossing the road is poultry in motion.
8. If you don't pay your exorcist you get repossessed.
9. With her marriage she got a new name and a dress.
10. Show me a piano falling down a mine shaft andI'll show you A-flat minor.
11. When a clock is hungry it goes back four seconds.
12. The man who fell into an upholstery machine isfully recovered.
13. A grenade thrown into a kitchen in Francewould result in Linoleum Blownapart.
14. You feel stuck with your debt if you can't budge it.
15. Local Area Network in Australia: the LAN downunder.
16. He often broke into song because he couldn'tfind the key.
17. Every calendar's days are numbered.
18. A lot of money is tainted. 'Taint yours and'taint mine.
19. A boiled egg in the morning is hard to beat.
20. He had a photographic memory which was neverdeveloped.
21. A plateau is a high form of flattery.
22. The short fortune teller who escaped fromprison was a small medium at large.
23. Those who get too big for their britches willbe exposed in the end.
24. When you've seen one shopping center you'veseen a mall.
25. Those who jump off a Paris bridge are in Seine.
26. When an actress saw her first strands of grayhair she thought she'd dye.
27. Bakers trade bread recipes on a knead to knowbasis.
28. Santa's helpers are subordinate clauses.
29. Acupuncture is a jab well done.
30. Marathon runners with bad footwear suffer theagony of defeat.
#joke
Rising to the Occasion
A bunch of girls had become upset at an anthropology
professor who had a knack of offending women. They decided
the next time he did something offensive, they would all
stand up and walk out of his class. Sure enough, at the very
next class meeting while discussing a tribe of African
natives. The professor leered and said, "You'll be
interested to know the average tribal warrior there has a
cock twelve inches long."
The girls all rose in a large mass and headed for the door.
The prof sneered and said, "What's your hurry, girls? The
next flight to there isn't until Saturday!"
#joke
Air & Sex
Q: Why is air a lot like sex?
A: Because it's no big deal unless you're not getting any.
The three wise men are out for...
The three wise men are out for a stroll when they come across a stable. The three of them decide to duck inside.
On the way in one of the wise men hits his head on the low entranceway.
"Jesus Christ!" he says.
Joseph says, "Quick, Mary, write that down! It's a hell of a lot better than Clyde!"
#joke
In light of the rising frequen...
In light of the rising frequency of human - grizzly bear conflicts, the Alaska Department of Fish and Game is advising hikers, hunters, and fishermen to take extra precautions and keep alert of bears while in the field. They advise that outdoorsmen wear noisy little bells on their clothing so as not to startle bears that aren't expecting them. They also advise outdoorsmen to carry pepper spray with them in case of an encounter with a bear. It is also a good idea to watch out for fresh signs of bear activity. Outdoorsmen should recognize the difference between black bear and grizzly bear dung. Black bear dung is smaller and contains lots of berries and squirrel fur. Grizzly bear dung has little bells in it and smells like pepper.
#joke
Name the animals...
The first-grade teacher was showing pictures of animals to her students to see how many they could name. She held up a picture of a lamb, and a little girl said, "That's a sheep!"
"That's right!" said the teacher. "How about THIS one?" she said, holding up a picture of the king of beasts.
"That's a lion!" answered a little boy.
"Right!" said the teacher. Then she held up a picture of a deer. No one volunteered an answer. She tried to help. "What does your mother call your father?"
Johnny said, "I know! That's a lazy old goat!"
#joke