A man was bragging about his s...
A man was bragging about his sister who disguised herself as a man and joined the Army.
"But wait a minute," said the listener, "She'll have to dress with the boys and shower with them too, won't she?"
"Sure," replied the man.
"Well? Won't they find out?"
"And who's gonna tell?"
#joke
Insurance
Larry's barn burned down and his wife, Susan, called the insurance company.
Susan spoke to the insurance agent and said, "We had that barn insured for fifty thousand, and I want my money."
The agent replied, "Whoa there, just a minute. Insurance doesn't work quite like that. An independent adjuster will assess the value of what was insured, and then we'll provide you with a new barn of similar worth."
There was a long pause, and then Susan replied, "If that's how it works, then I want to cancel the life insurance policy on my husband."
#joke
Bird Jokes 03
Q: How do you know that owls are cleverer than chickens?
A: Have you ever heard of Kentucky-fried owl!
Q: Which birds steal soap from the bath?
A: Robber ducks!
Q: What kind of bird opens doors?
A: A kiwi!
Q: What language do birds speak?
A: Pigeon English!
Q: How do you get a parrot to talk properly?
A: Send him to polytechnic!
Q: Where do birds invest their money?
A: In the stork market!
Q: Where do blind sparrows go for treatment?
A: The Birds Eye counter!
Q: What do you get if you cross a parrot with a woodpecker?
A: A bird that talks in morse code!
Q: What do you call a woodpecker with no beak?
A: A headbanger!
#joke
If Bible Characters Had Bumper Stickers
Biblical bumper stickers:Jonah: Save the WhalesThe Israelites: Honk If You Love MosesElijah: My Other Chariot RollsGoliath: Support the Ban on SlingshotsLot: If You Can't See Sodom, You're Too CloseMethuselah: Be Kind to Senior CitizensFrom "
Moses' Favorite Travel Jokes
," published by
Barbour Publishing, Inc.
, Uhrichsville, Ohio. Copyright 2009. Used by permission of Barbour Publishing, Inc.
#joke
Luft hansa, p
Luft hansa, please, if you've ever been on a German airline.
A boss was complaining in a st
A boss was complaining in a staff meeting the other day that he wasn'tgetting any respect. Later that morning he went to a local sign shop andbought a small sign that read, "I'm the Boss". He then taped it to hisoffice door.
Later that day when he returned from lunch, he found that someone hadtaped a note to the sign that said. "Your wife called, she wants her signback!"
#joke
FLEX WORDLE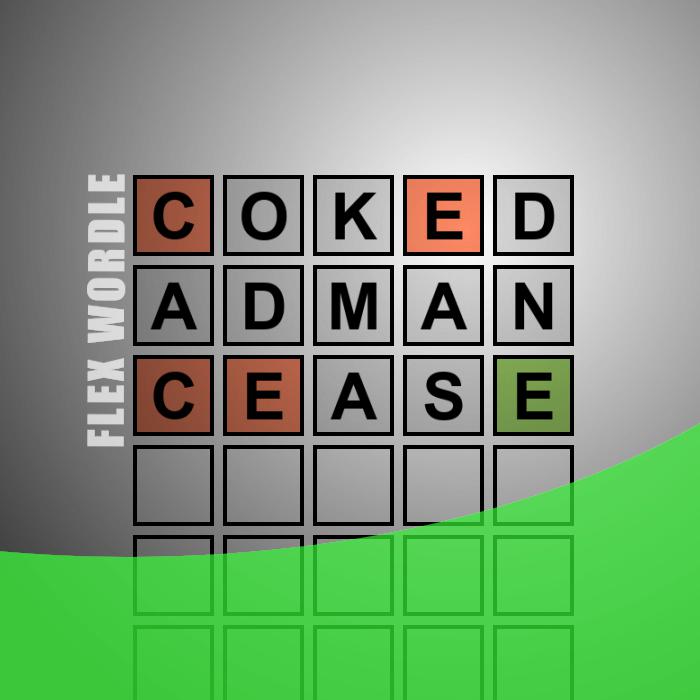 Guess the
WORDLE
in 3 tries. After each guess, the color of the tiles will change to show how close your guess was to the solution.
One day, I saw a friend of min
One day, I saw a friend of mine crying over a bag of chips.
I asked him what's wrong and he said that he was just following the instruction written on the bag of chips.
"Tear here to open!"
Parents & Grand Parents ….. Don't feel bad
Tech Help
The computer in my high school classroom recently started acting up. After watching me struggle with it, one of my students came up and took over. 'Your hard drive crashed,' he said.
I called the computer services office and explained, 'My computer is down. The hard drive crashed.'
'We can't just send people down on your say so. How do you know that's the problem'?
'A student told me,' I answered.
'We'll send someone over right away.'
#joke
"I have a difficult t
"I have a difficult time discerning fine jewelry. I guess I've been out of the loupe too long."
Nick Kroll: Dreamcatcher
I actually keep a dreamcatcher above my bed. But then, just to be fair, I keep a picture of my dad next to it so that I can have a dreamcrusher there as well.
There were four men, one from ...
There were four men, one from China, Greenland, America and one
from Australia.
One night they were bragging on how good their country are. The
Chinese said, "my country is the best cause we have the great
wall."
The Greenlander said, "no, mine is the best as we have the
greenest greenest grass."
The American said, "no, mine is the best as we have our flag 50
stars and 50 stripes."
The Australian said, "no, mine is the greatest country as we
have the kangaroo which will jump over the great wall, shit on
the greenest greenest grass and wipe its ass on the American
flag."
#joke
Angry Witch
Q. What do you call an angry Witch?
A. Ribbit

An old man goes to the Wizard ...
An old man goes to the Wizard to ask him if he can remove a curse he has been living with for the last 40 years.
The Wizard says, "Maybe, but you will have to tell me the exact words that were used to put the curse on you."
The old man says without hesitation, "I now pronounce you man and wife."
#joke
Son of a lawyer
While two families were waiting in line to see the Washington Monument, their two 5-year-old boys were getting acquainted.
"My name is Joshua. What's yours?" asked the first boy.
"Adam," replied the second.
"My daddy is a doctor. What does YOUR daddy do for a living?" asked Joshua.
Adam proudly replied, "My daddy is a lawyer."
"Honest?" asked Joshua.
"No, just the regular kind," replied Adam.
Miss Beatrice, the church orga...
Miss Beatrice, the church organist, was in her eighties and had never been married. She was admired for her sweetness and kindness to all.
One afternoon the pastor came to call on her and she showed him intoher quaint sitting room. She invited him to have a seat while she prepared tea. As he sat facing her old pump organ, the young minister noticed a cut-glass bowl sitting on top of it. The bowl was filled with water. In the water floated, of all things, a condom! When she returned with tea and scones, they began to chat. The pastor tried to stifle his curiosity about the bowl of water and its strange floater, but soon it got the better of him and he could no longer resist.
"Miss Beatrice", he said. "I wonder if you would tell me about this?" pointing to the bowl.
"Oh, yes" she replied, "isn't it wonderful? I was walking through the park a few months ago and I found this little package on the ground. The directions said to place it on the organ, keep it wet and that it would prevent the spread of disease. Do you know I haven't had the flu all winter?"
#joke
Join us on WhatsApp