Three old timers were relating
Three old timers were relating their most exciting experiences.
The first, a retired sheriff, described the terrifying excitement of a shoot-out with Bonnie and Clyde back in his younger days.
The other gents nodded and agreed that, indeed, would have been exciting.
The second, a retired fireman, related the tale of a huge fire at the university several years back. There were flames, fire trucks from several area fire departments, but the most exciting part were the naked coeds jumping from their dorm windows into his arms.
The others gents agreed that had to be a very exciting time.
The third guy, a retired undertaker, started, "One night I got a call to pick up a body that was under a sheet in a hotel room.
When I got there, the guy had a huge erection. I knew there was no way I could get him through the lobby like that. So I found an old broom and whacked that erection just as hard as I could to make it go down." He paused.
The retired fireman asked, "So, how was that exciting?"
The undertaker answered, "Well, you see, I was in the wrong room."
#joke
Some great things about getting older...
Finally you can eat dinner at 4:00
Your investment in health insurance is finally beginning to pay off.
Kidnappers are not very interested in you.
It's harder and harder for sexual harassment charges to stick.
If you've never smoked you can start now and it won't have time to hurt you.
People no longer view you as a hypochondriac.
Your secrets are safe with your friends because they can't remember them either.
Your supply of brain cells is finally down to a manageable size.
Your eyes won't get much worse.
Adult diapers are actually kind of convenient.
Things you buy now won't wear out.
No one expects you to run into a burning building.
You don't need the shingles with the 30 year guarantee.
There is no need to spend money for a psychic to see your future.
There's nothing left to learn the hard way.
Your joints are more accurate than the National Weather Service.
Protecting your eyes during a solar eclipse isn't as important as it used to be.
Buying cheap tires and not rotating them makes economic sense.
You don't have to learn the name of the new UPS man.
No one thinks you're cheap because you don't buy a half a cow to freeze.
You may never have to vacuum under the bed again.
Taking the shortest magazine subscription is economically defensible.
You don't have to bother planting perennials.
In a hostage situation you are likely to be released first
#joke
My efforts to decipher the lan
My efforts to decipher the language of cows are at last gathering moo meant um.
Father: Son, today is your exa...
Father: Son, today is your exam. If you fail, that's it, don't ever call me your father again. Got it?
Son: Okay dad! I'll do my best!
After the exam..
Father: So, how's the exam?
Son: Sorry Sir, do I know you?
The Preacher and the Frog Princess
An old country preacher was fishing one afternoon when he noticed a frog sitting next to him. The frog said, "Mister, I've had a spell cast on me. If you'll kiss me, I'll turn into a beautiful princess and I'll make you happy for the rest of your life."The old preacher smiled, picked up the frog, and put it in his pocket. After a while, he looked into his pocket to see how the frog was doing.The frog said again, "Mister, I've had a spell cast on me. If you'll kiss me, I'll turn into a beautiful princess and I'll make you happy for the rest of your life."The preacher just smiled and kept on fishing. When he checked on the frog again, it said, "What's wrong with you, fella? I said I've been bewitched. Just kiss me and I'll turn back into a beautiful princess and make you the happiest man on earth for the rest of your life!"The old preacher just smiled and said, "Frog, I'm sorry to tell you this…but at my age, I'd rather have a talking frog than a beautiful princess!"
#joke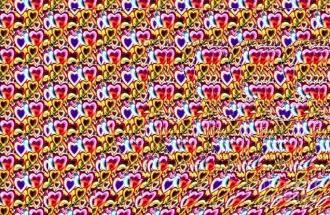 What is hidden in 3D image?
Stereogram - 3D Image
"I once got into so m
"I once got into so much debt that I couldn't even afford my electricity bills, they were the darkest times of my life."
Black Powder
A guy enters a bank to see about getting a business loan.
"What kind of business do you want to start?" asks the bank manager.
"I have some black powder. You sprinkle it on a women's vagina and it makes it taste like a peach."
"I don't think we can give you a loan." he replied.
So the guy left. A few months later he went into the bank with a wheel barrel filled with money.
The same bank manager said, "Congratulations, I guess that idea for black powder really paid off."
"Nah, that didn't go anywhere. I made my money with this white powder."
"Really," replied the bank manager. "What does it do?"
"Give me a peach and I'll show you."
#joke
I will seek and find You...
I will seek and find You . . I shall take you to bed and have my way with you.
I will make you ache, shake & sweat until you moan & groan.
I will make you beg for mercy, beg for me to stop.
I will exhaust you to the point that you will be relieved when I'mfinished with you.
And, when I am finished, you will be weak for days.
All my love,
The Flu
Now, get your mind out of the gutter and Go get your flu shot!
#joke
Knock Knock Collection 168
Knock Knock
Who's there?
Spock!
Spock who?
Spock louder!
Knock Knock
Who's there?
Stacey!
Stacey who?
Stacey'ted until the bus stops!
Knock Knock
Who's there?
Stalin!
Stalin who?
Stalin for time!
Knock Knock
Who's there?
Stan!
Stan who?
Stan back or I'll shoot!
Knock Knock
Who's there?
Stanton!
Stanton who?
Stanton here answering questions is no fun!
#joke
The old hotdog trick
We've all seen him, the party drunk/asshole. He has too much to drink, makes an ass out of himself, barfs all over the rug, then passes out on your bed.
We had a guy on the boat (I'm in the USN sub force) who would get so drunk when we pulled into a liberty port the asshole had to be carried back and dumped in his rack. We didn't want the MP's to snag him because that makes the boat look bad and our dickhead CO might have secured everyone's liberty.
To take care of this once and for all, we brought him back one night, out cold of course, and placed him in his rack on his side with his ass pointing to us. One person pulled down is pants and underwear while another person ran to the freezer and Doc's office. The second person came back with a frozen hotdog and a condom.
Here is how you do this little stunt:
1. Unwrap the condom and place it over the frozen hotdog. A lubricated one works best.
2. Shove the device up the guys ass and leave it there for a second or two. The condensation from the hotdog will allow it to be removed from the condom while leaving the rubber in the asshole.
3. Pull the victims pants up and leave them unbuttoned and unbuckled.
(OPTIONAL)
The less people involved the better. When our victim woke up and went to the head we all had to leave to keep from cracking up. When he was done with his shit, shower, and shave, he came to the mess decks for chow. He sat next to a friend of mine who was involved with the shen and asked, "Hey man, what happened last night?"
"I was going to ask you the same thing. You started drinking with some dork from a skimmer and the next thing we knew you guys were off to the bars out in town. Why?"
He had a mortified look on his face.
"Uhh, just wondering."
He never got trashed again while on that deployment.
#joke
Why does the bride always wear...
Why does the bride always wear white? Because it's good for the dishwasher to match the cooker and the fridge.
Can you spell that?
Summer vacation was over and the teacher asked Little Johnny about his family trip. "We visited my grandmother in Minneapolis, Minnesota."
The teacher asked, "Good, can you tell the class how you spell that?"
Little Johnny thought for a few seconds and said, "Actually, we went to Ohio."
#joke
My mind is gone...
"Oh God," sighed the wife one morning, "I'm convinced my mind is almost completely gone!"
Her husband looked up from the newspaper and commented, "I'm not surprised: You've been giving me a piece of it every day for twenty years!"
Sheep and Kangaroo
Q: What do you get when you cross a sheep and a kangaroo?
A: A sweater with big pockets.