Jokes of the day for Monday, 13 February 2017
Funny jokes, funny photo and funny video collected from the internet on Monday, 13 February 2017
"Instead of being rew
"Instead of being rewarded for his invention, Dr. Guillotine was charged with neckless endangerment."
Mr. Jones is driving past the...
Mr. Jones is driving past the state mental hospital when his left rear tire suffers a flat. While he is changing the tire, another car goes by, running over the hub cap in which he was keeping the lug nuts. The nuts are all knocked into a nearby storm drain.
He is at a loss for what to do and is about to go call a cab when he hears a shout from behind the hospital fence, where one of the inmates has been watching the whole thing.
"Hey, pal! Why don't you just take one lug nut off each of the other three wheels and use them to replace the missing ones? That'll hold your tires on until you can get to a garage or something."
Mr. Jones is startled by the patient's seeming rationality, but realizes the plan will work, and installs the spare tire without incident. Before he leaves, he calls back to the patient. "You know, that was pretty sharp thinking. Why do they have you in there?"
The patient smiles and says, "I'm in here because I'm crazy, not because I'm stupid."
#joke
Google Ads
Notice to Employees (Includes Part Time Workers)
SICKNESS
We will no longer accept your doctors statements as proof. We believe if you are able to go to the doctor, you are able to work.
LEAVE OF ABSENCE FOR SURGERY
We are no longer allowing this practice. As long as you are employed here, you will need all of whatever you have and should not consider having anything removed. We hired you as you are, and to have anything removed would certainly make you less than we bargained for. Anyone having operations will be FIRED immediately.
PREGNANCY
In the event of extreme pregnancy, you will be allowed to go to the first aid room when the pains are FIVE MINTUES apart. IF it is false labor, you will have to take an hour's leave without pay.
DEATH
This will be accepted as an excuse, BUT we would like two weeks notice, as we feel it is your duty to teach someone your job.
From,
THE MANAGEMENT
Bought A Bad Computer
Top Ten Signs You Bought A Bad Computer


Lower corner of screen has the words "Etch-a-sketch" on it.

It's celebrity spokesman is that "Hey Vern!" guy.

In order to start it you need some jumper cables and a friend's car.

It's slogan is "Pentium: redefining mathematics".

The "quick reference" manual is 120 pages long.

Whenever you turn it on, all the dogs in your neighborhood start howling.
The screen often displays the message, "Ain't it break time yet?"
The manual contains only one sentence: "Good Luck!"
The only chip inside is a Dorito.
You've decided that your computer is an excellent addition to your fabulous paperweight collection.

#joke
An Unusual Nativity
A religious education class was almost finished making their models of the nativity scene and one little boy had done a lovely job. Some animals, Mary, Joseph, three wise men, and shepherds were all there. However, the teacher noticed an extra, rather overweight man in the scene as well."Who is that person?" she asked."Oh, that's Round John Virgin."
#joke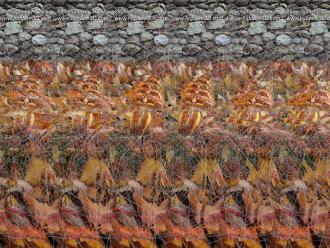 What is hidden in 3D image?
Stereogram - 3D Image
Everything you eat tastes like
Everything you eat tastes like licorice? Talk about anise problem to have.
...your sweetie says, "Lets go
...your sweetie says, "Lets go upstairs and make love," and you answer, "Honey, I can't do both!"
...your friends compliment you on your new alligator shoes and you'rebarefoot.
...a sexy babe catches your fancy and your pacemaker opens the garagedoor nearest your car.
...you remember when the Dead Sea was only sick.
...going bra-less pulls all the wrinkles out of your face.
...you don't care where your spouse goes, just as long as you don'thave to go along.
...when it takes longer to rest than to get tired.
...when you are cautioned to slow down by the doctor instead of by thepolice.
..."getting a little action" means I don't need to take any fiber today.
..."getting lucky" means you find your car in the parking lot.
... an "all nighter" means not getting up to pee!
"If you put your hand in your
"If you put your hand in your right pocket and found 25 rupees, and put your hand in the left pocket and found 50 rupees, what would you do?"
"I would immediately rush to my tailor and ask him to stitch more pockets on my trousers!"
Burglar and an Elderly Woman
An elderly woman had just returned to her home from an evening of church services when she was startled by an intruder. She caught the man in the act of robbing her home of its valuables and yelled, "Stop! Acts 2:38!" (Repent and be baptized, in the name of Jesus Christ so that your sins may be forgiven.)
The burglar stopped in his tracks. The woman calmly called the police and explained what she had done.
As the officer cuffed the man to take him in, he asked the burglar, "Why did you just stand there? All the old lady did was yell a scripture to you."
"Scripture?" replied the burglar. "She said she had an ax and two 38's!"
#joke
A police officer was investiga...
A police officer was investigating an accident on a two-lane, narrow road in which the drivers had hit virtually head-on.
One driver, an extremely elderly woman, kept repeating, "He wouldn't let me have my half of the road!"
After gathering as much information as possible, he angrily approached the other driver, who was examining his own damage. The police officer asked, "That old lady says that you wouldn't let her have her half of the road. Why not?
In exasperation, the man turns from his smashed car and says, "Officer, I would have been HAPPY to give her half of the road --- if she had just let me know WHICH half she wanted!!!!"
#joke
Several cannibals were recentl...
Several cannibals were recently hired by Talk America.
"You are all part of our team now," said the HR rep during the welcoming briefing. "You get all the usual benefits and you can go to the cafeteria for something to eat, but please don't eat any of the other employees."
The cannibals promised to be good. Four weeks later their boss remarked, "You're all working very hard, and I'm satisfied with you. However, one of our secretaries has disappeared. Do any of you know what happened to her?"
The cannibals all shook their heads no.
After the boss had left, the leader of the cannibals said to the others, "Which one of you idiots ate the secretary?"
A hand raised hesitantly, to which the leader of the cannibals continued, "You fool! For four weeks we've been eating Managers and no one noticed anything, but noooooo, you had to go and eat the secretary!"
#joke