The Florist
A new business was opening and one of the owner's friends wanted to send him flowers for the occasion. They arrived at the new business site and the owner read the card, which said: 'Rest in Peace.'
The owner was angry and called the florist to complain. After he had told the florist of the obvious mistake and how angry he was, the florist replied:
'Sir, I'm really sorry for the mistake, but rather than getting angry, you should imagine this - somewhere, there is a funeral taking place today, and they have flowers with a note saying: 'Congratulations on your new location!''
#joke
"I saw a great comedy
"I saw a great comedy show in London. Folks were rolling in the isles."
In the middle of an argument a
In the middle of an argument a man said to his wife, Sissi, "I don't know how you can be so stupid and so beautiful all at the same time!"
Sissi responded calmly, "Allow me to explain... the good Lord made me beautiful so you would be attracted to me; and he made me stupid so I would be attracted to you!"
#joke
Thinking ahead ......
Twas the month after Christmas, and all through the house
Nothing would fit me, not even a blouse.
The cookies I'd nibbled, the eggnog I'd taste
At the holiday parties had gone to my waist.
When I got on the scales there arose such a number!
When I walked to the store (less a walk than a lumber).
I'd remember the marvelous meals I'd prepared;
The gravies and sauces and beef nicely rared,
The wine and the rum balls, the bread and the cheese
And the way I'd never said, 'No thank you, please.'
As I dressed myself in my husband's old shirt
And prepared once again to do battle with dirt---
I said to myself, as I only can
'You can't spend a winter disguised as a man!'
So--away with the last of the sour cream dip,
Get rid of the fruit cake, every cracker and chip
Every last bit of food that I like must be banished
'Till all the additional ounces have vanished.
I won't have a cookie--not even a lick.
I'll want only to chew on a long celery stick.
I won't have hot biscuits, or corn bread, or pie,
I'll munch on a carrot and quietly cry.
I'm hungry, I'm lonesome, and life is a bore---
But isn't that what January is for?
Unable to giggle, no longer a riot.
Happy New Year to all and to all a good diet!
Passing An Exam
Three patients in a mental institution prepare for an examination given by the head psychiatrist. If the patients pass the exam, they will be free to leave the hospital. However, if they fail, the institution will detain them for five years.
The doctor takes the three patients to the top of a diving board looking over an empty swimming pool, and asks the first patient to jump.
The first patient jumps head first into the pool and breaks both arms.
Then the second patient jumps and breaks both legs.
The third patient looks over the side and refuses to jump. "Congratulations! You're a free man. Just tell me why didn't you jump?" asked the doctor.
To which the third patient answered, "Well Doc, I can't swim!"
What Would Jesus Drive?
Q: Did you know that they had automobiles in Jesus' time?A: Yes, the Bible says that the disciples were all of one Accord.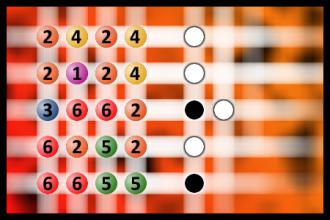 Find the right combination
The computer chose a secret code (sequence of 4 digits from 1 to 6). Your goal is to find that code. Black circles indicate the number of hits on the right spot. White circles indicate the number of hits on the wrong spot.
I recovered my stolen car usin
I recovered my stolen car using the serial number and I feel VINdicated.
The old man in his mid-eightie...
The old man in his mid-eighties struggles to get up from the couch then starts putting on his coat. His wife, seeing the unexpected behaviour, asks,"Where are you going?"
He replies, "I'm going to the doctor."
She says, "Why, are you sick?"
He says, "Nope, I'm going to get me some of that Viagra stuff."
Immediately the wife starts working and positioning herself to get out of her rocker and begins to put on her coat.
He says, "Where the hell are you going"?
She answers, "I'm going to the doctor, too."
He says, "Why, what do you need?"
She says, "If you're going to start using that rusty old thing, I'm getting a tetanus shot."
Yesterday at a job interview I
Yesterday at a job interview I filled my glass of water until it overflowed a little.
"Nervous?" asked the interviewer.
I replied, "No, I always give 110%."
Three old men
Three old men are talking about their aches, pains and bodily dysfunctions.
One 75-year-old man says: "I have this problem. I wake up every morning at 7 a.m. and it takes me 20 minutes to pee."
An 80-year-old man says: "My case is worse. I get up at 8 a.m. and I sit there and grunt and groan for half an hour before I finally have a bowel movement."
The 90-year-old man says: "Not me. At 7 a.m. I pee like a horse and at 8 a.m. I crap like a cow."
"So what's your problem?" asked the others.
"I don't wake up until 9:00."
#joke
Tech line
The prime minister of India was at the White House.
One embarrassing moment was when President Bush said to the prime minister, 'Could you take a look at my computer?'
'I'm having some problems with it, I can't seem to get through on the tech line.'
A little boy comes down for br...
A little boy comes down for breakfast and his mother asks if he had done his chores. "Not yet," says the little boy.
His mother tells him that until he completes them, he won't be getting any breakfast.
Well, he's a little angry, so he goes to feed the chickens and kicks one. He goes to feed the cows, and kicks a cow as well. He goes to feed the pigs, and he kicks a pig.
He goes back in for breakfast and his mother gives him a bowl of dry cereal. "How come I don't get any eggs and bacon? Why don't I have any milk in my cereal?" he asks.
"Well," his mother says, "I saw you kick a chicken, so you don't get any eggs for a week. I saw you kick the pig, so you don't get any bacon for a week either. I also saw you kick the cow, so for a week you aren't getting any milk."
Just then, his father comes down for breakfast and kicks the cat half way across the kitchen.
The little boy looks up at his mother with a smile and says, "Are you going to tell him, or shall I?"
#joke
Natasha Leggero: Male Comics
Male comics are always coming up to me, and theyre like, Hey, Natasha, dont you think youre a little attractive to be a comedian? And Im like, Dont you think youre a little ugly to be talking to me?
The Israeli Archaeologist
An archaeologist was digging in the Negev Desert in Israel and came upon a casket containing a mummy, a rather rare occurrence in Israel, to say the least. After examining it, he called Abe, the curator of the Israel museum in Jerusalem.
"I've just discovered a 3,000 year old mummy of a man who died of heart failure!" the excited scientist exclaimed. Abe replied, "Bring him in. We'll check it out."
A week later, the amazed Abe called the archaeologist. "You were right about both the mummy's age and cause of death. How in the world did you know?"
"Easy. There was a piece of paper in his hand that said, '10,000 Shekels on Goliath'."
#joke
Why email is like a
10. Those who have it would be devastated if it was ever cut off.
9. Those who have it think that those who don't are somehow inferior.
8. Those who don't have it may agree that it's neat, but think it's not worth the fuss that those who have it make about it.
7. Many of those who don't have it would like to try it, a phenomenon psychologists call "E-mail Envy," 6. It's more fun when it's up, but this makes it hard to get any real work done.
5. In the distant past, its only purpose was to transmit information vital to the survival of the species. Some people think that's the only thing it should be used for, but most folks today use it mostly for fun.
4. If you don't take proper precautions, it can spread viruses.
3. We attach an importance to it that is far greater than its actual size and influence warrant.
2. If you're not careful what you do with it, it can get you into a lotof trouble. And the number one reason Why E-mail is Like a Penis...
1. If you play with it too much, you'll go blind.
#joke