A frustrated father told a wor
A frustrated father told a work colleague: "When I was a youngster, I was disciplined by being sent to my room without supper. But in my son's room, he has his own color TV, computer, games console, cell phone and CD player."
"So what do you do?"
The father replied: "I send him to my room!"
#joke
Ponderings Collection 22
What would a chair look like if your knees bent the other way.
If a tree falls in the forest and no one is around to see it do the other trees make fun of it?
Why is a carrot more orange than an orange?
When two airplanes almost collide why do they call it a near miss?? It sounds like a near hit to me!!
Who's bigger? Mr. Bigger or Mr. Bigger's baby! Mr. Bigger's baby because he is a little bigger!
Do fish get cramps after eating?
How come abbreviated is such a long word?
Why are there 5 sylables in the word "monosylabic"?
If it's zero degrees outside today and it's supposed to be twice as cold tomorrow, how cold is it going to be?
Why do they call it the Department of Interior when they are in charge of everything outdoors?
#joke
CIA sent me to dentist today
"If the lengths of al
"If the lengths of all planks on pirate ships are the same, is that plank's constant?"
The Marriage of Miss Bad Breath and Mr. Smelly Feet
A young couple, madly in love, decided to get married. But as the wedding day neared, both grew increasingly nervous over secret problems they had never shared with anyone. Privately, the groom-to-be approached his minister."I'm really concerned about this marriage," the young man said."Don't you love her?" the pastor asked in surprise."Of course," the groom said. "But I have unbelievably smelly feet—and I'm afraid my fiancée won't be able to stand them.""Oh, is that all?" the pastor replied. "Look, all you need to do is wash your feet twice a day and wear socks all the time."The groom thought it over and decided it just might work.Meanwhile, the nervous bride had privately approached the minister's wife. "I'm so worried," she sobbed. "I have really bad breath when I wake up each day!""Oh, dear," the pastor's wife replied," everyone has bad breath in the morning. Don't worry about it.""No, you don't understand," the bride implored. "My morning breath is so awful, my fiancé won't even want to be near me!""Well, I have an idea," the pastor's wife said soothingly. "Set your alarm just a few minutes before your husband wakes up. Run to the bathroom, brush your teeth, and gargle with mouthwash before he gets out of bed. The key is not to say anything until you've taken care of your breath."The bride thought it over and decided it just might work.In time, a beautiful wedding was held and the bride and groom enjoyed the day without once worrying about their secret problems. For several months they managed to keep their issues to themselves. They one morning, the husband awoke before dawn to find that one of his socks had come off in the night. Frantic, he searched the bed, afraid of what might happen if he didn't find his sock soon. His bride woke with a start, and, without thinking, blurted out, "What in the world are you doing?""Oh, dear!" the young man wailed. "You swallowed my sock!"From "
The Book of Church Jokes
," published by
Barbour Publishing, Inc.
, Uhrichsville, Ohio. Copyright 2009. Used by permission of Barbour Publishing, Inc.
#joke
I always gain weight after a <
I always gain weight after a Fed increase.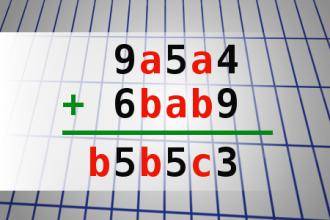 Find number abc
If 9a5a4 + 6bab9 = b5b5c3 find number abc. Multiple solutions may exist.
Soap and water...
A minister was asked to dinner by one of his parishioners, whom he knew was an unkempt housekeeper. When he sat down at the table, he noticed that the dishes were the dirtiest that he had ever seen in his life.
"Were these dishes EVER washed?" he asked his hostess, running his fingers over the grit and grime.
"She replied, "They're as clean as soap and water could get them."
He felt quite apprehensive, but not wanting to offend, blessed the food anyway and started eating. It was really delicious, and he said so, despite the dirty dishes.
When dinner was over, the hostess took the dishes outside and yelled, "Here, Soap! Here, Water!"
#joke
How the diet going?
"How the diet going?"
"Not good, I had eggs for breakfast."
"Scrambled?"
"No, chocolate."
These questions about Canada w
These questions about Canada were posted on an international tourismwebsite and obviously the answers came from a fellow Canuck.
Q: I have never seen it warm on TV, so how do the plants grow? (UK)
A: We import all plants fully grown and then just sit around watching them die.
Q: Will I be able to see Polar Bears in the street? (USA)
A: Depends how much you've been drinking.
Q: I want to walk from Vancouver to Toronto - can I follow the railroad tracks? (Sweden)
A: Sure, it's only six thousand km, take lots of water. . .
Q: Is it safe to run around in the bushes in Canada? (Sweden)!
A: So it's true what they say about Swedes.
Q: It is imperative that I find the names and addresses of places to contact for a stuffed beaver. (Italy)
A: Let's not touch this one.
Q: Are there any ATMs (cash machines) in Canada? Can you send me a list of them in Toronto, Vancouver, Edmonton and Halifax? (UK)
A: What did your last slave die of?
Q: Can you give me some information about hippo racing in Canada? (USA)
A: A-fri-ca is the big triangle shaped continent south of Europe. Ca-na-da is that big country to your North . . . oh forget it. Sure, the hippo racing is every Tuesday night in Calgary. Come naked.
Q: Which direction is North in Canada? (USA)
A: Face south and then turn 90 degrees. Contact us when you get here and we'll send the rest of the directions.
Q: Can I bring cutlery into Canada? (UK)
A: Why? Just use your fingers like we do.
Q: Can you send me the Vienna Boys' Choir schedule? (USA)
A: Aus-tri-a is that quaint little country bordering Ger-man-y, which is... oh forget it. Sure, the Vienna Boys Choir plays every Tuesday night in Vancouver and in Calgary, straight after the hippo races. Come naked.
Q: Do you have perfume in Canada? (Germany)
A: No, WE don't stink.
Q: I have developed a new product that is the fountain of youth. Can you tell me where I can sell it in Canada? (USA)
A: Anywhere significant numbers of Americans gather.
Q: Can I wear high heels in Canada? (UK)
A: You are an American politician, right?
Q: Can you tell me the regions on British Columbia where the female population is smaller than the male population? (Italy)
A: Yes, gay nightclubs.
Q: Do you celebrate Thanksgiving in Canada? (USA)
A: Only at Thanksgiving.
Q: Are there supermarkets in Toronto and is milk available all year round? (Germany)
A: No, we are a peaceful civilization of vegan hunter gatherers. Milk is illegal.
Q: Please send a list of all doctors in Canada who can dispense rattlesnake serum. (USA)
A: All Canadian rattle snakes are perfectly harmless, and can be safely handled and make good pets.
Q: I was in Canada in 1969 on R&R, and I want to contact the girl I dated while I was staying in Surrey, BC. Can you help? (USA)
A: Yes, and you will still have to pay her by the hour.
Q: Will I be able to speak English most places I go? (USA)
A: Yes, but you will have to learn it first.
Moral of the story
O n elephant and a mouse are walking together through the jungle when the elephant falls into a very large hole. The hole is so large that try as he might, the elephant is unable to climb out.
So the mouse says, "Hang around, I'll get something to drag you out with" and leaves. A little while later the mouse returns driving a Porsche and with a rope tied to the bumper bar and he drags the elephant out of the hole.
The two friends continue their stroll through the jungle when all of a sudden, the mouse falls into a hole. The elephant immediately stands over the hole and squatting over it, lowers his penis so the mouse can grab it and lift himself out of the hole.
The moral of this story is that "If your dick is long enough you dont need a Porsche."
#joke
Circle of flies....
A farmer got pulled over by a state trooper for speeding, and the trooper started to lecture the farmer about his speed, and in general began to throw his weight around to try to make the farmer uncomfortable. Finally, the trooper got around to writing out the ticket, and as he was doing that he kept swatting at some flies that were buzzing around his head.
The farmer said, 'Having some problems with circle flies there, are ya?' The trooper stopped writing the ticket and said, 'Well yeah, if that's what they are, but I never heard of circle flies.'
So the farmer says, 'Well, circle flies are common on farms. See, they're called circle flies because they're almost always found circling around the back end of a horse.'
The trooper says, 'Oh,' and goes back to writing the ticket. Then after a minute he stops and says, 'Hey...wait a minute, are you trying to call me a horse's ass?'
The farmer says, 'Oh no, officer. I have too much respect for law enforcement and police officers to even think about calling you a horse's ass.'
The trooper says, 'Well, that's a good thing,' and goes back to writing the ticket.
After a long pause, the farmer says, 'Hard to fool them flies though...'
#joke
Juston McKinney: Stay Off My Wall
My wife is actually a little upset with me right now because I wont approve her as a friend on my Facebook. Im like, You got every wall in the house. Can I have one wall without you popping up on and ruining it? Stay off my wall.
Leading hand sanitizers claim ...
Leading hand sanitizers claim they can kill 99.9 percent of germs. Chuck Norris can kill 100 percent of whatever he wants.