Jokes of the day for Tuesday, 04 April 2017
Funny jokes, funny photo and funny video collected from the internet on Tuesday, 04 April 2017
After a two-week vacation, a m
After a two-week vacation, a man returned to his office and one of his fellow workers asked him what kind of time he'd had.
"I spent the whole two weeks helping my wife paint the rooms in our house," he groaned.
"Does she do that often?"
"Well," he replied, "when we moved in a few years ago, the guest room was nine by twelve. Now it's eight by eleven!"
#joke
"My wife kept insisti
"My wife kept insisting I do macrame. Finally I shouted, 'Knot again!'"
Google Ads
A pastor was opening his mail...
A pastor was opening his mail one morning and one envelope had only a single sheet of paper with a single word printed on it: "FOOL!" The following Sunday the priest announced, "I have known many people who have written letters and forgotten to sign their name. But this week I received a letter from someone who signed his name and had forgotten to write a letter."
#joke
The latest mergers...
Are your investments in order? Below are some of the latest rumors from Wall Street. In the wake of the AOL/Time Warner deal, here are the latest mergers we can expect to see:
Hale Business Systems, Mary Kay Cosmetics, Fuller Brush, and W.R. Grace Company merge to become Hale Mary Fuller Grace.
Polygram Records, Warner Brothers, and Keebler Crackers merge to become Polly-Warner-Cracker.
3M and Goodyear merge to become MMMGood.
John Deere and Abitibi-Price merge to become Deere Abi.
Zippo Manufacturing, Audi Motors, Dofasco, and Dakota Mining merge to become Zip Audi Do Da.
Honeywell, Imasco, and Home Oil merge to become Honey I'm Home.
Denison Mines, and Alliance and Metal Mining merge to become Mine All Mine.
Federal Express and UPS merge to become FED UP.
Xerox and Wurlitzer will merge and begin manufacturing reproductive organs.
Fairchild Electronics and Honeywell Computers will merge and become Fairwell Honeychild.
3M, J.C. Penney and the Canadian Opera Company will merge and become 3 Penney Opera.
Knott's Berry Farm & National Organization of Women will merge and become Knott NOW!
#joke
Problems During Flight
The following is supposedly a true story. To be included, besides being true, the story is most likely strange, weird, surprising, or funny.
On a recent flight, an elderly passenger kept peering out the window.
Since it was totally dark, all she could see was the blinking wing-tip light.
Finally, she rang for the flight attendant.
"I'm sorry to bother you," she said, "but I think you should inform the pilot that his left-turn indicator is on and has been for some time."
#joke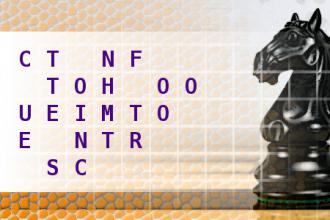 Chess Knight Move
Find the title of novel, using the move of a chess knight. First letter is T. Length of words in solution: 3,5,2,5,6.
During the American Revolution
During the American Revolution...what did you call a scared and frightened militiaman fleeing down the same road as a British Loyalist?
Chicken catch a Tory!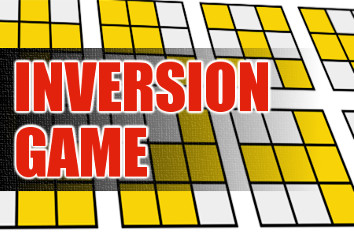 The goal of the game is to color all the 25 squares. Clicking will invert clors of all the sqauers within the shape of pattern.
The game is designed for all ages and stimulate children's creativity and reasoning.
1. The roundest knight at King
1. The roundest knight at King Arthur's round table was Sir Cumference. He acquired his size from too much pi.
2. I thought I saw an eye doctor on an Alaskan island, but it turned out to be an optical Aleutian .
3. She was only a whisky maker, but he loved her still.
4. A rubber band pistol was confiscated from algebra class because it was a weapon of math disruption.
5. The butcher backed into the meat grinder and got a little behind in his work.
6. No matter how much you push the envelope, it'll still be stationery.
7. A dog gave birth to puppies near the road and was cited for littering.
8. A grenade thrown into a kitchen in France would result in Linoleum Blownapart.
9. Two silk worms had a race. They ended up in a tie.
10.. Time flies like an arrow. Fruit flies like a banana.
11. A hole has been found in the n*dist camp wall. The police are looking into it.
12. Atheism is a non-prophet organization.
13. Two hats were hanging on a hat rack in the hallway. One hat said to the other, 'You stay here, I'll go on a head.'
14. I wondered why the baseball kept getting bigger. Then, it hit me.
15. A sign on the lawn at a drug rehab center said, 'Keep off the Grass.'
16. A small boy swallowed some coins and was taken to a hospital. When his grandmother telephoned to ask how he was, a nurse said, 'No change yet.'
17. A chicken crossing the road is poultry in motion.
18. It's not that the man did not know how to juggle, he just didn't have the balls to do it.
19. The short fortune-teller who escaped from prison was a small medium at large.
20. The man who survived mustard gas and pepper spray is now a seasoned veteran.
21. A backward poet writes inverse.
22. In democracy, it's your vote that counts. In feudalism, it's your count that votes.
23 . When cannibals ate a missionary, they got a taste of religion.
24. Don't join dangerous cults: Practice safe sects.
Improvements in Hell
An engineer died and ended up in Hell. He was not pleased with the level of comfort in Hell, and began to redesign and build improvements. After awhile, they had toilets that flush, air conditioning, and escalators. Everyone grew very fond of him.
One day God called to Satan to mock him, "So, how's it going down there in Hell?"
Satan replied, "Hey, things are great. We've got air conditioning and flush toilets and escalators, and there's no telling what this engineer is going to come up with next." God was surprised, "What? You've got an engineer? That's a mistake. He should never have gotten down there in the first place. Send him back up here."
"No way," replied Satan. "I like having an engineer, and I'm keeping him."
God threatened, "Send him back up here now or I'll sue!"
Satan laughed and answered, "Yeah, right. And just where are YOU going to get a lawyer?"
Maria Bamford: Religious Worship
My mom is very religious, and she said, Whatever you think about all the time, thats what you worship. If thats the case, Id like everyone to pop open their Diet Coke cans and turn to page 37 of their People magazines.
Facelift
This woman goes in for a facelift and the doctor says: "We've got this new method: I put a knob in the back of your head, and every time you feel like you need a lift, just turn it."
She gets the knob implanted and is beautiful for five years.
But one day she notices a problem and returns to the doctor.
"I've got these huge bags under my eyes," she complains.
The surgeon replies: "Those aren't bags; those are your breasts."
"Ah," she sighs. "That explains the goatee."
Dreaming in color
When you dream in color, it's a pigment of your imagination.
Dan Naturman: At a Job Interview
Heres an example of something you never say at a job interview: Can I have my resume back? Its my only copy.