Corporate Story
At a meeting, the Boss told a joke.
Everyone on the team laughed except one guy.
The Boss asked him, 'Didn't you understand my joke?'
The guy replied, 'Oh I understood it, but I resigned this morning.'
As a senior citizen was drivin
As a senior citizen was driving down the freeway, his car phone rang. Answering, he heard his wife's voice urgently warning him, "Herman, I just heard on the news that there's a car going the wrong way on 280. Please be careful!"
"Heck," said Herman, "It's not just one car. It's hundreds of them!"
#joke
A New Hampshireman stops by a
A New Hampshireman stops by a cafe forbreakfast. After paying the tab, he checkshis pockets and leaves his tip--three pennies.
As he strides toward the door, his waitressmuses, only half to herself: "You know, youcan tell a lot about a man by the tip heleaves."
The man turns around, curiosity getting thebetter of him. "Oh, really? Tell me, whatdoes my tip say?"
"Well, this penny tells me you're a thriftyman." Barely able to conceal his pride, theman utters "Hmm, true enough."
"And this penny, it tells me you're a bachelor."Surprised at her perception, he says, "Well,that's true, too."
"And the third penny tells me that your fatherwas one, too."
#joke
"An abyss is not a pe
"An abyss is not a perfect example of a bottomless hole, it's just epitome."
Uninvited Guest...
A woman sat down on a park bench, glanced around and decided to stretch out her legs on the seat and relax. After awhile a beggar came up to her and said, "Hello, Luv, how about us going for a walk together?"
"How dare you!" said the woman, "I'm not one of your cheap pickups!"
"Well, then," said the beggar, "what are you doing in my bed?"
#joke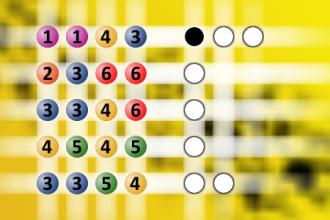 What a winning combination?
The computer chose a secret code (sequence of 4 digits from 1 to 6). Your goal is to find that code. Black circles indicate the number of hits on the right spot. White circles indicate the number of hits on the wrong spot.
Olympic City Bribery
The Top 9 Signs Your City Used Bribes to Become an Olympic Site
9. IOC members seem unconcerned over scheduling conflicts due to the yachting, diving and swimming events all being held in the 34th Street YMCA pool.
8. All 75 of the new hires in the mayor's office are named either Ingrid or Sven.
7. After Philadelphia lands the Summer Games, Juan Antonio Samaranch sports a hood ornament that looks strangely like the Liberty Bell.
6. Only someone bribed with hookers and college tuition wouldn't think the term "New York City Hospitality Committee" is an oxymoron.
5. Karl Malone is now playing forward for the Utah Samaranches.
4. T-shirt for sale in the hotel lobby: "My dad went to Salt Lake City, and all I got was this T-shirt and college tuition."
3. "Miss Salt Lake" for 1999 requires a translator to deliver her coronation speech.
2. New Olympic mascots: Vinny and Knuckles.
and the Number 1 Sign Your City Used Bribes to Become an Olympic Site...
1. The IOC suddenly decides to change the official cycling uniforms to white shirts and ties.
This list is copyrighted by Chris White.
#joke
Last week our police station w
Last week our police station was broken into and the commode was stolen from the rest room.
Yesterday the police reported that the investigation is ongoing but they still have nothing to go on.
Persevere!
A young pastor was sitting in a restaurant eating lunch. He opened a letter he'd just received that morning from his mom. As he opened it a twenty-dollar bill fell out. He thought to himself, Thanks, Mom, I sure needed that right now.As he finished his feel, he noticed a beggar outside on the sidewalk leaning against the light post. Thinking that the poor man could probably use the twenty dollars more than he, he crossed out the names on the envelope and wrote across the top in large letters, PERSEVERE!So as not to make a scene, he put the envelope under his arm and dropped it as he walked past the man. The man picked it up and read the message and smiled. The next day, as the pastor enjoyed his meal, the same man tapped him on the shoulder and handed him a big wad of bills. Surprised, the young pastor asked him what that was for. The man replied, "This is your half of the winnings. Persevere came in first in the fourth race at the track yesterday and paid thirty to one."
#joke
Hahahahahaha
The joke is:
!!!!!!!!!!!!!!!!!!!!!!!!YOU!!!!!!!!!!!!!!!!!!!!!!!!!
#joke
Three men were discussing at a...
Three men were discussing at a bar about coincidences. The first man said, " my wife was reading a "tale of two cities" and she gave birth to twins"
"That's funny", the second man remarked, "my wife was reading 'the three musketeers' and she gave birth to triplets"
The third man shouted, "Good God, I have to rush home!"
When asked what the problem was, he exclaimed, " When I left the house, my wife was reading Ali baba and the forty Thieves"!!!
#joke
Maria Bamford: Fulfilling Potential
Im afraid that fulfilling my potential would really cut into my sitting around time.
This reminds me of something y...
This reminds me of something yesterday at work. A colleague was relating a conversation he had with his young daughter, just a bit over 2 years old. They were discussing geography and…
"Where does mommy live?"
"Minneapolis."
"Where does grandma live?"
"Baltimore."
"Where does grandpa live?"
"Baltimore."
"And where does daddy live?"
"At work!"
Needless to say, he took the morning off that next […]
#joke
Truman at the Washington Garden Club....
Harry Truman was known for his blunt manner of speaking. When he made a speech at the Washington Garden Club, he kept referring to the "good manure" that needed to be used on the flowers.
Some society women complained to his wife, Bess. "Couldn't you get the President to say 'fertilizer'?" they asked.
Mrs. Truman replied, "Heavens, no! It took me twenty-five years to get him to say 'manure.'"
#joke
Join us on WhatsApp