This guy wakes up out of a dee
This guy wakes up out of a deep sleep and, feeling real horny, nudges his wife awake and asks, "Why don't we get it on, eh?"
She replies, "I have an appointment at the gynecologist tomorrow and you know I don't like to make love the night before." So the husband agrees and rolled back over and started to go back to sleep.
A few minutes later, he nudges his wife again and asks, "You don't by any chance have a dentist's appointment tomorrow, do you?"
#joke
My son loves his bottle. The <
My son loves his bottle. The big glug.
How do you expect to get into heaven?
An exasperated mother, whose son was always getting into mischief, finally asked him, "How do you expect to get into heaven?"
The boy thought it over and said, "Well, I'll just run in and out and in and out and keep slamming the door until St. Peter says, 'For heaven's sake, Jimmy, either come in or stay out!'"
#joke
Terrorize Telemarketer
Ways to Terrorize a Telemarketer


Tell them to talk VERY SLOWLY, because you want to write EVERY WORD down.

Insist that the caller is really your buddy Leon, playing a joke. "Come on Leon, cut it out! Seriously, Leon, how's your momma?"

Tell the telemarketer you are busy at the moment and ask them if they will give you their HOME phone number so you can call them back. When the telemarketer explains that they cannot give out their HOME number, you say "I guess you don't want anyone bothering you at home, right?" The telemarketer will agree and you say, "Now you know how I feel!"

After the telemarketer gives their spiel, ask him/her to marry you. When they get all flustered, tell them that you could not just give your credit card number to a complete stranger.

Tell the telemarketer you are on "home incarceration" and ask if they could bring you a case of beer and some chips.

If they want to loan you money, tell them you just filed for bankruptcy and you could sure use some money.

If MCI calls trying to get you to sign up for the Family and Friends plan, reply, in as SINISTER a voice as you can, "I don't have any friends... would you be my friend?"

Cry out in surprise, "Judy! Is that you? Oh my God! Judy, how have you been?" Hopefully, this will give Judy a few brief moments of pause as she tries to figure out where the hell she could know you from.

If they say they're John Doe from XYZ Company, ask them to spell their name. Then ask them to spell the company name. Then ask them where it is located. Continue asking them personal questions or questions about their company for as long as necessary.

When they ask "How are you today?" Tell them! "I'm so glad you asked because no one these days seems to care, and I have all these problems; my arthritis is acting up, my eyelashes are sore, my dog just died..."

How Churches might be in 2020
PASTOR: Praise the Lord.
CONGREGATION: Hallelujah!
PASTOR: Can we please turn our iPads and Kindle Bibles to Exodus 20:1. When you're done, kindly switch on your Bluetooth to receive the sermon. Please have your debit cards ready as we shall now collect tithes and offering. You can connect to the church WiFi using password Lord99087 and as for the renovation donations, you're welcome to contribute via EFT or mobile banking. The holy atmosphere is truly electric as the iPads beep and flicker.
CHURCH SECRETARY: This week's meetings will be held on the various Whatsapp groups so please don't miss out! Wednesday Bible teachings will be held live on Skype @1900hrsGMT. By the way, you may follow the Pastor on Twitter for counseling and don't forget our weekly prayers on YouTube. God bless you all.
CONGREGATION: Amen!
#joke
"When trying to curry
"When trying to curry favour with 16th Century French Protestants, it isn't what you know, it is Huguenot."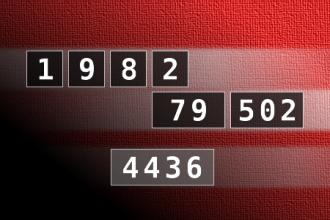 Calculate the number 4436
NUMBERMANIA: Calculate the number 4436 using numbers [1, 9, 8, 2, 79, 502] and basic arithmetic operations (+, -, *, /). Each of the numbers can be used only once.
There was this limo driver who
There was this limo driver who was in business for 25 years without a single customer...
All that time and nothing to chauffeur it.
An Unusual Nativity
A religious education class was almost finished making their models of the nativity scene and one little boy had done a lovely job. Some animals, Mary, Joseph, three wise men, and shepherds were all there. However, the teacher noticed an extra, rather overweight man in the scene as well."Who is that person?" she asked."Oh, that's Round John Virgin."
#joke
A Pastor goes to a nursing hom
A Pastor goes to a nursing home for the first time to visit an elderly parishioner.
As he is sitting there, he notices a bowl of peanuts beside her bed and takes one.As they continue their conversation, he can't help himself and eats one after another.
By the time they are through visiting, the bowl is empty. He says, "Mrs. Jones, I'm so sorry,but I seem to have eaten all of your peanuts."
"That's O.K.," she says. "They would have just sat there anyway.
Without my teeth, all I can do is suck the chocolate off and put them back in the bowl.
#joke
Wake up call
A man and his wife were having some problems and were giving each other the silent treatment. The next week, the man realized that he'd need his wife to wake him at 5 a.m. for an early flight.
Not wanting to be the first to break the silence, he finally wrote on a piece of paper: "Please wake me at 5 a.m."
The next morning the man woke up, only to discover it was 9 a.m. and he'd missed his flight.
Furious, he was about to go and scream at his wife when he noticed a piece of paper by the bed that said: "It's 5 a.m. Wake up.
#joke
Chuck Norris has an ongoing fe...
Chuck Norris has an ongoing feud with the Keebler elves. It started when they stole his idea for putting a kitchen in a tree. While the elves now make subpar cookies in the tree, Chuck's tree contains a fully functioning crystal meth lab.
Undercover Clergy
A minister, a priest and a rabbi went for a hike one day. It was very hot. They were sweating and exhausted when they came upon a small lake. Since it was fairly secluded, they took off all their clothes and jumped in the water.
Feeling refreshed, the trio decided to pick a few berries while enjoying their "freedom." As they were crossing an open area, who should come along but a group of ladies from town. Unable to get to their clothes in time, the minister and the priest covered their privates and the rabbi covered his face while they ran for cover.After the ladies had left and the men got their clothes back on, the minister and the priest asked the rabbi why he covered his face rather than his privates. The rabbi replied, "I don't know about you, but in MY congregation, it's my face they would recognize."
#joke
Chuck Norris was born a blonde...
Chuck Norris was born a blonde, but the blood of his victims dyed his hair and beard to a healthy orange.
We want to strike Acco...
We want to strike Accord with anyone who's ever crashed their Honda.