A Thank You from God
Professor Markowitz was teaching a graduate level class at New York University. On the mid-term exam he included a huge amount of material. As tension in the room built, people were sighing and gasping aloud.
The following week Professor Markowitz tossed the graded papers on his desk and announced, 'Class, after I left here last week, God spoke to me. He said, 'Thanks, professor. I haven't heard from some of those people in years!''
#joke
Cherokee Wisdom

Cherokee Wisdom
The old Cherokee chief sat in his reservation hut, smoking the ceremonial pipe, eyeing the two US government officials sent to interview him.
"Chief Two Eagles," one official began, "you have observed the white man for many generations, you have seen his wars and his products, you have seen all his progress, and all his problems."
The chief nodded.
The official continued, "Considering recent events, in your opinion, where has the white man gone wrong?"
The chief stared at the government officials for over a minute, and then calmly replied, "When white man found the land, Indians were running it. No taxes. No debt. Plenty buffalo. Plenty beaver. Women did most of the work. Medicine man free. Indian men hunted and fished all the time".
The chief smiled, and added quietly, "White man dumb enough to think he could improve system like that."
#joke
"Puppies learn how to
"Puppies learn how to behave by following a strict dogma."
Childhood Sweethearts
An elderly couple who were childhood sweethearts had married & settled down in their old neighborhood.
To celebrate their 50th wedding anniversary they walk down to their old school. There, they hold hands as they find the desk they shared & where he had carved "I love you, Sally".
On their way back home, a bag of money falls out of an armoured car practically at their feet. She quickly picks it up, & they don't know what to do with it so they take it home. There, she counts the money, & its fifty-thousand dollars.
The husband says: "We've got to give it back".
She says, "Finders keepers" & puts the money back in the bag & hides it up in their attic.
The next day, two policemen are going from door-to-door in the neighbourhood looking for the money show up at their home.
One knocks on the door & says: "Pardon me, but did either of you find any money that fell out of an armoured car yesterday?"
She says: "No"..
The husband says: "She's lying. She hid it up in the attic."
She says: "Don't believe him, he's getting senile." 
But the policemen sit the man down & begin to question him.
One says: "Tell us the story from the beginning."
The old man says: "Well, when Sally & I were walking home from school yesterday ..."
At this, the policeman looks at his partner & says: "We're outta here ..."      
Is Thomas the Tank Engine r
Is Thomas the Tank Engine trainsgendered?
Essential NEW WORDS FOR editio
Essential NEW WORDS FOR editions for the work-place vocabulary:
BLAMESTORMING
Sitting around in a group, discussing why a deadline was missed or a project failed, and who was responsible.
SEAGULL MANAGER
A manager, who flies in, makes a lot of noise, craps on everything, and then leaves.
ASSMOSIS
The process by which people seem to absorb success and advancement by sucking up to the boss rather than working hard.
SALMON DAY
The experience of spending an entire day swimming upstream only to get screwed and die.
CUBE FARM
An office filled with cubicles.
PRAIRIE DOGGING
When someone yells or drops something loudly in a cube farm, and people's heads pop up over the walls to see what's going on.(This also applies to applause from a promotion because there may be cake.)
MOUSE POTATO
The on-line, wired generation's answer to the couch potato.
SITCOMs
Single Income, Two Children, Oppressive Mortgage. What yuppies turn into when they have children and one of them stops working to stay home with the kids or start a "home business".
STRESS PUPPY
A person who seems to thrive on being stressed out and whiny.
XEROX SUBSIDY
Euphemism for swiping free photocopies from one's workplace.
PERCUSSIVE MAINTENANCE
The fine art of whacking the crap out of an electronic device to get it to work again.
ADMINISPHERE
The rarefied organizational layers beginning just above the rank and file. Decisions that fall from the "adminisphere" are often profoundly inappropriate or irrelevant to the problems they were designed to solve. This is often affiliated with the dreaded"administrivia" - needless paperwork and processes.
404Someone who's clueless. From the World Wide Web error message "404 Not Found," meaning that the requested document could not be located.
OHNOSECOND
That minuscule fraction of time in which you realize that you've just made a BIG mistake (e.g. you've hit 'reply all').
CROP DUSTING
Surreptitiously farting while passing through a cube farm, then enjoying the sounds of dismay and disgust.
#joke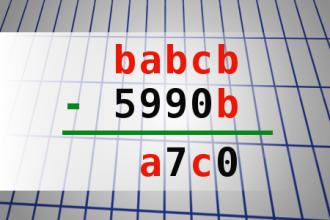 Find number abc
If babcb - 5990b = a7c0 find number abc. Multiple solutions may exist.
Nothing personal....
"I hope you didn't take it personally, Reverend," an embarrassed woman said after a church service, "when my husband walked out during your sermon."
"I did find it rather disconcerting," the preacher replied.
"It's not a reflection on you," insisted the church goer. "Ralph has been been walking in his sleep since childhood."
#joke
At A Distressed City
The following is supposedly a true story. To be included, besides being true, the story is most likely strange, weird, surprising, or funny.
Los Angeles Times, November 24:
Banning, Blythe and Barstow no longer qualify as "distressed" cities under federal guidelines, nor do Adelanto, Lake Elsinore, or Loma Linda.
But Beverly Hills does.
According to a new U.S. Department of Housing and Urban Development list, Beverly Hills can apply for about $56 million a year in business development grants reserved for small cities suffering "physical and economic distress."
#joke
Nick Swardson: Quitting Marijuana
The whole first week, I thought I was psychic. I thought I had new powers all of a sudden, you know. I'd be like, 'Where are my keys? Oh, they're in my pocket.' How did I know that? Oh my gosh!
What Would Jesus Drive?
Q: Did you know that they had automobiles in Jesus' time?A: Yes, the Bible says that the disciples were all of one Accord.
A man walks into a bar and he'...
A man walks into a bar and he's really pissed. The bartender gives him a drink
and asks what the problem is. All he says is, "all lawyers are a*******."
A man sitting in the corner shouts, "I take offense to that!"
The pissed-off guy asks him, "why? Are you a lawyer?"
He replies, "no, Iam
St. George and the Dragon
A tramp knocked on the door of the inn known as St. George and the Dragon. The landlady answered the door.
The tramp said, "Could you give a poor man something to eat?"
"No," said the woman, slamming the door in his face.
He knocked again and said, "Could I have a few words with George?"
#joke
A champion jockey is about to ...
A champion jockey is about to enter an important race on a new horse. The horse's trainer meets him before the race and says, "All you have to remember with this horse is that every time you approach a jump, you have to shout, 'ALLLLEEE OOOP!' really loudly in the horse's ear. Providing you do that, you'll be fine."
The jockey thinks the trainer is mad but promises to shout the command. The race begins and they approach the first hurdle. The jockey ignores the trainer's ridiculous advice and the horse crashes straight through the center of the jump.
They carry on and approach the second hurdle. The jockey, somewhat embarrassed, whispers 'Aleeee ooop' in the horse's ear. The same thing happens--the horse crashes straight through the center of the jump.
At the third hurdle, the jockey thinks, "It's no good, I'll have to do it," and yells, "ALLLEEE OOOP!" really loudly. Sure enough, the horse sails over the jump with no problems. This continues for the rest of the race, but due to the earlier problems the horse only finishes third.
The trainer is fuming and asks the jockey what went wrong. The jockey replies, "Nothing is wrong with me--it's this bloody horse. What is he--deaf or something?"
The trainer replies, "Deaf?? DEAF?? He's not deaf--he's BLIND!"
#joke
Chelsea Handler: Not Excited About Alcoholism
Theres a good chance I may be an alcoholic. You think guys would be a little more excited about that. All they do is bitch and moan. You drink too much. You sleep too much. Its like, if you were drunk all the time, youd be tired, too.
Join us on WhatsApp