NOAH'S ARK 2017
In the year 2017, the Lord came unto Noah, who was now living in the United States, and said, 'Once again, the earth has become wicked and over-populated, and I see the end of all flesh before me.
Build another Ark and save 2 of every living thing along with a few good humans.'
He gave Noah the blueprints, saying, 'You have 6 months to build the Ark before I will start the unending rain for 40 days and 40 nights.'
Six months later, the Lord looked down and saw Noah weeping in his yard - but no Ark.
'Noah!' He roared, 'I'm about to start the rain! Where is the Ark?'
'Forgive me, Lord,' begged Noah, 'but things have changed. I needed a building permit. I've been arguing with the inspector about the need for a sprinkler system. My neighbors claim that I've violated the neighborhood zoning laws by building the Ark in my yard and exceeding the height limitations. We had to go to the Development Appeal Board for a decision.
Then the Department of Transportation demanded a bond be posted for the future costs of moving power lines and other overhead obstructions, to clear the passage for the Ark's move to the sea. I told them that the sea would be coming to us, but they would hear nothing of it.
Getting the wood was another problem. There's a ban on cutting local trees in order to save the spotted owl. I tried to convince the environmentalists that I needed the wood to save the owls - but no go!
When I started gathering the animals, an animal rights group sued me. They insisted that I was confining wild animals against their will. They argued the accommodation was too restrictive, and it was cruel and inhumane to put so many animals in a confined space.
Then the EPA ruled that I couldn't build the Ark until they'd conducted an environmental impact study on your proposed flood.
I'm still trying to resolve a complaint with the Human Rights
Commission on how many minorities I'm supposed to hire for my building crew.
Immigration and Naturalization is checking the green-card status of most of the people who want to work.
The trades unions say I can't use my sons. They insist I have to hire only Union workers with Ark-building experience.
To make matters worse, the IRS seized all my assets, claiming I'm trying to leave the country illegally with endangered species.
So, forgive me, Lord, but it would take at least 10 years for me to finish this Ark.'
Suddenly the skies cleared, the sun began to shine, and a rainbow stretched across the sky. Noah looked up in wonder and asked, 'You mean you're not going to destroy the world?'
'No,' said the Lord. .......... 'The government beat me to it
Big thanks to Marty Edelman for sharing
#joke
Two caterpillars were crawling
Two caterpillars were crawling along a leaf when a butterfly flew past overhead.
One caterpillar turned to the other one and said: "You'll never get me up in one of those things!"

"You can't lose pick
"You can't lose picking a sherbet for dessert."
Use whole grains to regulate y
Use whole grains to regulate your blood sugar, if your diet is oat of control.
Battles On The Sea
The following is supposedly a true story relating to a United States shipping company.
THE U.S. shipping company had a new ship built. It was to be the pride of the fleet, and something special was wanted to decorate the captain's saloon, a large living room/office where the vessel's business and entertaining would take place.
Someone suggested that a set of nautical prints would lend a nice touch. He knew of a shop in London that specialized in such things, and the prints were ordered and hung in the saloon.
It was not until the trial run of the vessel, when both the builder's and the owner's representatives were aboard, that someone looked closely at the prints. Each was of an American ship being captured by, or surrendering to, a British warship during the War of 1812.
#joke
Childhood Sweethearts
An elderly couple who were childhood sweethearts had married & settled down in their old neighborhood.
To celebrate their 50th wedding anniversary they walk down to their old school. There, they hold hands as they find the desk they shared & where he had carved "I love you, Sally".
On their way back home, a bag of money falls out of an armoured car practically at their feet. She quickly picks it up, & they don't know what to do with it so they take it home. There, she counts the money, & its fifty-thousand dollars.
The husband says: "We've got to give it back".
She says, "Finders keepers" & puts the money back in the bag & hides it up in their attic.
The next day, two policemen are going from door-to-door in the neighbourhood looking for the money show up at their home.
One knocks on the door & says: "Pardon me, but did either of you find any money that fell out of an armoured car yesterday?"
She says: "No"..
The husband says: "She's lying. She hid it up in the attic."
She says: "Don't believe him, he's getting senile." 
But the policemen sit the man down & begin to question him.
One says: "Tell us the story from the beginning."
The old man says: "Well, when Sally & I were walking home from school yesterday ..."
At this, the policeman looks at his partner & says: "We're outta here ..."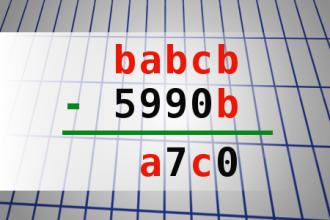 Find number abc
If babcb - 5990b = a7c0 find number abc. Multiple solutions may exist.
A Publicist for Moses
Moses: "How are we going to get across the sea? The Egyptians are close behind us!"General of the army: "Normally, I'd recommend that we build our own bridge to carry us across. But there's not enough time for that."Admiral of the navy: "Normally, I'd recommend that we build barges to carry us across. But time is too short."Public relations officer: "I don't have a solution, but I can promise you this: If you can find a way out of here, I'll get you two or three pages in the Old Testament!"From "
The Book of Church Jokes
," published by
Barbour Publishing, Inc.
, Uhrichsville, Ohio. Copyright 2009. Used by permission of Barbour Publishing, Inc.
#joke
The place where I work decided...
The place where I work decided to provide company-paid cell phones to the "suits" upstairs. After negotiating a deal with a cell phone company, we arranged for the phones to be sent to the homes of the various VIP's.
The day after delivery, I received a call from a partner screaming about how his cell phone didn't work. He said he charged it overnight just like the sheet said, but in the morning, it wouldn't power up.
I asked EXACTLY what he did with the phone when he got it.
"I took it out, plugged the charger into the wall and into the phone."
"Did you put the battery in the phone?"
"Not the extra one."
"Sir, the phone only came with one battery."
(Pause) "Oh, I think I figured out what's wrong with it."
#joke
Good news and bad news....
A doctor enters into a patient's room and informs the patient that he has good news and bad news. He then asks the patient which news he would like to hear.
The patient responds, "Doctor, give me the good news."
The doctor says, "Well we are gonna name a disease after you."
The children were lined up in...
The children were lined up in the cafeteria of a Catholic elementary school for lunch. At the head of the table was a large pile of apples.. The nun made a note, and posted on the apple tray: 'Take only ONE . God is watching.'
Moving further along the lunch line, at the other end of the table was a large pile of chocolate chip cookies.
A child had written a note, 'Take all you want. God is watching the apples'.
#joke
Feels great...
A fellow wakes up one morning, singing and whistling to himself, "I feel great, just great". Goes down to greet his wife, and tells her, "I feel great, honey!"
She replies,. "Well you look terrible"!
He shakes his head and starts out to work thinking, "She's probably in a bad mood, can't appreciate my good feelings". Meets his best friend, Joe and says, "Joe, I feel great".
Joe looks at him and says "Jeez, you really look terrible"! At this point the fellow is becoming worried and wonders, "Maybe I've got some unusual disease or something." He quickly calls his physician and heads on over for an emergency consult. He tells the physician, "Doc, I feel great, but everyone is telling me I look terrible."
The physician replies, "Well, you do look terrible. Let me look this up." The physician consults his handbook (Merck, of course) and leafing through the pages mutters to himself: "Feels great, looks great, no that's not you". "Feels terrible, looks terrible, no that's not you". "Feels great, looks terrible...Yes that's you... "It says here you're a vagina!"
#joke
Two elderly gentlemen, who had...
Two elderly gentlemen, who had been without sex for several years, decided they needed to visit a cat-house for some tail. When they arrived, the madam took one look at them and decided she wasn't going to waste any of her girls on these two old men. So she used "blow-up" dolls instead. She put the dolls in each man's room and left them to their business.
After the two men were finished, they started for home and got to talking.
The first man said, "I think the girl I had was dead. She never moved, talked or even groaned... how was it for you?"
The second man replied, "I think mine was a witch."
The first man asked, "How's that?"
"Well," said the second man, "when I nibbled on her breast... she farted and flew out the window!"
#joke
An Englishman wanted to become...
An Englishman wanted to become an Irishman, so he visited a doctor to find out how to go about this. "Well" said the doctor, "this is a very delicate operation and there is a lot that can go wrong. I will have to remove half your brain". "That's OK" said the Englishman. "I've always wanted to be Irish and I'm prepared to take the risk".
The operation went ahead but the Englishman woke to find a look of horror on the face of the doctor. "I'm so terribly sorry!!" the doctor said. "Instead of removing half the brain, I've taken the whole brain out". The patient replied, "No worries, mate!!"
Chuck Norris can skip water on...
Chuck Norris can skip water on a rock.
Join us on WhatsApp