Happy New Year 2021!!
They Look Happily Married
"Now that looks like a happily married couple," remarked the husband.
"Don't be too sure, dear,' began the wife. 'They're probably saying the same thing about us."
Two gas company servicemen, a
Two gas company servicemen, a senior training supervisor and a young trainee, were out checking meters in a suburban neighborhood. They parked their truck the end of the alley and worked their way to the other end. At the last house, a woman looking out her kitchen window watched the two men as they checked her gas meter.
Finishing the meter check, the senior supervisor challenged his younger coworker to a foot race down the alley back to the truck to prove that an older guy could outrun a younger one.
As they came running up to the truck, they realized the lady from that last house was huffing and puffing right behind them. They stopped and asked her what was wrong.
Gasping for breath, she replied, "When I see two men from the gas company running as hard as you two were, I figured I'd better run too!"
#joke
"While I was sitting
"While I was sitting on the bench I noticed a really pungent odor. No wonder they call it a pew."
I love me some drunken Germans
I love me some drunken Germans. Buzzed Franzs forever!
Lamaze class question....
The room was full of pregnant women and their partners, and the Lamaze class was in full swing. The instructor was teaching the women how to breathe properly, along with informing the men how to give the necessary assurances at this stage of the plan.
The teacher then announced, "Ladies, exercise is GOOD for you! Walking is especially beneficial. And, Gentlemen, it wouldn't hurt YOU to take the time to go walking with your partner!"
The room really got quiet. Finally, a man in the middle of the group raised his hand.
"Yes?" replied the teacher.
"Is it all right if she carries a golf bag while we walk?"
#joke
Knock Knock Collection 071
Knock Knock
Who's there?
Galway!
Galway who!
Galway, your annoying me!
Knock Knock
Who's there?
Gandhi!
Gandhi who!
Gandhi cane!
Knock Knock
Who's there?
Germany!
Germany who!
Germany people knocking on your door?
Knock Knock
Who's there?
Genoa!
Genoa who!
Genoa any new jokes?
Knock Knock
Who's there?
Gerald!
Gerald who!
Gerald washed up kid!
#joke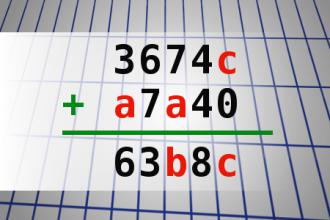 Find number abc
If 3674c + a7a40 = 63b8c find number abc. Multiple solutions may exist.
Brian Regan: You, Too
You ever say a phrase you say all the time at the wrong time, feel like a complete idiot? Something like, 'You, too. You, too.' I was getting out of the cab at the airport, and the driver goes, 'Hey, have a nice flight.' 'You, too. You, too. You have a nice flight, too -- in case you ever fly some day.'
#joke
Childhood Sweethearts
An elderly couple who were childhood sweethearts had married & settled down in their old neighborhood.
To celebrate their 50th wedding anniversary they walk down to their old school. There, they hold hands as they find the desk they shared & where he had carved "I love you, Sally".
On their way back home, a bag of money falls out of an armoured car practically at their feet. She quickly picks it up, & they don't know what to do with it so they take it home. There, she counts the money, & its fifty-thousand dollars.
The husband says: "We've got to give it back".
She says, "Finders keepers" & puts the money back in the bag & hides it up in their attic.
The next day, two policemen are going from door-to-door in the neighbourhood looking for the money show up at their home.
One knocks on the door & says: "Pardon me, but did either of you find any money that fell out of an armoured car yesterday?"
She says: "No"..
The husband says: "She's lying. She hid it up in the attic."
She says: "Don't believe him, he's getting senile." 
But the policemen sit the man down & begin to question him.
One says: "Tell us the story from the beginning."
The old man says: "Well, when Sally & I were walking home from school yesterday ..."
At this, the policeman looks at his partner & says: "We're outta here ..."      
Immaculate Miracle?
A woman takes her 16-year-old daughter to the doctor. "Okay, Mrs. Jones, what's the problem?"The mother says, "It's my daughter, Debbie. She keeps getting these cravings, she's putting on weight, and she is sick most mornings." The doctor gives Debbie a good examination, then turns to the mother and says, "Well, I don't know how to tell you this, but your Debbie is pregnant--about four months would be my guess."The mother says, "Pregnant?! She can't be, she has never been left alone with a man! Have you, Debbie?" Debbie says, "No mother! I've never even kissed a man!" The doctor walked over to the window and stared outside. About five minutes passed before the mother said, "Is there something wrong out there, doctor?" The doctor replied, "No, not at it. It's just that the last time anything like this happened, a star appeared in the east and three wise men came over the hill. I'm not going to miss it this time around!"
The children were lined up in...
The children were lined up in the cafeteria of a Catholic elementary school for lunch. At the head of the table was a large pile of apples. The nun made a note, and posted on the apple tray:
'Take only ONE. God is watching.'
Moving further along the lunch line, at the other end of the table was a large pile of chocolate chip cookies.
A child had written a note, 'Take all you want. God is watching the apples.'
#joke
Osama Bin Laden'
One day Osama Bin Laden is thinking: What should I blow up first? Then Osama Bin Laden said: "I have decided! bring the servent girl and tell her to get on her kneesand tell her to sacrifice her self!"
The ocean was once fresh water...
The ocean was once fresh water but Chuck Norris likes his shrimp salty.
An engineer dies and reports t...
An engineer dies and reports to the pearly gates. St. Peter checks his dossier and says, "Ah, you're an engineer -- you're in the wrong place."
So the engineer reports to the gates of hell and is let in. Pretty soon, the engineer gets dissatisfied with the level of comfort in hell, and starts designing and building improvements. After a while, they've got air conditioning and flush toilets and escalators, and the engineer is a pretty popular guy.
One day God calls Satan up on the telephone and says with a sneer, "So, how's it going down there in hell?"
Satan replies, "Hey, things are going great. We've got air conditioning and flush toilets and escalators, and there's no telling what this engineer is going to come up with next."
God replies, "What??? You've got an engineer? That's a mistake -- he should never have gotten down there, send him up here."
Satan says, "No way! I like having an engineer on the staff, and I'm keeping him."
God says, "Send him back up here, or I'll sue."
Satan laughs uproariously and answers, "Yeah, right. And just where are you going to get a lawyer?"
Forgetful...
The man looked a little worried when the doctor came in to administer his annual physical, so the first thing the doctor did was to ask whether anything was troubling him.
"Well, to tell the truth, Doc, yes," answered the patient. "You see, I seem to be getting forgetful. I'm never sure I can remember where I put the car, or whether I answered a letter, or where I'm going, or what it is I'm going to do once I get there -- if I get there. So, I really need your help. What can I do?"
The doctor mused for a moment, then answered in his kindest tone, "Pay me in advance."